'The Great' Season 2 Premiere Date Revealed: See the First Trailer
Huzzah! Hulu has unveiled the first look at The Great Season 2, its raucous, funny (and not exactly historically accurate) take on the life of Catherine the Great. The show — which stars Elle Fanning as Catherine and Nicholas Hoult as her husband, Peter — returns this November, and based on the just-released trailer, the empress isn't letting pregnancy get in the way of her plans to rule all of Russia. 
'The Great' Season 2 premieres November 19 
The sophomore season of The Great arrives Friday, Nov. 19 on Hulu. In Season 2, Catherine "finally takes the Russian throne for her own," according to the streamer. But life as an all-powerful ruler isn't exactly what she imagined. 
"If she thought coup-ing her husband was difficult, it's nothing compared to the realities of liberating a country that doesn't want her to be," reads Hulu's description of the upcoming season. As she strives to drag Russia into the Age of Enlightenment, Catherine will face off against her court, her team, and her own mother (guest star Gillian Anderson, who we get a brief glimpse of in the trailer as she falls off a chair). In season 2, "Catherine will learn that to change a country, you must let it change you [and] that there is a fine line between idealism and delusion." 
Catherine is still at war with Peter in 'The Great' trailer 
The Great Season 1 ended with Catherine's attempting the coup she and her allies had been plotting nearly all season. But her plans went awry, with Peter eventually giving her an ultimatum: call off the insurrection or he would execute her lover, Leo (Sebastian de Souza). Catherine chose to continue with her efforts to usurp Peter rather than to save the life of the man she loved.  
Season 2 appears to begin with a significant time jump, as Catherine is now visibly pregnant. (She had just learned she was expecting at the end of season 1.) Impending motherhood doesn't appear to have improved her relationship with Peter.
"My dearest wife. How have you been?" he asks her.
"How have I been? At war with you, that's how I've been," she replies.
Later, Catherine tells her husband that they need to "stop this bloodshed over the throne." Peter isn't persuaded.
"I mean, that's the difference between us, Empress," he says. "I don't mind the bloodshed. I mean, you honestly can't think you can run Russia without bloodshed."
Catherine 'would rather choke to death on this tiny chicken' than have sex with Peter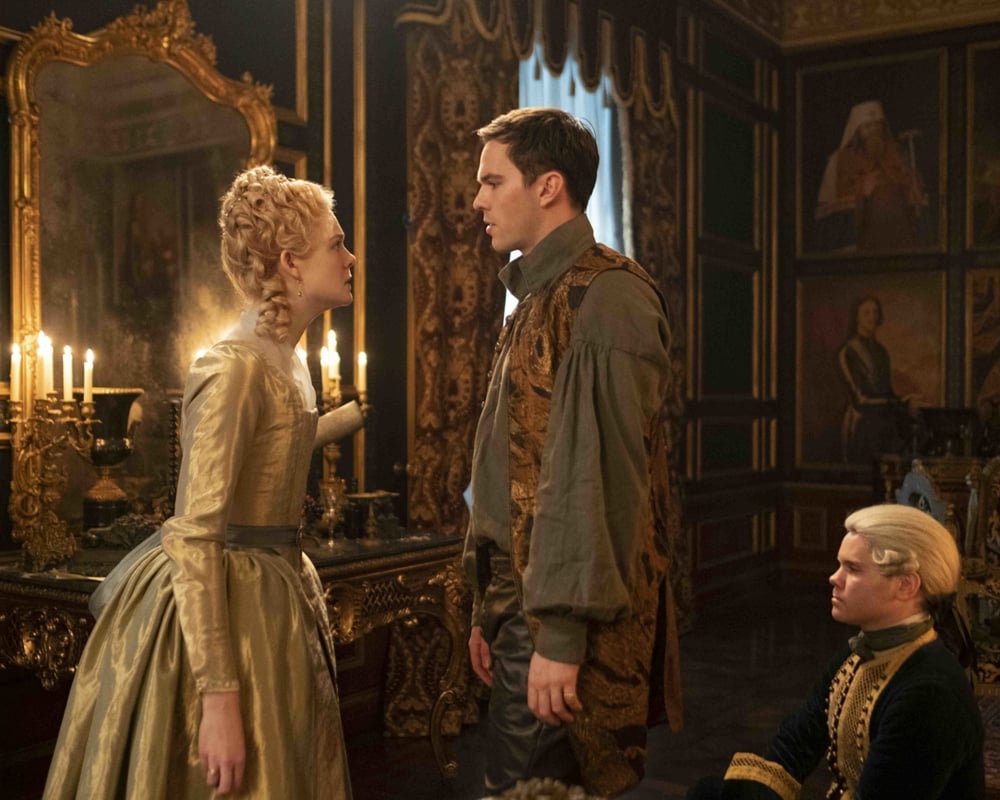 At the end of the trailer, Peter tries to convince Catherine to back off from her attempt to overthrow him.
"There are so many reasons for you to give up," he says. "For instance, we can have sex."
"I'd rather choke to death on this tiny chicken," she replies.
Peter seems convinced he'll be able to hang on to power, but history says otherwise. As for Catherine, it looks like she'll finally achieve her goal in The Great Season 2, but perhaps at a greater cost than she expects.
The Great Season 2 is streaming on Hulu beginning Nov. 19.
Check out Showbiz Cheat Sheet on Facebook!
RELATED: Elle Fanning Says Her New Show 'The Great' Is Another First For Her