'The Handmaid's Tale': Amanda Brugel on Rita's Growth Since Escaping Gilead
In 'The Handmaid's Tale,' Amanda Brugel plays Rita Blue, a former Martha. Rita escaped to Canada in the season 3 finale of the Hulu series. The fourth season picks up with Rita attempting to acclimate in Canada. Showbiz Cheat Sheet recently interviewed Brugel about playing Rita in the new season of 'The Handmaid's Tale.'
In The Handmaid's Tale, Amanda Brugel plays Rita Blue, a former Martha for the prominent Waterford family in Gilead. She escapes to Canada in the season 3 finale of The Handmaid's Tale. For both Rita and Brugel, season 4 has been an adjustment period as Rita adapts to her newfound freedom in Canada.
"I had to relearn how to be modern or behave normal amongst my castmates who had already been out of Gilead," Brugel told Showbiz Cheat Sheet. "And so it was difficult in one way to not have the old scripts, and behavior, and physicality of Gilead, and then it helped in another way that I was able to just be like the character and sort of lost."
The season 4 finale of The Handmaid's Tale will premiere on Hulu on June 16. Ahead of the final episode of the season, Brugel jumped on a phone call with Showbiz to discuss Rita's growth throughout season 4 and her hopes for the character's future.
[Spoiler Alert: This article contains spoilers for season 4 of The Handmaid's Tale.]
This interview has been edited and condensed.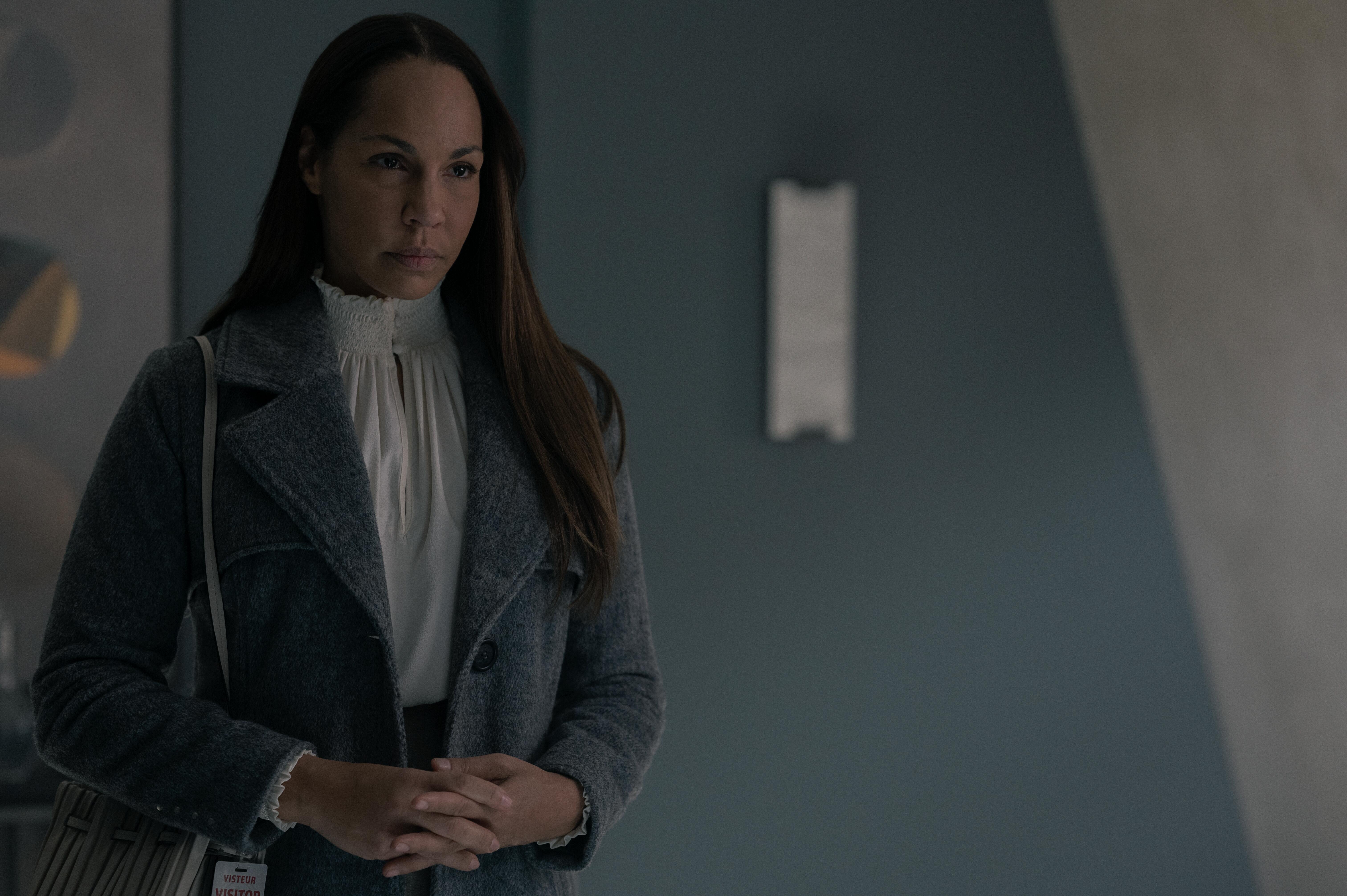 Amanda Brugel on Rita's complicated relationship with Serena Joy Waterford in 'The Handmaid's Tale'
When Rita's storyline picks up in season 4 of The Handmaid's Tale, she has been in Canada for multiple weeks. While fans do not see what Rita's first few weeks of freedom were like, Brugel has a general idea.
"I mean, I think it was just absolute shell shock. You can see that she still carries herself like she's in Gilead, even though we meet up with her a few weeks later. And I think that everything was shocking and she had to relearn how to adjust to new foods, new sights, people in different clothes, just different vernacular," said Brugel. "And so I think it was just incredibly shocking and overwhelming for her."
Throughout her years in Gilead, Rita was considered property of Commander Fred Waterford (Joseph Fiennes) and Serena Joy Waterford (Yvonne Strahovski). Brugel admits that when Rita arrived in Canada, she most likely missed Serena even though their friendship was unhealthy and imbalanced.
"I think she missed her, but I don't think she ever ended up wanting to go and have a cute visit with her," she said.
While Rita never considered seeing Serena again, she learns that Serena wants Rita to visit her while she awaits trial in season 4 episode 4 of The Handmaid's Tale, "Milk."
"I think Rita's scared," Brugel told Showbiz. "Even though she's free physically, she's still not free mentally or emotionally of Gilead. And so I think when she first meets Serena, she thinks she's going to get in trouble for telling the truth."
This apprehension changes to joy when Rita learns that Serena is unexpectedly pregnant.
"Her entire life in Gilead, her main purpose, was running the Waterford house, but also preparing for the arrival of a child. And now that the child's there, simply because they're not in Gilead, she's still so celebratory," Brugel said of Rita's excited reaction.
Rita's confrontation with Fred was 'difficult' to film
Shortly after meeting with Serena, Rita realizes that her former captor was manipulating her. This leads Rita to visit Fred, and in a fan-favorite scene, Rita effectively removes herself from the Waterford family dynamic. While the confrontation between Fred and Rita was incredibly satisfying, Brugel revealed it was actually a challenge to film.
"It was wonderful, but it was also incredibly difficult, if I'm being completely honest, because Joseph is the most kind out of everyone. We're all very close and everyone's very nice. But Joseph is such a gentleman and he's such the opposite of Fred Waterford that going in there and staring into his beautiful eyes and saying anything mean to him was difficult because I've never had to do that with him," Brugel shared.
Even though Fred certainly deserved to be yelled at by Rita, Brugel purposefully held back while delivering her lines.
"I also wanted to approach it in a way that I find Rita so stoic and regal, and she has such grace that I didn't want to start screaming or raise my voice," she told Showbiz. "And so I tried to convey that I wasn't going to be a part of their family anymore with as much calm and gravitas as I could. And I think that that really, really translated."
In The Handmaid's Tale, Serena and Fred are both villains who have committed irredeemable acts. When asked who Rita would pick as the worse person, Brugel was quick to answer.
"I think Serena Joy," she said. "She is a chameleon and she is manipulative. She will throw anyone, including Fred, under the bus to get her end goal. I don't necessarily think Fred would do that to Serena. I think he's power-hungry. But I do think that he cares about, to a certain point, the people in his life. But I do think that Serena Joy is one of the most despicable characters ever written and dangerously disloyal to everyone."
What Amanda Brugel hopes for Rita in 'The Handmaid's Tale'
So far, Rita has not been given a backstory in The Handmaid's Tale. This has allowed Brugel to create her own for the time being, and the story she has come up with ties into the idea that Rita is always thinking ahead.
"I truly think that she had quite a powerful job before," said Brugel. "And then when her son died, I think that she ultimately, actively became a Martha because she didn't want to become a Handmaid… I think Rita chose to become a Martha strategically."
The Handmaid's Tale has already been renewed for a fifth season, and going forward, Brugel hopes Rita will separate herself from Gilead even more.
"Season 5, I hope that she finds relationships and purpose outside of Gilead, possibly a job or friendships or just continue to expand outside of Gilead. And ultimately, I hope that she finds at least one family member. I would love to see something from her old life that grounds her and helps her move forward past season 5," she said.
The season 4 finale of The Handmaid's Tale premieres on Hulu on June 16.