'The Handmaid's Tale': Elisabeth Moss Actually Hinted How the Love Triangle Between Nick and Luke Will End
On June 16, the season 4 finale of The Handmaid's Tale premiered on Hulu. In the finale, June Osborne (Elisabeth Moss) makes a drastic decision that will forever alter her future. June also seemingly makes a choice between Nick Blaine (Max Minghella) and Luke Bankole (O-T Fagbenle), bringing the love triangle in The Handmaid's Tale to a possible conclusion.
Earlier in the season, Moss hinted she knew how the love triangle might end because she is a producer on the show. If one looks back through Moss' previous interviews, it is clear that Moss was always dropping hints about who June will ultimately pick.
[Spoiler Alert: This article contains spoilers for season 4 episode 10 of The Handmaid's Tale.]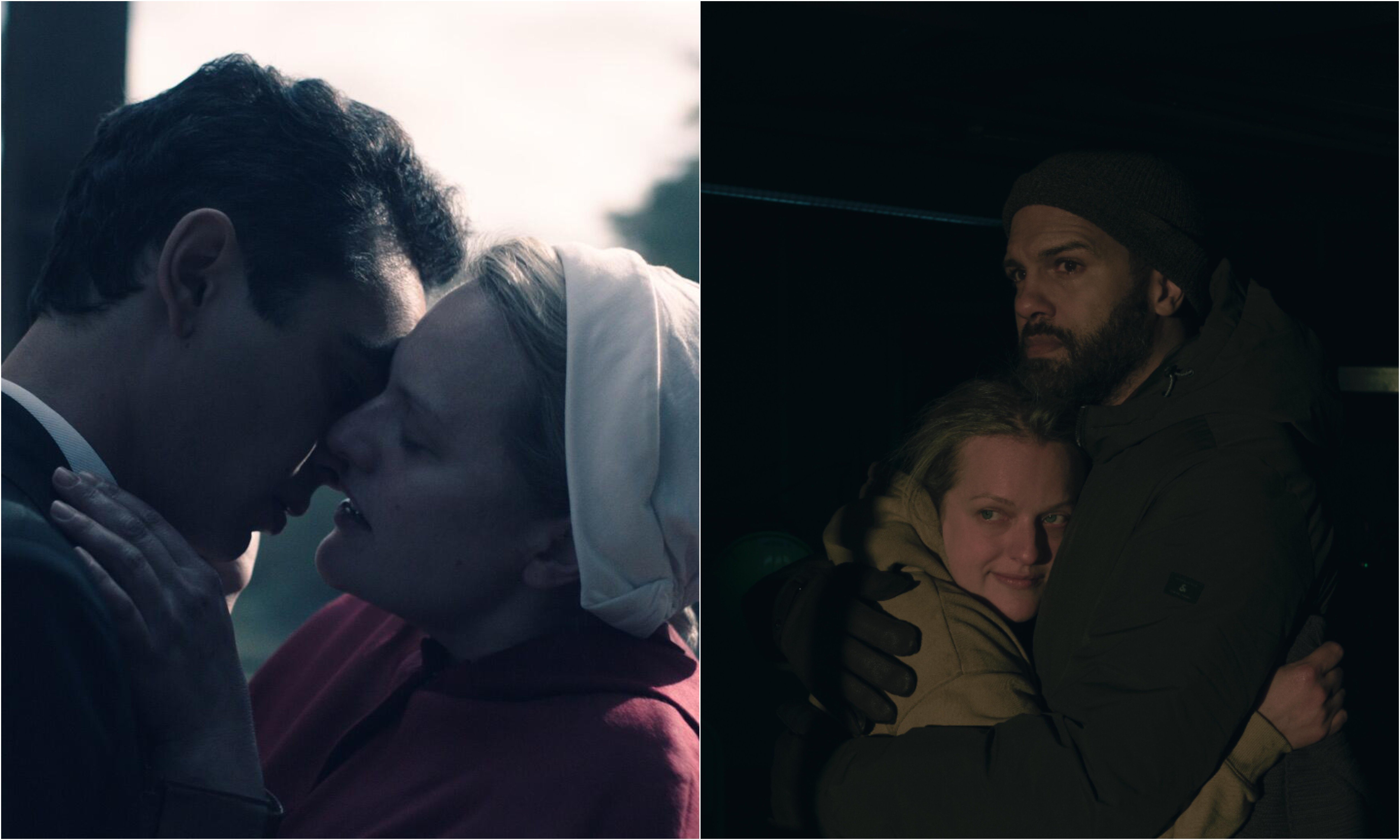 Elisabeth Moss is a producer on 'The Handmaid's Tale'
At the beginning of season 4 of The Handmaid's Tale, cast members took part in an interview with Rotten Tomatoes. During the interview, each actor was asked if they are Team Luke or Team Nick. When asked, Moss gave an ambiguous answer but admitted she knew which direction the show would go in.
"I mean, look. I do have an idea as a producer of where I think it has to go, but that is no reflection upon either of these gentlemen," Moss told Rotten Tomatoes.
In addition to playing the main character, Moss is also a producer and director of The Handmaid's Tale. Because of this, Moss felt like it was not fair for her to pick between the two men.
"… as their friend, co-worker, and sometimes boss, I'm not at liberty to choose," she said.
RELATED: 'The Handmaid's Tale': Elisabeth Moss Thinks It Was Important That June and Luke's Reunion Was Not 'Perfect'
Elisabeth Moss dropped another hint about the love triangle
While Moss' answer in the Rotten Tomatoes interview may have seemed vague, it did contain a valuable clue. Thanks to Moss, fans knew that the love triangle would eventually go in a certain "direction." Within the first few episodes, it became clear which way the show was leaning.
When June and Nick kiss in season 4 episode 3, "The Crossing," the music swells to make the romantic gesture even more impactful. In season 4 episode 6, "Vows," The Handmaid's Tale foreshadowed that June and Luke's reunion would not be the fairytale some fans might hope for with heavy-handed flashback scenes.
As the season went on, June's life in Canada and rebuilding a relationship with Luke continued to go poorly. Meanwhile, interviews with Moss reinforced the idea that June had changed too much to ever acclimate to freedom.
RELATED: 'The Handmaid's Tale': Elisabeth Moss Thinks June's 'Connection' With Nick Is More Unique Than Her Relationship With Luke
In an interview with Forbes, Moss gave another hint about June's future and her relationships with Nick and Luke. With her word choice, Moss foreshadowed that June will pick Nick without giving away specific spoilers.
"I mean, I don't want to spoil anything but I do think that she and Nick have a connection from what they've been through in Gilead that is very difficult to replicate," she said. "She loves Luke very much but she's not the same woman she was when she married him and it's going to be very hard to go back to that."
June made a choice in the season 4 finale of 'The Handmaid's Tale'
In "The Wilderness," the finale of season 4 of The Handmaid's Tale, June decides to kill her former captor, Commander Fred Waterford (Joseph Fiennes) despite Luke's hope that June would move on from her past trauma regarding Fred. Not only does she decide to kill him, but Nick also assists her with the murder by arresting Fred and bringing him to June.
When June returns home covered in blood, she promises Luke that she will leave after saying goodbye to her daughter, Nichole, assuming that Luke will not want to continue the relationship.
RELATED: 'The Handmaid's Tale' Showrunner Explains What Is Next for June and Luke
After the finale premiered, Moss no longer had to play coy in interviews about the love triangle. In an interview with ELLE, Moss confirmed what she seemed to be hinting at all along, which is that June loves Nick.
"Look, it's kind of obvious. She wants to be with Nick. She's in love with Nick," Moss told ELLE. "The person that she is now, for better or worse, is a very different person from the one who married Luke… Luke is not going to deliver Fred to her to tear apart into pieces, and that's what's important to her."
Season 4 of The Handmaid's Tale is available to stream on Hulu.