'The Handmaid's Tale' Episode Recap: June Confronts Serena
Season 4 episode 7 of 'The Handmaid's Tale,' titled 'Home,' premiered on Hulu on May 26. In the episode, June Osborne attempts to acclimate to Canada. There are happy moments like June reuniting with her daughter, but as a whole, the episode lets viewers know that June is not truly free and has become a different person.
Last week on The Handmaid's Tale, fans of the show got some happiness when June Osborne (Elisabeth Moss) reunited with Moira Strand (Samira Wiley) and Luke Bankole (O-T Fagbenle). That happiness was short-lived, and season 4 episode 7, "Home," shows the difficulties of June trying to adjust to normalcy in Canada.
[Spoiler Alert: This article contains spoilers for season 4 episode 7 of The Handmaid's Tale.]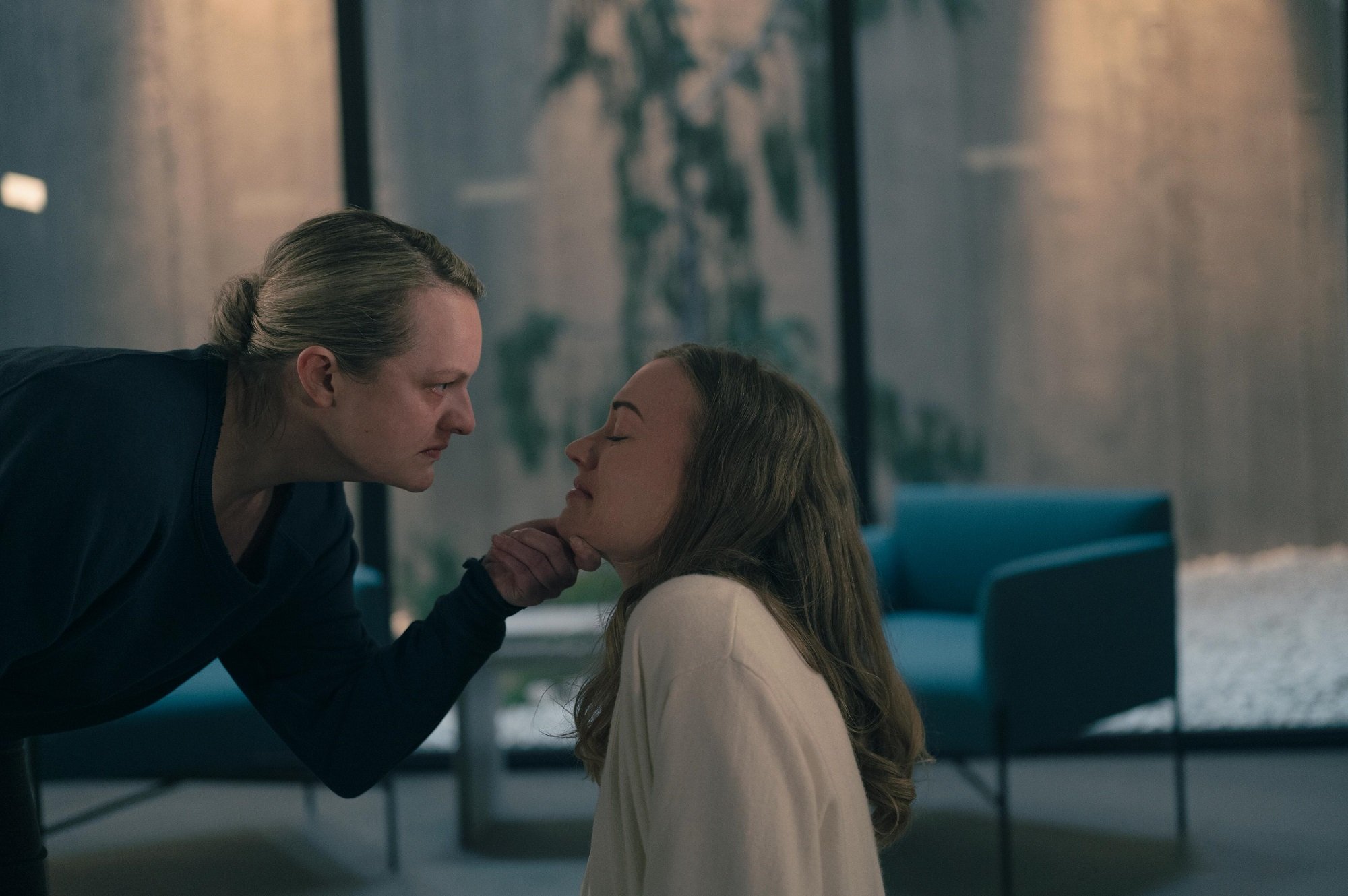 June is free in 'The Handmaid's Tale'
"My name is June Osborne. I am a citizen of the United States and I seek asylum in the country of Canada," June tells Mark Tuello (Sam Jaeger) at the start of the episode.
Mark and other officials from the U.S. government take June to a lavish hotel for security purposes. While Moira returns home to take care of June's daughter Nichole, Luke stays behind to spend some time with his newly-rescued wife.
Naively expecting a fairytale reunion, Luke orders room service and frets over the placement of the dishes on the table, wanting everything to be perfect. After a shower, June sees Luke arranging the table and instead of joining him, climbs into bed and falls asleep for 17 hours.
When she awakes, Luke apologizes for not being able to rescue her or their daughter, Hannah (Jordana Blake). Wanting to spare Luke some pain, June tells him about when she saw Hannah at a lake house in the second season of The Handmaid's Tale.
She reassures Luke that Hannah remembers them and knows that they love her. Viewers, of course, know that this is a lie, and June knows it too. As soon as she tells Luke about the meeting at the lake house, her mind flashes back to just weeks before when Hannah was terrified of her.
June reunites with her daughter Nichole
After her emotional conversation with Luke, June debriefs with Mark and explains how she managed to help 86 children escape Gilead. While Mark wants to keep collecting evidence, Luke insists that June should leave the hotel to stay with him.
As much as June wants to see Nichole, it begs the question, is she ready to move back in with her husband? She survived a bombing just days before, went through an extreme torture a few weeks ago, and suffered a gunshot wound at most a few months ago. And that is not counting all of the torture and rape she went through over the past several years.
In the U.S. government's quest for evidence against Gilead and Luke's determination to return to his old life with June, it seems they are forgetting that June is a major trauma victim and needs to be handled with care.
Luke tells Mark that he is taking his wife to see "our daughter," causing June to shoot him a look. It appears that in Luke's bonding with Nichole and desperation to be a family again with June, he has conveniently forgotten that Nichole is a love child between his wife and another man, specifically June's lover in Gilead, Nick Blaine (Max Minghella).
June senses Luke's desire to not think of Nichole in relation to her birth father. She does not correct him publicly, and later that night, as she rocks Nichole to sleep, she privately tells Nichole about Nick.
"Why are you so amazing? I know why. Because Luke and Moira are raising you," June tells Nichole. "I also want you to know that your daddy and I love you so much. Your first daddy."
'The Handmaid's Tale' episode takes a dark turn
June's reunion with Nichole is a bright spot of a fantastic episode of The Handmaid's Tale. After that, reality sets in. June sees just how settled Luke and Moira are as co-parents, and later suffers PTSD flashbacks of Gilead while in a grocery store.
She learns from Rita (Amanda Brugel), Emily (Alexis Bledel), and Moira that Serena Joy Waterford (Yvonne Strahovski) is pregnant. Later that night, June goes to confront Serena. While Serena begs for forgiveness, June tells Serena that she hates her and hopes that her unborn baby dies.
"Do you understand me?" June yells at Serena, a callback to Serena yelling at June in the first season of The Handmaid's Tale.
In a disturbing scene akin to Bridgerton's problematic rape scene, June returns home, and in her anger, she climbs on top of Luke to have sex. He protests and asks her to wait, but she covers his mouth and does not stop. The next day, a scene of June, Luke, and Nichole playing in the snow is interspersed with a scene of June telling Mark about Serena.
"She'll do anything to get what she wants. Lie to you. Hurt you. Rape you. So if you feel yourself getting sucked in by her, run. Run for your life," June tells Mark.
When June is not looking, Luke stares at her uneasily, drawing the parallel that June is on her way to becoming the person she is describing.
New episodes of The Handmaid's Tale premiere every Wednesday on Hulu.