'The Handmaid's Tale' Episode Recap: June and Nick Reunite
In season 4 episode 9 of 'The Handmaid's Tale,' titled 'Progress,' the love triangle between June Osborne, Nick Blaine, and Luke Bankole becomes the main focus. It also becomes clear which man June has stronger feelings for. Elsewhere in the episode, Serena Joy Waterford and Fred Waterford finally realize their freedom is not a guarantee, leading to a drastic decision by Fred and Mark Tuello.
"Progress," the ninth episode of season 4 of The Handmaid's Tale, premiered on Hulu on June 9. Elisabeth Moss, who stars as June Osborne in the series, directed the episode. As Moss teased before the episode premiered, "Progress" is about love. While the love triangle between June, Nick Blaine (Max Minghella), and Luke Bankole (O-T Fagbenle) is not the main focus of The Handmaid's Tale, "Progress" does reveal which man June is currently in love with.
[Spoiler Alert: This article contains spoilers for season 4 episode 9 of The Handmaid's Tale.]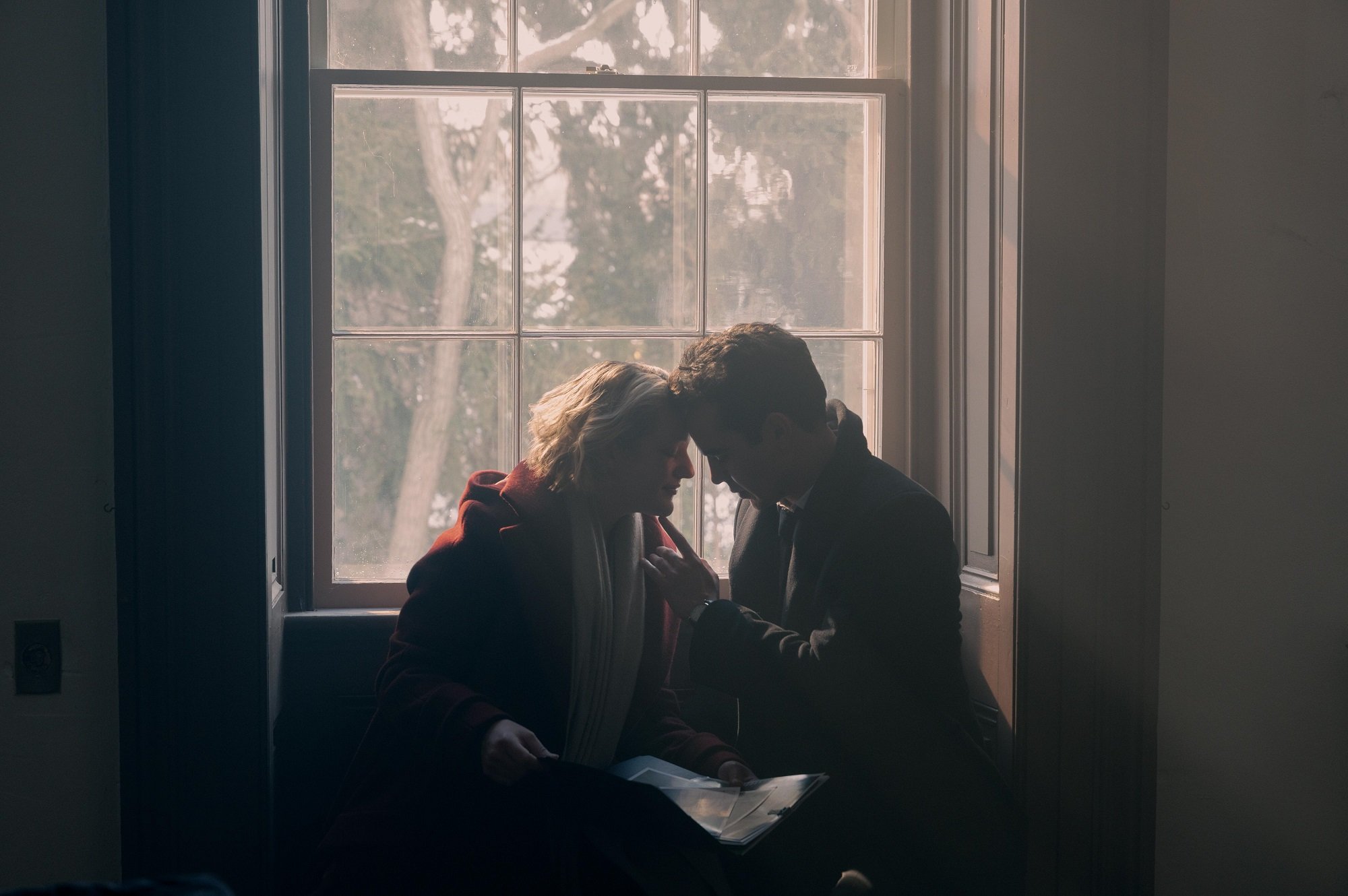 June and Luke try to find Hannah in 'The Handmaid's Tale'
"Progress" opens with June and Luke sitting in silence in their kitchen, and it is clear June just told Luke about the last time she saw their daughter Hannah (Jordana Blake) in Gilead. June mentions that Nick told her Hannah made it home safely, causing Luke to tear up.
Luke shows June the tactics he has already tried to find Hannah. Because resources in Canada do not have access to Hannah, June suggests they contact Commander Joseph Lawrence (Bradley Whitford). Mark Tuello (Sam Jaeger) sits in on the call. Despite June's pleas, Joseph tells her that he can't afford to cause trouble in Gilead. She begs some more, and Joseph appears torn before hanging up.
In Gilead, we learn of Esther Keyes' (Mckenna Grace) fate. The young Wife has been made a Handmaid, except the rebellious teenager is refusing to eat as a form of protest. Janine convinces Aunt Lydia (Ann Dowd) to hold off on punishing Esther any further, and Aunt Lydia encourages her to help Esther see reason.
Back in Canada, Serena Joy Waterford (Yvonne Strahovski) and Commander Fred Waterford (Joseph Fiennes) open gifts from supporters as a makeshift baby shower. Fred apologizes for the mistakes he made in Gilead, and he encourages Serena to write another book.
Luke comes up with the idea for June to meet Nick
After the phone call with Joseph goes poorly, Luke suggests they use Nick to find Hannah. What follows is a conversation with many layers, and it is clear Luke is testing June to see how June reacts when Nick is brought up.
June tries to appear stoic, but she balks over the idea. Luke keeps pushing, and June agrees to a phone call. Luke pushes again and suggests that June meet Nick in person. He tells her to bring Nichole, her daughter she shares with Nick, to the meeting. Despite their assurances that this meeting will solely be for Hannah, both June and Luke look at each other with tears in their eyes. Whatever silent revelation they came to will go unsaid for now.
June, Nick, and Nichole reunite in 'The Handmaid's Tale'
June drives Nichole to an abandoned religious school, and two Secret Service officials follow her for security purposes. As soon as Nick calls her name, June closes her eyes, and she seems at peace for the first time since arriving in Canada.
Inside the school, June asks Nick if he can help her find out anything about Hannah. Nick hands her a folder, and it turns out he has been collecting information about Hannah since June made it to Canada. He tells her that he wishes he had run away from Gilead with her, and she agrees they should have gone to Hawaii like they fantasized about in the second season.
The two share a passionate kiss and then play with their daughter. For the first time in ages, we see June and Nick smile and freely laugh. Light beams in from the window, a consistent motif that signals to viewers their love is the one bright spot from Gilead. It also juxtaposes the darkness of the house June shares with Luke and Moira (Samira Wiley).
Of course, joy can only be short-lived in The Handmaid's Tale, and after June leaves, Nick reaches into his pocket and unhappily puts on a wedding ring. With the show taking the firm stance that June's heart belongs to Nick at the moment and not Luke, it also drives home that Nick and June's love story is one of star-crossed lovers who cannot be together.
June's happiness is cut short again in 'The Handmaid's Tale'
After Janine talks with Esther, the young Handmaid decides to end her hunger strike, though it is clear her rebellious nature is not gone. In Canada, Naomi Putnam (Ever Carradine) and Commander Warren Putnam (Stephen Kunken) visit Fred and Serena.
With their visit, Serena and Fred realize that the Putnams and Gilead plan to try and claim their unborn child. Fred promises Serena he won't let this happen, and he claims he will keep her from becoming a Handmaid or being sent to the Colonies.
When June returns from her meeting with Nick, Luke and Moira look over the photos of Hannah with Mark. Once again, happiness is brief in The Handmaid's Tale, and Mark breaks the news that Fred took a plea deal for his freedom in exchange for being an intelligence asset.
June follows Mark out of the house, and the episode ends with June screaming, "I will kill you!"