'The Handmaid's Tale' Episode Recap: Where Do We Go From Here?
On June 16, the season 4 finale of The Handmaid's Tale premiered on Hulu. At the conclusion of each season, the show manages to finish on a cliffhanger. The newest season finale is no exception, and "The Wilderness" ends with nearly every character's arc up in the air.
[Spoiler Alert: This article contains spoilers for season 4 episode 10 of The Handmaid's Tale.]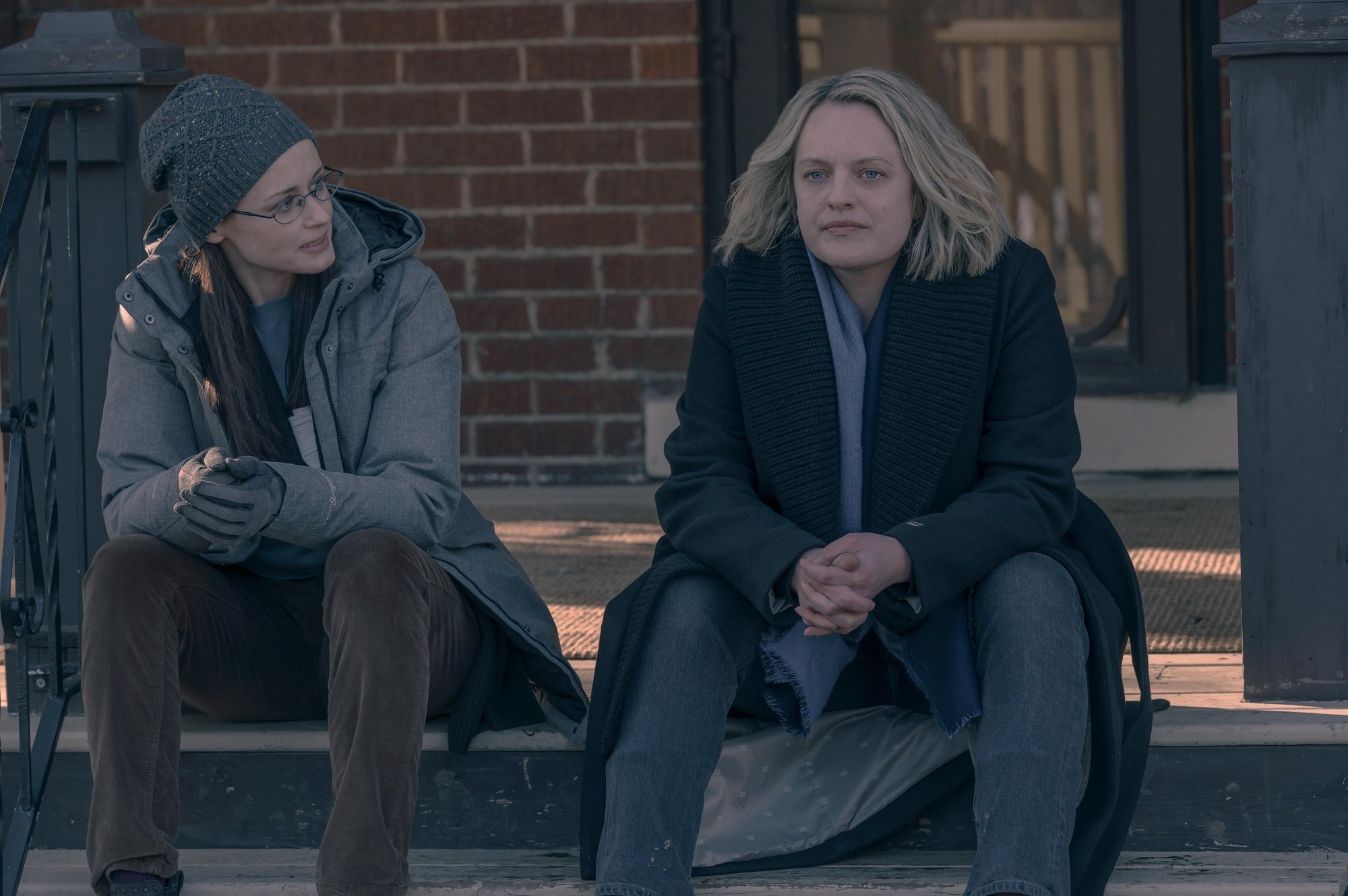 June struggles with letting Fred go in 'The Handmaid's Tale'
At the start of the episode, June (Elisabeth Moss) grapples with the idea that Fred Waterford (Joseph Fiennes) will soon walk free thanks to his plea deal. Her husband Luke (O-T Fagbenle) tries to comfort her, while her best friend Moira (Samira Wiley) wants to arrange for June to fly to Geneva to protest against Fred.
"Maybe what he's giving them is more valuable than what he took from me," June tells Moira, knowing that legally fighting Fred is pointless.
June confides in Emily (Alexis Bledel) that she can't let Fred go. Compared to Moira, Luke, and Rita (Amanda Brugel), Emily understands June's rage a little better, which gives June the space to admit that as much as she wants to be a good mother and wife, she is not at a place where she can just move on.
Fred debriefs as an intelligence asset while his wife Serena Joy Waterford (Yvonne Strahovski) speaks with Mark Tuello (Sam Jaeger) about her eventual freedom with Fred, leading Mark to remind her she is still in custody indefinitely. When she mentions living as a family with Fred, Mark looks at her in disgust, realizing that she will not ever atone for her or Fred's actions.
RELATED: 'The Handmaid's Tale' Season 4 Cast Teases the 'Explosive' Finale Episode
June has Fred sent back to Gilead in 'The Handmaid's Tale'
To try and get closure, June meets with Fred sometime before his flight to Geneva. He apologizes to her for having her children taken from her, as he now understands her pain since Serena is pregnant with his child. He tells June that he misses Offred, and she admits that she misses Offred and her strength too.
While she originally intended to make peace with Fred and her past in Gilead, the visit only proved to June that what she really wants is vengeance. On the drive back home, Luke repeatedly urges June to move on, but she only responds with "I'm gonna put Fred on the wall."
June convinces Mark to help her, and they meet Commander Joseph Lawrence (Bradley Whitford) at an abandoned diner. Joseph offers to trade 22 women in Gilead who were resistance fighters for Fred. After Mark leaves to begin arranging the deal, Joseph warns June that whatever Gilead does to Fred will not be enough closure for her.
At dinner later that night, Moira, Rita, and Luke celebrate that Fred will be taken back to Gilead. June confides in Emily that she still wants more. Fred bids farewell to Serena, but when he walks outside, Mark informs him that he will not be taken to Geneva and guards put him in the back of a van.
RELATED: 'The Handmaid's Tale': Ever Carradine on Naomi Putnam's Return
June gets her revenge, but is it enough?
Mark takes Fred to a bridge along the border of Canada and Gilead. As the 22 women are loaded onto buses waiting, Mark hands Fred off to Joseph. Before Joseph can take him back to Gilead, Commander Nick Blaine (Max Minghella), June's lover in Gilead, appears.
Nick tells Joseph that the Eyes will take Fred into custody. Joseph seems to be in on the plan, knowing that Nick showing up involves June. Completely unbothered, Joseph leaves Fred with Nick, who has his men load Fred into another van.
When the van stops, Nick brings a handcuffed Fred out into the woods. Fred repeatedly calls Nick "son," and when he demands to know what is going on, Nick knocks him to the ground. He tells Fred that they are in "no man's land," and June appears. As a power move, June and Nick kiss in front of Fred, showing him that they were never loyal to him.
RELATED: 'The Handmaid's Tale': Samira Wiley Says Moira and Luke Will Have Different Reactions to June as Season 4 Continues
Nick leaves June with Fred, and she presents him with a gun and a whistle, asking him to choose. He claims she could never shoot him, but when she blows the whistle, Emily and other former Handmaids from June's therapy support group appear. They chase Fred through the woods and kill him Particicution-style.
'The Handmaid's Tale' leaves us with more questions
June manages to mail Fred's finger and wedding ring to Serena and returns home. She tearfully picks up her daughter that she shares with Nick, Nichole, seemingly saying goodbye. Luke walks into the nursery and falls to the ground in shock at the sight of June covered in blood while holding Nichole.
June promises she will be gone in a few minutes, leaving fans with more questions than answers. Where will June go? Is she going back to Gilead? Does this mean June and Luke's marriage is over? How will Emily's wife react to her taking part in the Salvaging? What will happen to Nick and Joseph in Gilead? How will Serena cope with Fred's death?
We won't find out until season 5 of The Handmaid's Tale premieres.