'The Handmaid's Tale': O-T Fagbenle, Max Minghella, and Madeline Brewer Reveal Where and How They Learned They Were Nominated for Their First Emmy Awards
With the Emmy Awards just days away, anticipation is in the air as to who the winners will be and who won't be as lucky. The Hulu series The Handmaid's Tale is poised to walk away with quite a few Emmys, and recently a few of the stars revealed in an interview where and how they learned they were nominated for an Emmy Award.
O-T Fagbenle, Max Minghella, and Madeline Brewer reveal where and how they learned they were nominated for their first Emmy Awards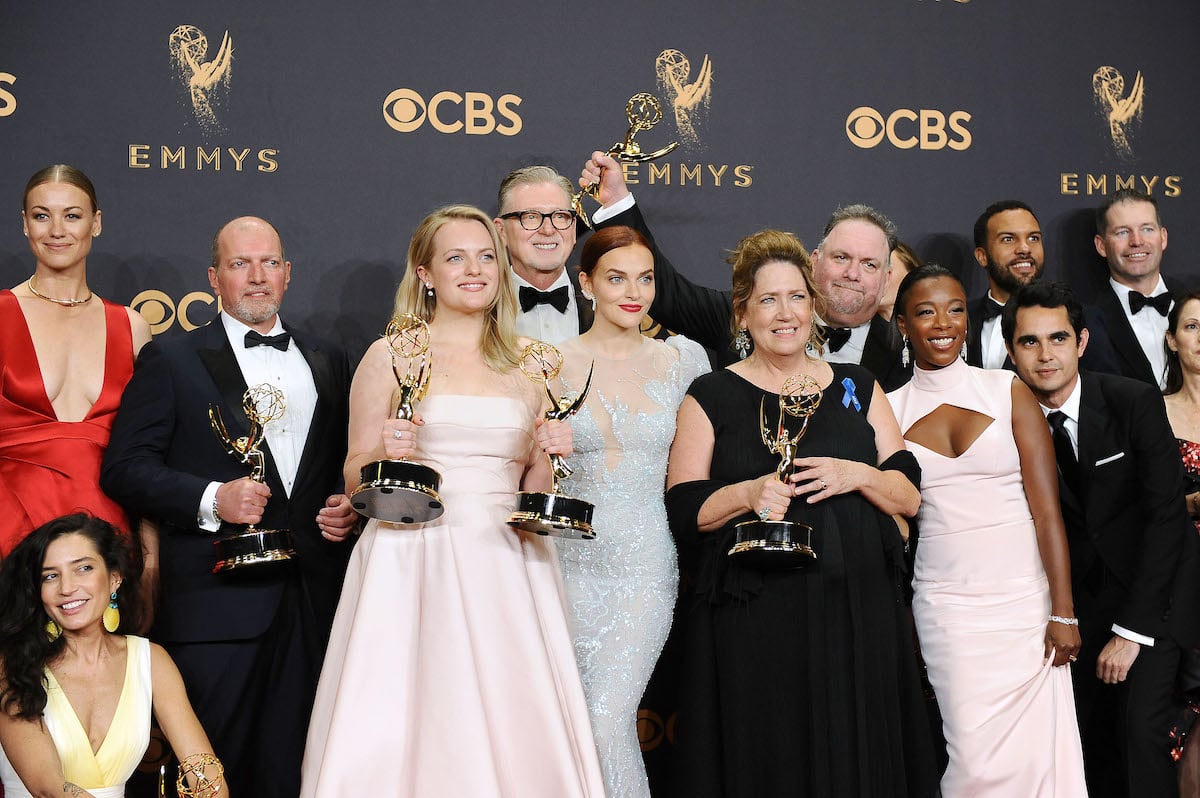 Season 4 of The Handmaid's Tale was epic, and it certainly deserves a reward or two. June Osborne (Elisabeth Moss) is finally free of Gilead and she's safely in Canada. But she has to deal with all the trauma now and what was done to her after years of sexual slavery. The series is nominated for numerous Emmy Awards this year – 21 to be exact – and a few of the stars of the show, who are also nominated, recently spoke with IMDb for an episode of Ask Each Other Anything.
O-T Fagbenle who plays June's husband Luke Bankole, Max Minghella who plays Nick Blaine, and Madeline Brewer who plays Janine Lindo, spoke on the show where they interviewed themselves. They were all nominated for their first Emmy Award this year, which is exciting news. Fagbenle and Minghella are both up for Outstanding Supporting Actor in a Drama Series. Brewer is nominated for Outstanding Supporting Actress in a Drama Series this year as well.
Brewer broached the subject with her fellow actors during the interview with IMDb, saying, "Guys, tell me where were you when you found out that you got nominated for an Emmy."
"I was in a market in Nigeria," Fagbenle explained. "I had my two nephews and my brother with me." He reveals there were both "cars and buses passing" them. "So I was like in the middle of it, and I get this call." He goes on to explain he's asked if he "heard the news." "And I'm walking through this market, and I turn to my nephew and I'm like, 'I think someone just said I got nominated for an Emmy." 
Madeline Brewer was 'shooting' an 'indie film'
Brewer laughs at that, and Minghella asked Brewer where she was. She was actually shooting for a film when she learned the exciting news.
"I was on set shooting this indie film in Rhode Island, and I had like kind of mentioned to some of the cast like 'Oh I'm excited. Like I want to hear about the Emmys.' And you know, I obviously wanted to be nominated. Anybody who says that they don't care, they are lying. They care. Except for Max, I think he means it."
Max Minghella received a call when he learned the news
Minghella was quick to respond to Brewer's comment. It turns out he also received a call just like Fagbenle. He calls season 4 "the most ambitious season" they've ever "done," and those that watched it would definitely agree.
"No it's not that I don't care," Minghella revealed. "It was so not on my radar. And also like O-T I got a call, but I assumed what they meant was the show had been nominated, which I was thrilled about. The nicest part of this was so much of our crew on the show were acknowledged on a season that was genuinely very f****** challenging. The most ambitious season we've done, and it was shot obviously under difficult circumstances. So that was very exciting to see so many people get included."
We'll have to see if these three talented actors will win an Emmy Award. Fans can watch the winners on September 19, 2021, at 8 p.m. EST for the 73rd Primetime Emmy Awards.