'The Handmaid's Tale' Producer Teases Mark Tuello Has More Up His Sleeve
In the penultimate episode of The Handmaid's Tale season 4, Mark Tuello (Sam Jaeger) drops a bombshell on June Osbourne (Elisabeth Moss) when he strikes a deal with the Waterfords. So far, the show hasn't revealed much about the agent's motives. But according to the series showrunner, Tuello still has plenty of cards up his sleeve. 
[Spoiler alert: This article contains spoilers for season 4 episode 9 of The Handmaid's Tale.]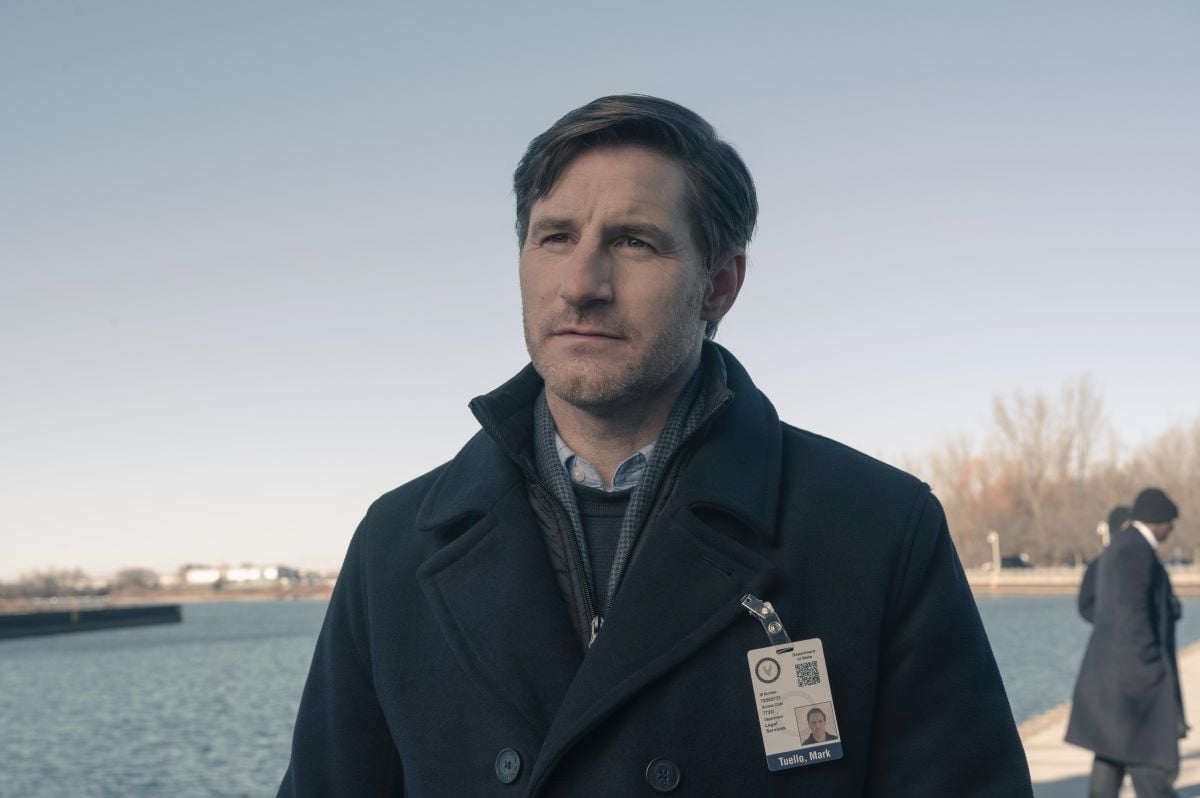 Mark Tuello makes a shocking deal with Fred Waterford in season 4 episode 9 of 'The Handmaid's Tale'
In the latest episode of The Handmaid's Tale, Fred (Joseph Fiennes) and Serena Waterford (Yvonne Strahovski) find themselves on the outs with Gilead. Commander Warren (Stephen Kunken) and Naomi Putnam (Ever Carradine) visit the couple in Canada, but they don't offer much solace.  
In a meeting with Serena, Naomi brings baby gifts and offers to take the Waterford baby back to Gilead if things go south. And when talking to Fred, Warren reveals that Gilead is done with him and has no plans to help him get out. 
With the only option looking like jail time, Fred and Serena make a deal with Tuello. Fred offers to give the agent critical information on Gilead in exchange for complete immunity and freedom. 
When Tuello drops the news on June, she becomes visibly enraged. She yells at the agent, asking him why he's letting her rapist off the hook. She then pushes Tuello and threatens to kill him. 
'The Handmaid's Tale' producer says Mark Tuello has more cards to play
With one episode left in the season, it's still unclear what Tuello's motives are. And as revealed by The Handmaid's Tale writer and producer Eric Tuchman, the US agent has a bigger agenda than he lets on.
"Tuello has more up his sleeve than we've seen, and I'm not sure how many chess moves Mark has thought of in advance, but he's certainly exploited and stirred up the emotional dynamic between the Waterfords and between them and June," Tuchman told EW. "I think he's been waiting and hoping for an opportunity to leverage Fred and flip him into an asset for the Americans because Fred is such a valuable source of intel."
"So it's not like Mark isn't empathetic toward June and her trauma, and he's very respectful of her, but he does have the bigger picture in mind," the producer added. "And that bigger picture doesn't necessarily include justice for June and the women who were abused and exploited in Gilead."
We still don't know how deep Tuello's feelings for Serena go
One factor that plays into Tuello's motives is his relationship with Serena. We're not sure if the two have had any kind of romantic interaction. But they do seem to have feelings for each other — or pretend to anyway. 
If Tuello is in love with Serena, he might have made the deal to save her. Some fan theories suggest he is the father of her baby. And if this is true, it would further explain why he's letting the Waterfords get off so easily. 
Hopefully, fans will get a better idea of Tuello's motives before the season ends. The Handmaid's Tale season 4 finale airs June 16 on Hulu.