'The Handmaid's Tale' Showrunner Says Serena Will Use Fred In Season 5
'The Handmaid's Tale' showrunner discusses Serena in season 5.
The Handmaid's Tale June 16 episode brought Fred Waterford's (Joseph Fiennes) story to a head. But according to showrunner Bruce Miller, Serena Joy Waterford (Yvonne Strahovski) will still use Fred when the series returns for season 5. 
[Spoiler alert: This article contains spoilers for season 4 episode 10 of The Handmaid's Tale.]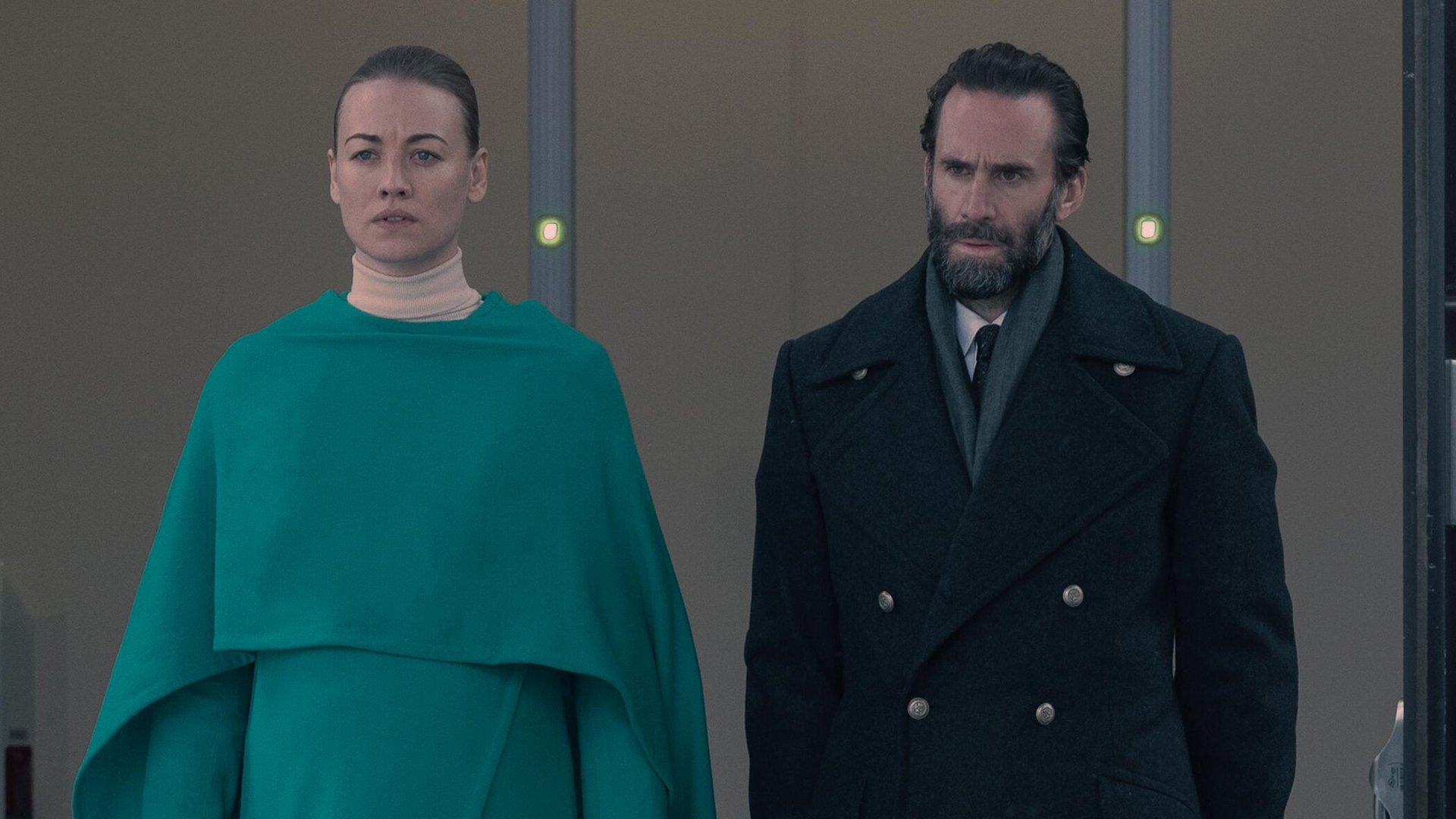 Fred meets his brutal fate in 'The Handmaid's Tale' season 4 finale 
In the final episode of The Handmaid's Tale Season 4, "Wilderness," June Osbourne (Elisabeth Moss) makes sure Fred gets the justice he deserves. Just before Fred heads out to Geneva, she brokers a deal between Commander Lawrence (Bradley Whitford) and Mark Tuello (Sam Jaeger) to send him back to Gilead. 
Once Fred is handed over as part of a prisoner exchange, Nick (Max Minghella) shackles him and brings him to a location he calls "no man's land." There, Fred is met by June and dozens of other women, who then beat him to death and hang his headless body on a wall.
Meanwhile, Serena seems to have no idea what is going on because she appears to be trying to Zoom call him in the episode's final scenes. But outside Serena's room, a mail delivery person opens a package addressed to her, which contains Fred's wedding ring and mutilated finger. 
'The Handmaid's Tale' showrunner says Serena will still use Fred in season 5
Fred might be dead. But according to The Handmaid's Tale showrunner Bruce Miller, Serena will still get some use out of him when the show returns for season 5. 
"Think of how much she managed to get out of Live Fred," he told The Wrap. "Think of how much she's going to get out of Dead Fred, who doesn't even talk back."
"I think there's one side of the tragedy, there's one side of losing someone who was her partner," Miller added. "There's another side of losing your abuser and how complicated that is emotionally for people. It's tied up in all sorts of stuff."
Miller also noted that with Fred gone, it would be easier for Serena to use him and his status for her gain. But he also revealed that when Serena learns June was behind the murder, it will consume her in a way she won't be able to shake.  
"More than anything, Serena hates to lose, and she lost to June in the biggest way," said Miller
"There's a basic level of respect between these two women because they both see each other as very strong and intelligent. When you throw something like this in, I just think Serena is never going to be able to let go of that aspect of it. You know, 'That b—- beat me.'"
It's easy to picture Serena getting over Fred's death quickly
Serena's been a self-serving brutal woman from the get-go. And after all the abuse Fred has put her through, it's not hard for The Handmaid's Tale fans to imagine her getting over his death quickly and turning her ire toward June. 
"I think she'll be conflicted with not mourning Fred, but also mad that June took something from her," one Reddit fan wrote. "She was about to have a house with a man she can control and a 'family'. But June took that and is throwing it in her face. So I think that will make her more mad than anything. But yeah, I don't think she's sad about Fred."