'The Handmaid's Tale': What Made Rita Turn on Serena?
How Rita and Serena's dynamic changed in 'The Handmaid's Tale.'
The Handmaid's Tale dove into Rita and Serena Joy's complicated dynamic in episode 4, "Milk."
As orchestrated by Mrs. Waterford, two reunited in a friendly meeting. But after their discussion,  Rita surprisingly snapped and turned on Serena. 
[Spoiler alert: This article contains spoilers for The Handmaid's Tale, Season 4, Episode 4, "Milk."]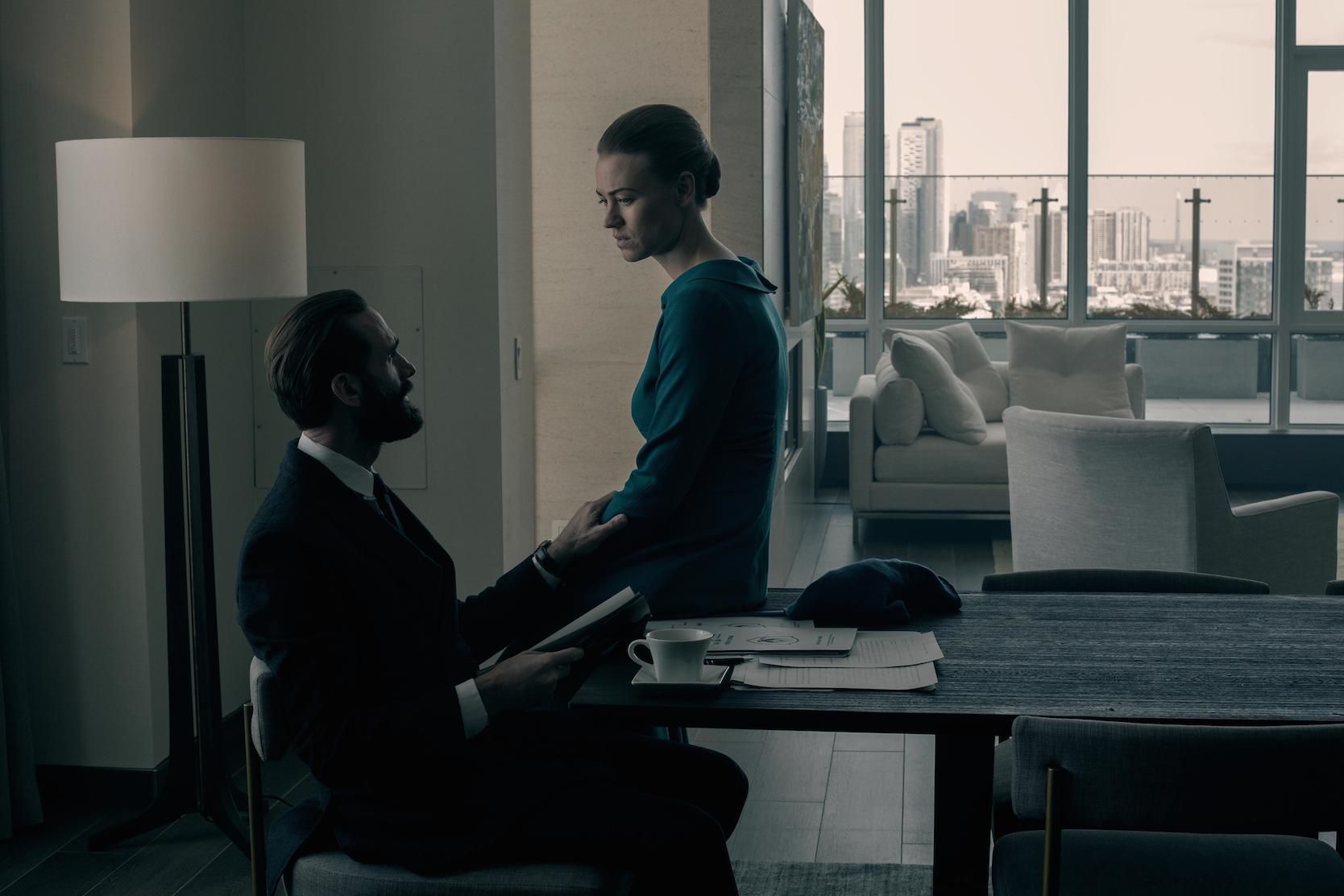 Rita and Serena Joy reunite in Canada on 'The Handmaid's Tale'
As seen in previous seasons of The Handmaid's Tale, Rita (Amanda Brugel) was assigned as a Martha (servant) in the Waterford home. She was working for Serena Joy (Yvonne Strahovski) when June (Elisabeth Moss) arrived there as a handmaid and was kind and caring toward both of them.
Season 4 picks up with Rita in Canada after she escapes Gilead with June's help. Serena Joy and Fred (Joseph Fiennes) are in custody, awaiting trial. 
Knowing the trial could introduce Rita's damning testimony, Serena asks her former servant to visit her in custody. In a disturbingly friendly reunion, Serena tells Rita that she's pregnant with a boy and asks her to help raise the baby. She also hands her a picture of her ultrasound and mentions that she purposely hasn't informed Fred of the pregnancy.
Later, when Rita is at home, she learns that Serena told her defense lawyer that Rita would testify in her favor. She was very sweet towards Serena during their meet. But then something in Rita snaps as she recalls being registered property of the Waterfords.
Then after indulging in a sushi lunch (something she couldn't eat in Gilead), Rita pays a visit to Fred to tell him about his son. And she tells him to care for his own family as it is no longer her "job."
'The Handmaid's Tale' fans think Rita finally realized Serena wasn't her friend
The Handmaid's Tale fans were glad to see Rita finally move on from her Gilead thinking. And some think that as kind-hearted as she is, she finally realized Serena wasn't her friend. 
"I think she still believed Serena had changed when she went to see her initially," a Reddit user wrote. "It seemed to me at the start that Rita thought she'd changed and decided to give up Fred in the hopes of being with Nichole, so that's why she was so receptive to the idea of a new baby. 
The fan continued, "but then Serena proved that she still viewed Rita as an object. I loved seeing that switch flip – it's like she realised there was nothing redeemable whatsoever there, so she almost had permission to just throw a hand grenade into the Waterford family and wash her hands of them."
Amanda Brugel breaks down Rita's attitude toward Serena
In a recent interview with Steve Varley, The Handmaid's Tale star, Amanda Brugel, who plays Rita, revealed what her character was thinking when she met and turned on Serena.
"I think that she still has an emotional connection to Serena Joy," Brugel explained. "I don't know if it's the healthiest. But Rita was trapped in that house with the Waterfords for so long, that there's still some sort of connection between the two of them." 
Brugel noted that Rita had lost a son and was passionate about raising another child. So when Rita realizes Serena played with her emotions by asking her to help raise her baby boy, she snapped back into reality.
"It really guts her in that moment and brings her right back to Gilead and being trapped by Serena," Brugel said. "But as Serena starts — talking about the fact that we were friends and she misses a friend, I think Rita clocks her intentions and is like, 'No I'm not getting snagged back into the spider web again.'"