'The Hangover' Wasn't the First Time Mike Tyson Appeared on the Big Screen
Mike Tyson's most iconic movie role was in 'The Hangover'. However, Tyson has a long history of appearing in movies and television.
Mike Tyson's had a long and storied career that was full of fast knockouts as well as quotable moments. His scary knockout power, as well as his antics and controversies, have made him one of the biggest names of the '80s and '90s, but soon, his fame ended.
Like many athletes, Tyson stopped doing what he did best, and eventually, he fell out of the limelight. But, thanks to a few good choices, such as being cast in The Hangover franchise, he's made a comeback as of late. That said, those movies weren't actually his first roles in Hollywood.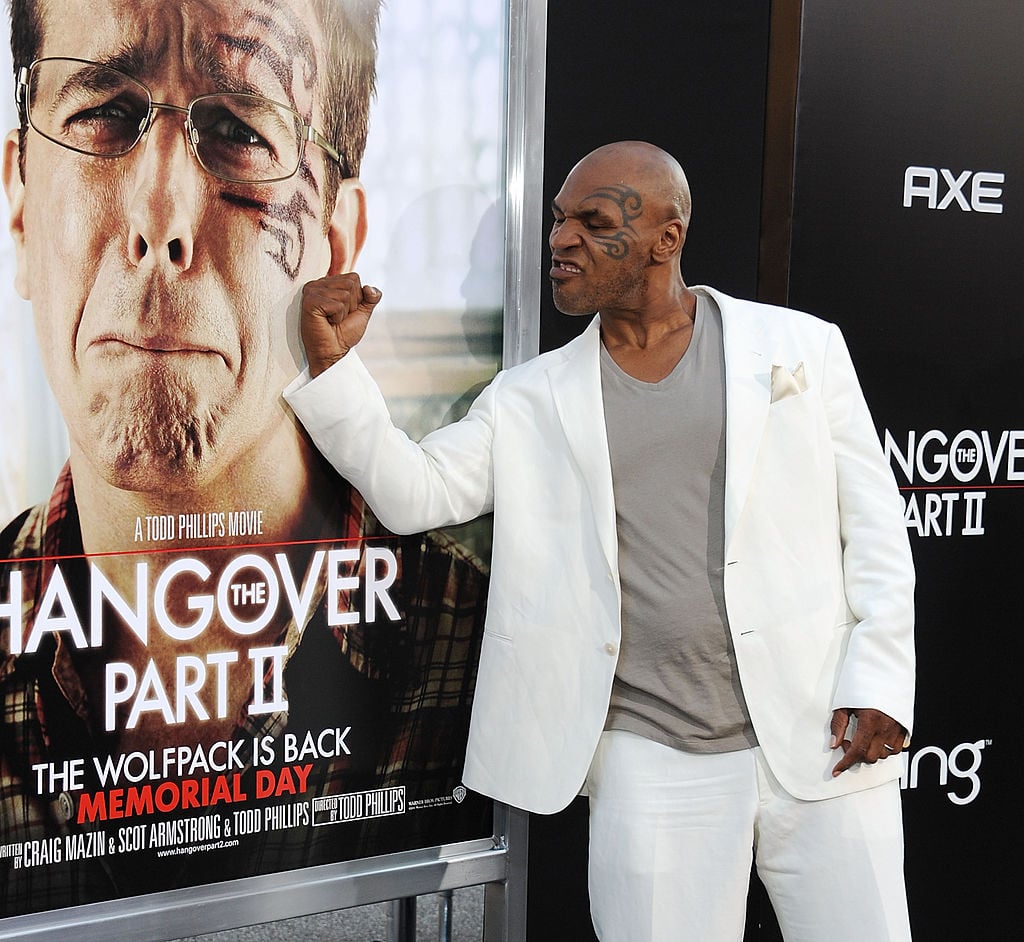 How 'The Hangover' revitalized Mike Tyson's career
He's always been a party animal, but in The Hangover franchise, Tyson's life and personality were taken to an extreme. This was done for the sake of comedy, and it worked. His small role in the movie was a notable one, as audiences seemed to really enjoy watching him live his fake life. 
That said, it also gave the former world champion a second act after he had retired from boxing. The Hangover did so well that the studio made a sequel, and Tyson made a return.
However, it also opened the door for him to appear in other Hollywood productions. Most notably, he even has his own TV show called Mike Tyson Mysteries, which is still airing.
That said, while The Hangover was his breakthrough role in Hollywood, it wasn't his first.
A look at Mike Tyson's first movies
His very first role as an actor in a movie, according to IMDb, was a small cameo in the 1999 film Play It to the Bone. This was a boxing movie, and Tyson played himself.
The movie wasn't any good, but the plot was that the main character was going to fight on one of Tyson's cards. This was a big honor at the time, as millions of people watched Tyson fight, so fighting on one of his cards meant getting a lot of publicity for yourself. 
That said, his first role where he got to do something was in his very next movie, Black and White, which also came out in 1999. Tyson again played himself, but this time, he got to speak a lot of lines.
This movie featured Robert Downey Jr. in one of his earlier roles, and he plays a guy who's making a documentary about famous people like Tyson. Tyson doesn't like what Downey had to say, though, so 'Iron Mike' choked Iron Man out in this movie.
The first movie where Tyson got to play someone other than himself was a 2004 movie called When Will I Be Loved. In it, while the main characters are out on a date in New York City, they stumble on someone who looks like Mike Tyson.
The former champion plays himself at first, but he then reveals that he's actually a guy named Buck who's from Minnesota, and that everyone thinks he's Mike Tyson. 
Still going strong today
Mike Tyson's acting skills steadily improved, and eventually, he went from being a cameo to being a main star. One of his most recent big roles was when he played one of the villains in Ip Man 3. That said, Tyson got the role because the character needed boxing skills, which he of course, had plenty of.
The former heavyweight champion also had a big role in one of the most recent Madea movies. In A Madea Family Funeral, and he got top billing for his work as a character named Roy.
In the future, Tyson is also set to star in a movie called The Devil May Care. Unlike many of his past movies, he's set to play the main character for once.