The Hidden Meanings Behind Ayesha Curry's 7 Tattoos
Ayesha Curry first rose to fame as the wife of NBA superstar Steph Curry. However, as time has gone by, she has built a very impressive career of her own, creating a lifestyle and cooking brand that thousands of fans love and admire.
These days, she hosts a successful cooking show on the Food Network, is the acclaimed author of a cookbook, and reps for brands like CoverGirl. As the mother of three small children and a busy professional, Curry doesn't get a lot of time to herself.
But she does have one passion that she indulges when she can. Read on to learn all about Curry's love for tattoos and what the seven that she has are meant to represent.
Ayesha Curry has several tattoos that honor her husband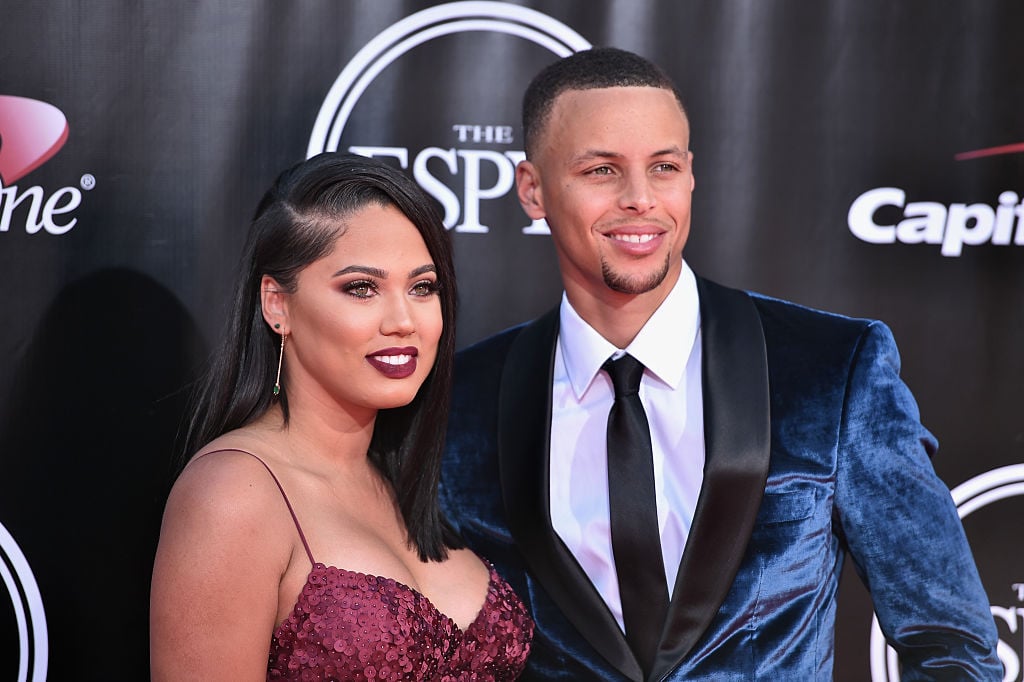 Ayesha Curry and Steph Curry have been married since 2011 and are known to have one of the best marriages in entertainment. They make it a point to spend as much time as possible with each other, in spite of their busy schedules.
As a way to honor her husband, Ayesha has several tattoos that reference their relationship. One of her oldest tattoos, which she got some time in 2014, is of a greater than/less than symbol, which she got as a reminder to "be present." Steph got a matching tattoo around the same time. 
The Currys also have another matching tattoo, a line of text in Hebrew that says "love never fails to be." Ayesha's religious faith has inspired another one of her tattoos, ink on her forearm that says "faithfully" in cursive letters.
She talked about the tattoo, revealing that it is a reminder for her to give "all of the glory to God" and to do so "faithfully." Ayesha also has at least one tattoo that honors her husband's career, a pineapple on her right ankle that she got to pay tribute to Steph's award-winning basketball team, the Golden State Warriors.
What is Ayesha Curry's cooking-inspired tattoo?
One of Ayesha's biggest passions in life is cooking, which led to her show Ayesha's Homemade on Food Network. Ayesha is also a host for The Great American Baking Show and published a cookbook called "The Seasoned Life" in 2016. 
As such, it's no surprise she got a tattoo pertaining to cooking. As a way to acknowledge her love of being in the kitchen, she got a tiny tattoo of a whisk on her thumb in September 2016.
Ayesha Curry's latest tattoo
Ayesha has a small heart tattoo on her left wrist, which she could have gotten as a sweet tribute to her husband and kids. But recently, she upped the game with a more obvious tattoo inspired by her three kids.
Her latest tattoo, which she got in the spring of 2019, features three small geometric animals: a unicorn, a butterfly, and a wolf. Curry wrote what the ink means to her: "unicorn horse riding big girl, my creative free-spirited butterfly baby girl and my young wolf."
Steph and Ayesha Curry have three kids, Riley, Ryan, and Canon.
Steph Curry also has a fondness for tattoos
Like his wife, Steph enjoys getting inked and has several tattoos of his own. In addition to the two matching tattoos that he shares with his wife, Steph has "TCC – 30-" tattooed on his wrist, a reference to his team jersey number, the word "WOE" tattooed on his bicep, which reportedly stands for "working on excellence," and a tattoo of the letter "A" on his ring finger, which clearly is mean to represent his wife's initials.