'The Incredible Dr. Pol': Don't Miss Dr. Emily's Final Episode Airing This Saturday
If it's Saturday night, it must mean a new episode of The Incredible Dr. Pol will be airing on NatGeo WILD.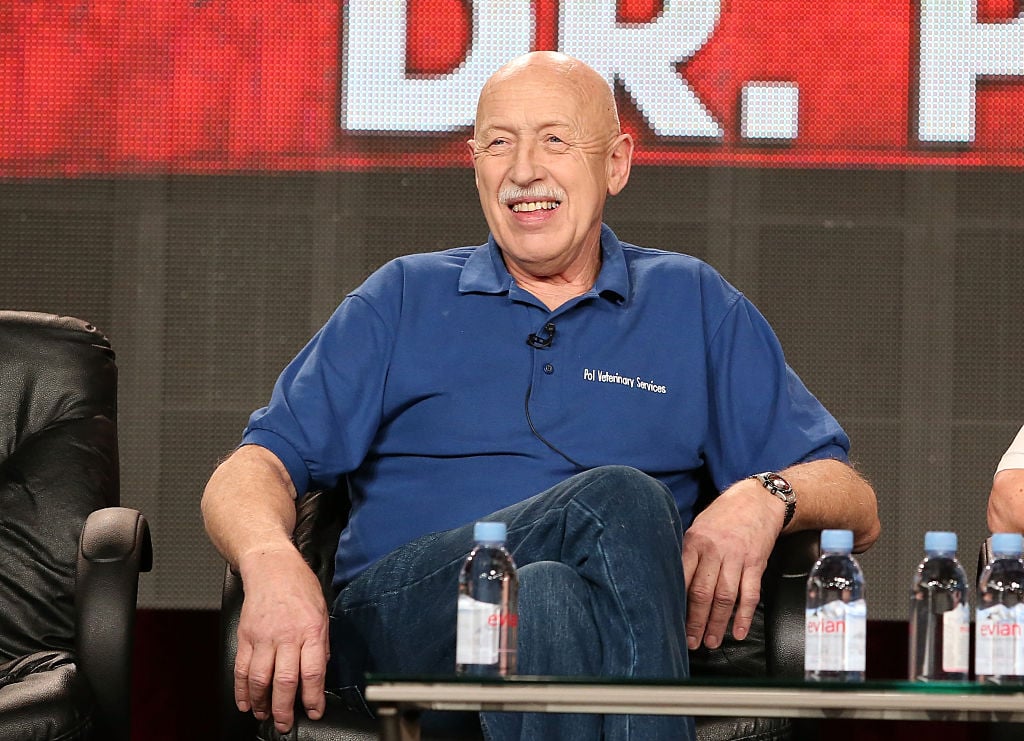 This Saturday, however, Pol Veterinary Services will be saying goodbye to a fan favorite vet: Dr. Emily. Although we all knew this moment was coming, it still won't be easy to say goodbye to the unflappable Dr. Emily (hey, NatGeo, show idea right there!).
Here's what we know about her departure, plus her husband's take on life at Dr. Pol's office.
Why fans love Dr. Emily so much
Dr. Emily is beloved by fans for her humor, her easygoing nature, and how easy she makes it look to handle large farm animals. Although she is quiet, the mother of three has some pretty spot-on and funny observations when she opens up.
The Georgia-born-and raised vet writes in her blog about working her first veterinary job after completing an internship and having to tell her scary first veterinary boss that she was pregnant with her first child.
"I finally got up the courage to tell him and he was visibly disturbed, but, to my astonishment, did not fire me on the spot. . . He did, however, warn me that the farmers around there (rural South Carolina) would not like a pregnant lady working on their cattle. . ."
". . . [A]t some point, you just get to the point where you can't hide that belly anymore. The farmers did notice. They were shocked, surprised, but not one of them told me not to come back or act like they were unwilling to allow me to work on their animals. They were, maybe, a little more careful with restraining their large animals."
What Dr. Emily's husband, Tony, had to say about working with Dr. Pol
Dr. Emily's husband, Tony, also worked in Dr. Pol's office in a support capacity, helping out with administrative duties, helping check clients in and out, plus on a daily basis, he would, as he noted in his guest post on Dr. Emily's blog "restrain patients, clean rooms between appointments, fill prescriptions, run blood work, fecal floats, . . . run urinalyses in the lab, and work in radiology."
He was, in Dr. Pol's office, one of "the people who mostly stayed just to the side of the camera's screen, but kept the clinic together."
"Working at Pol Vet was frantic, . . . claustrophobic at times," he wrote. "The clinic is small, and it was hard at times fitting the office staff, with the camera crew, and the clients into that building."
"But, it was also fun. I loved being with the people I worked with. I enjoyed being a part of something that helped a lot of people in the community. The guys on the film crew became some of my best friends in Michigan. I don't miss the chaos that Pol Vet brought into my family, but I do miss the people (both clients and coworkers) there."
Finding her way to Dr. Pol's
Getting a job with Dr. Pol was a literal answer to prayer for Dr. Emily. Her friend had seen an ad Dr. Pol's office had placed looking for a new veterinarian. Dr. Emily submitted her resume and information and became discouraged because she had not heard from his office, but soon the call she was waiting for came.
". . . [W]e were driving home from the Atlanta airport. We had stopped for gas somewhere along the Atlanta Highway for gas when my phone rang and it was Dr. Pol."
"I had not watched the show at all and only knew of it through news articles. I was still star struck, knowing this famous vet wanted me to come interview. I hung up the phone and knew that God had shown me the way."
Watch Dr. Emily's final episode on 'The Incredible Dr. Pol' this Saturday, Feb. 22 at 9:00PM on NatGeo WILD
Read more: 'The Incredible Dr. Pol': Dr. Emily Gets Brutally Honest About Being a Woman in the Veterinary Field