'The Incredible Dr. Pol': How Old Is Dr. Pol and How Long Has His Reality Show Been On NatGeo WILD?
Find out the age of 'The Incredible Dr. Pol' - Dr. Jan Pol - as well as how long the reality show has been on NatGeo WILD.
If you're a regular viewer of The Incredible Dr. Pol, you may have felt that you were late to the Pol Party, that perhaps this gem of a reality show has been on the air forever and you're just finding out now.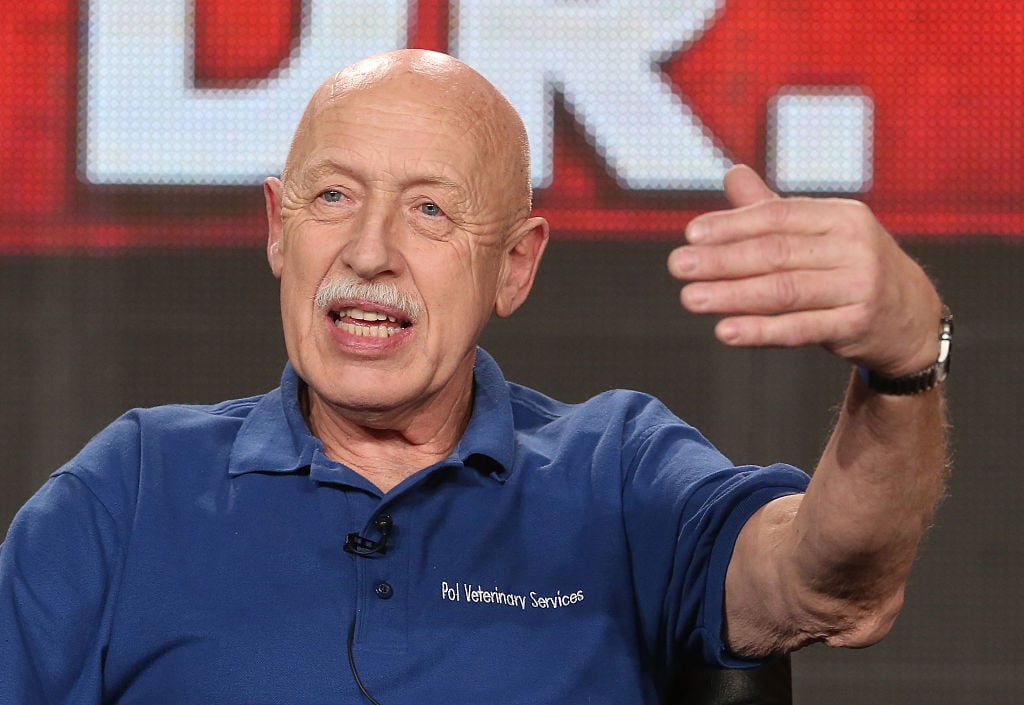 The veterinarian behind this program is a huge fan favorite. Viewers can't seem to get enough of watching him birthing calves or castrating horses.
Here's what you need to know about Dr. Jan Pol, his staff, and how long this popular show has been on the air.
Getting used to all the cameras
Pol Veterinary Services has gone from a busy little practice humming along to a growing veterinary hospital with more animal doctors on staff, thanks to The Incredible Dr. Pol. It surely was an adjustment for the doctors to get used to cameramen in the examination rooms with their large equipment and lights.
"What you see on the [Nat Geo Wild] show is real family life. In the beginning, a producer wanted me and my son, Charles, to get into a fight for the cameras," Dr. Pol told AARP in 2019. "I said, 'I'm not going to do it; our family loves each other.'"
"My glass is always half full. I think that's what people are looking for and why the show is so popular. My wife, Diane, and I go to church every Sunday, and we believe in treating others how we would want to be treated."
Dr. Pol's age and how long he's been a practicing veterinarian
Dr. Pol is 77 years old, a fact that is hard to believe watching him wrestle goats and jump out of the way of angry bulls.
He continued in his conversation with AARP, "I grew up on a dairy farm in the Netherlands. My parents said that when I was less than 3 years old, I was already taking care of a chicken that was crippled."
"When I was 12 years old, the local veterinarian let me help deliver piglets at my brother's place. I was lying in the straw and up to my shoulders in the sow, trying to get the pigs out. That's when I knew I wanted to be a vet. . . "
"My first experience after graduating was working for a veterinarian in Harbor Beach, Michigan," Dr. Pol told Today's Veterinary Practice in 2012. "However, my wife, Diane, and I were eager to start our own practice here in Weidman, Michigan. When the practice opened in 1981, 80% of our practice was dairy, with the remaining 20% equine and small animals."
How long 'The Incredible Dr. Pol' has been on NatGeo WILD
Dr. Pol's son, Charles, was the brainchild behind The Incredible Dr. Pol. It's been on the air now nine years, having started airing on NatGeo WILD in 2011. During his time working with Nickelodeon, Charles had been trying to sell ideas for reality shows.
At one point, he was asked to find a character who was "larger than life," as Charles tells it. He thought of his father, Dr. Pol, pitched the idea, a trial episode was filmed, and NatGeo WILD saw what Charles saw: an optimistic, tenacious, hard-working large- and small-animal veterinarian who his youngest staff had trouble keeping up with.
"I'm not incredible,"  told The Atlanta Journal-Constitution in 2018, "I don't know everything. If I don't know it, I will try to look it up. Someone else has done it before. When you see me sewing up that boa constrictor, I didn't know what anesthetic to use. I had to look it up." 
Read more: 'The Incredible Dr. Pol': What Is the Net Worth of Dr. Pol's Son, Charles?