'The Incredible Dr. Pol': How the Veterinarian Handles Fame-Hungry Clients
The Incredible Dr. Pol is a tremendous success on NatGeo WILD and no one is more surprised than Dr. Pol himself. At the age of 77, the last thing he ever thought he would be at his age is famous. But he and his wife, Diane, have taken the fame and attention in stride and with great grace.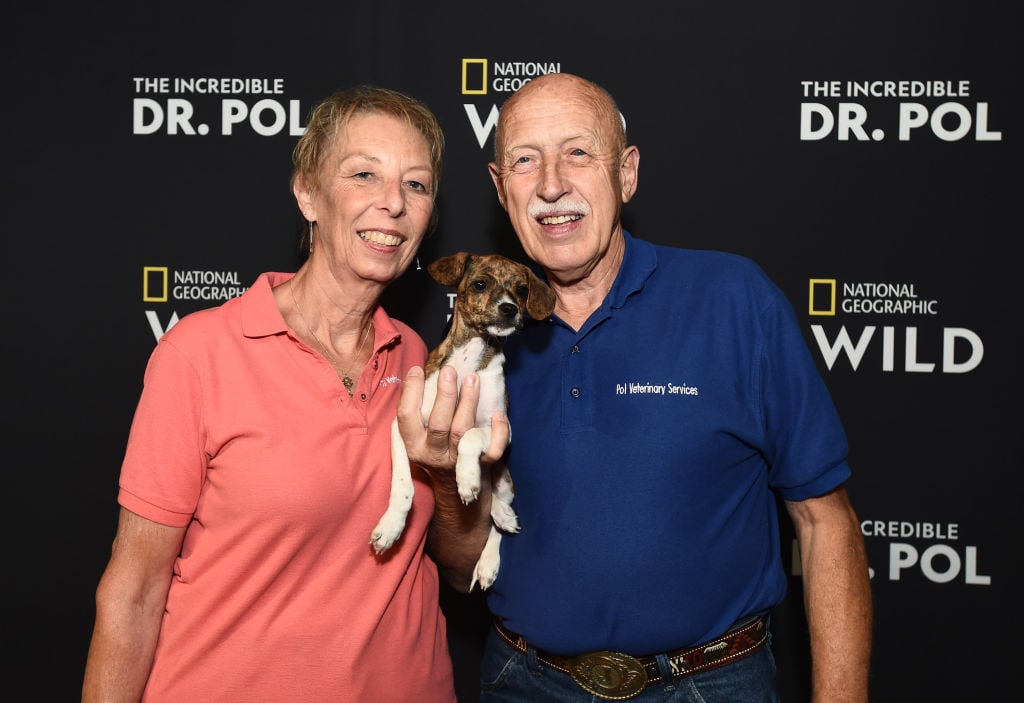 Part of fame for the large and small animal doctor is dealing with those people who supposedly seek out medical attention for their pets, simply for the opportunity to be on television.
Find out how the Michigan veterinarian handles these delicate moments, plus how he's learned to live with his life on display.
Fame was not at all what the Pols were looking for
The Pol family was just minding their own business in 2011 when their son Charles approached Dr. Pol and his wife, Diane, about the possibility of their practice being featured in a reality show.
In addition to being a show producer, Charles is also a cast member.
"At the time, I was working in Los Angeles at Nickelodeon and trying to sell ideas for reality shows," he explained to NatGeo WILD in 2014. "My first idea was turned down, and I was advised to find an idea with a 'larger than life character.' I immediately thought of my dad. I pitched the project to a production company, we filmed a sample episode, and my idea became reality."
Dr. Pol says he's grateful that people enjoy the show and learn about animals from it. "The show makes people happy," he told Parade in 2018. "My wife, Diane, and I treat others like we want to be treated: honestly and fairly. I think it comes through how we have positive attitudes. My glass is half full, never half empty."
Dr. Pol on having his life on display
Imagine going from your current life today to having cameras and lights following your every move tomorrow? That's an enormous adjustment to make, but one that Dr. Pol and his staff have gotten used to in their practice. It's just another day on the farm or in the office for them.
Parade asked the doctor if he was comfortable having so much of his personal life on display for all the world to see. "Yes, because I think that is part of the show, too. Through this show, we are helping so many people, I'm completely in awe about it. We have had so many people that come to us. . ."
"People that have cancer, that are on chemo, a mother came from Kentucky to visit us. We didn't know we were on the bucket list. Three months later, she died and they sent us a note saying, 'Thank you so much for seeing us.'"
"As a veterinarian, you try to help the animals and make the people happy. Through this show, we are making people happy, and that's my goal in life."
Dr. Pol on how he handles clients wanting to be in front of the camera
And then there are those fans of the show, who Dr. Pol is grateful for, but who show up at Pol Veterinary Practice with a pet that isn't exactly sick, hoping to make it into the final cut of an episode.
"There are people who are like, 'I don't personally want to be on TV.' The film crew is respectful of the client," Dr. Pol explained to the Chicago Tribune in 2018.
"And then we have the opposite, where they want to be on TV. I find out pretty quick and I just look at the cameraman, shake my head, the camera goes down and he walks out. They don't come because they have a sick animal, they come because they want to be on TV."
His wife interjected, "We had a couple of ladies who came in and the dog actually had bad teeth, [but] you could tell they had no intention of getting that done. They just wanted to be on TV. So that scene didn't make it into the show."
Read more: 'The Incredible Dr. Pol': 1 of the Hardest Things Dr. Pol Has Had to Film on the Show