'The Incredible Dr. Pol': The Camera Operator's Point of View – 'It's Nearly Impossible To Work'
NatGeo WILD's The Incredible Dr. Pol is one of the network's most popular programs, with its up-close and personal coverage of how calves are birthed, bulls are castrated, and horses' hooves are cleared of pus and infection.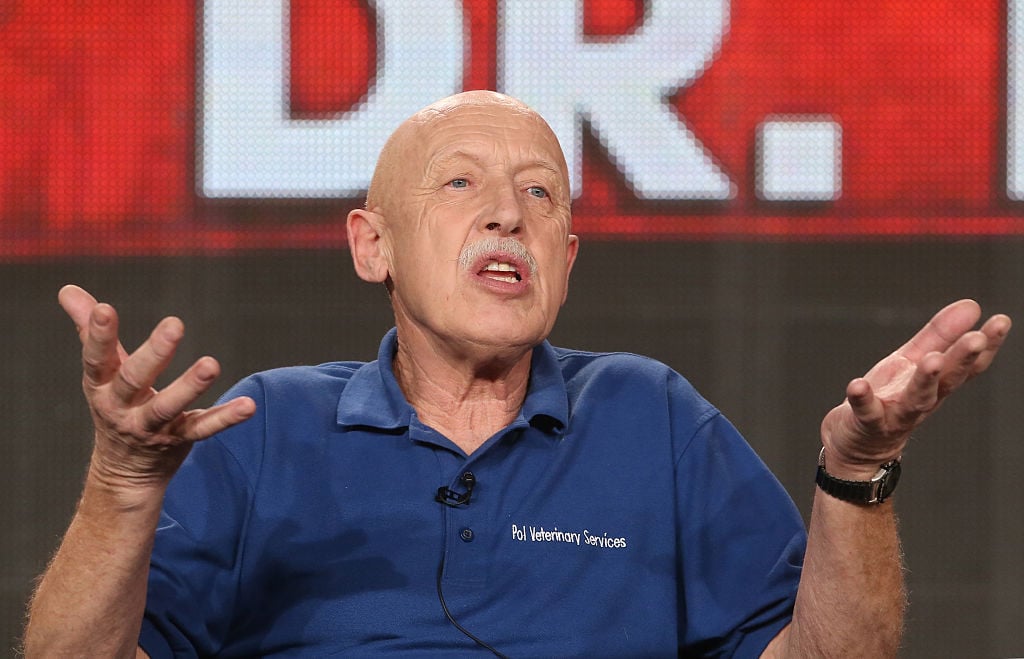 One group of people that makes capturing these moments look so easy are the camera operators on the program. They come in for close-ups at just the right moments and hustle away from a raging bull in the nick of time.
Take a sneak peek at life behind the camera on The Incredible Dr. Pol.
A revealing look behind the scenes from a former show producer
One of the show's former producers, Colin Shea, revealed, in a blog post on Dr. Pol's website, that the day-to-day production on the reality show was no walk in the park. It was more of a walk in the cow manure. Producers and staff were on hand to help out Dr. Pol and his staff during filming. Shea made it clear, keeping up with the 77-year-old veterinarian was no easy task.
"This [show's] crew isn't on a sound stage in L.A. or a city block in New York; they're knee-deep in mud and cow manure in the farms of central Michigan. . . Not only are we there to film a television series but we are also there to not ruin any cases that Dr. Pol may have."
"The Incredible Dr. Pol is much more than a regular television gig. Lunches are eaten in bumpy cars chasing Dr. Pol down a road or in an Amish farm surrounded by cattle . . . Life is another day on the farm, and on the farm, everyone's got to do some heavy lifting to earn his or her keep."
Sometimes Dr. Pol has to ask cameras to back off
As much as The Incredible Dr. Pol is an entertaining and informative reality show, it is anything but staged. The animals being filmed are real, unpredictable, and potentially dangerous, being treated in, at times, dire medical situations. Once in a while, Dr. Pol has to ask the cameras to give him space.
As the veterinarian explained to RealityBlurred in 2018, this happens when "people are not taking care of the animal, and we see that way too much. . . We don't want anybody to look bad, to be honest with you. . . But we don't dwell on it; we don't make it so obvious that it makes the owner feel bad or anything."
"Many people have no idea that their pet got sick. And this is what we see now with cancer, especially," he said, "because it happens so gradually, they have no idea. And then they come to the clinic, and that's it."
Behind the cameras on 'The Incredible Dr. Pol'
It's one thing to help Dr. Pol on the set and another entirely to follow him with heavy cameras around sometimes skittish animals on farms slippery with muck. Depending on the weather, the camera operator is either covered in layers to protect themselves from the cold, or covered in sweat from the extreme heat. Either way, it's not for the faint of heart.
Brian Stevens, a former camera operator on the series, opened up about his experience filming Dr. Brenda on an end-of-day difficult calf birthing.
"It's nearly impossible to work. My hands are slippery wet and there is a constant stream of sunscreen-filled sweat running into my eyes. I can see sweat pouring from the faces of Dr. Brenda and the farmer . . . "
"One of the most incredible things about Dr. Brenda and Dr. Pol is their tenacity to perform veterinary medicine in any condition imaginable. They are relentless in their efforts, be it 105 degrees in the shade or -10 degrees in the snow. . . Their passion for animals and medicine is evident in every case they see. It's an honor and a privilege to work with these doctors on a daily basis."
Read more: 'The Incredible Dr. Pol': The Beloved Veterinarian's Heartbreaking Recent Loss