'The Incredible Dr. Pol': The Most Unusual Case The Veterinarian Has Seen
Dr. Jan Pol of The Incredible Dr. Pol has seen it all in his Michigan animal clinic. But there's one case that was the most unusual he's ever seen.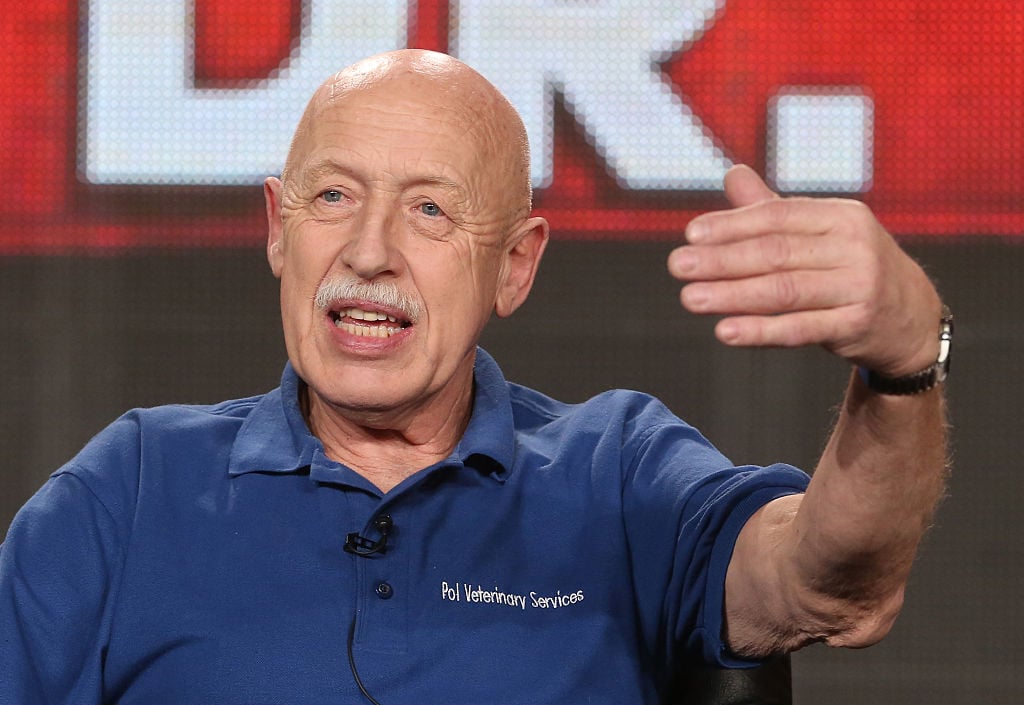 Here's what the vet has said kind of freaked him out.
Dr. Pol has seen unusual snake cases
Most veterinarians see snakes as part of their practice. Many pet owners enjoy owning snakes. Dr. Pol saw one case in his office at one point that left him flummoxed, which he talked about in his book, Never Turn Your Back On An Angus Cow.
"I treated a snake that was partially eaten by a rat. A woman who lived several hours away called and said she had a four-foot pet boa. She fed it live rats."
Unfortunately, as Dr. Pol soon found out, the woman had placed in the snake's cage a live rat, but she fell asleep before making sure her snake had eaten it. She woke up to find her snake's backbone had been bitten off by the rat, with the snake still alive.
". . .She arrived carrying a large plastic container. When she lifted the lid, the stench that came out of it was terrible. . . The rat had chewed the muscle right off the snake, exposing the spines of the vertebrae. The snake was still alive, but it was in obvious pain."
". . . we gave the snake antibiotics and applied a solution that would keep the wound moist while it healed. We showed this woman how to give the antibiotic shots to the snake and gave her the supplies she would need. She left, and we never heard from her again."
The case of the dog with a mysterious limp
Dr. Pol shared in his book another case that turned out to be not what he'd initially thought. It was the case of Zeke the Schnauzer, with a limp so pronounced, the Netherlands-born vet thought he had a broken leg.
Zeke not only was limping, he was nasty. His owner warned Dr. Pol, "Be careful. He's really mean." The vet agreed with her. Zeke was too mean to treat without anesthetic, and so once he was out from a shot, the vet and his son, Charles, got to work on the scrappy little dog.
"The first thing I did was take X-rays," the 77-year-old vet said. "But when I looked at his leg and his hip, I was surprised; everything looked okay. He was much too young for arthritis, so that wasn't causing the limp."
The doc noticed Zeke's coat was long, thick, matted, and all knotted up. So he did what only Dr. Pol would do: he completely shaved the creature.
"Charles and I started trying to clip his hair. At first, we were using regular small animal clippers, but they didn't do any good; the hair was too badly matted, so I put them down and used cow clippers."
"And when I got most of the hair cleared away from his leg, I discovered the problem: His hair had been wrapped so tightly around his back leg that it had literally cut through the skin. He had a big, open hole in his leg. I had never seen anything like that before. I cleaned up the wound and stitched it up."
That's what makes Dr. Pol so incredible: he simply won't give up on a case until he's tried every possible solution. He will even improvise if he needs to do so to help out an animal in pain.
The case Dr. Pol says is the weirdest he's had
As much as the half-bitten snake and the limping dog were strange cases, Dr. Pol noted one that he calls "the most unusual animal we had" was a cat that arrived at Pol Veterinary Services in a car. Not inside the car. It was in the frame of the car.
His client explained, "'It's this cat. He's caught in the frame of my car.' We went outside. He was driving a big Suburban, which had a metal tubular frame with holes in it. As we stood there, I heard 'meow, meow,' and it seemed like it was coming from the motor. This was a new one for me."
Dr. Pol got right to work, and got down on all fours.
"I crawled underneath the car, and sure enough, there was a tail hanging down. The cat was right where the axle was attached. I reached through another hole and managed to grab hold of that tail and start pulling. . .That was a very strong cat. . . he did not want to come out."
Dr. Pol eventually had to jab the cat, again, on his stomach, under the car, with an anesthetic. Once the cat relaxed a bit, he was able to try to get him out again.
"I pulled it out by the tail and brought it into the clinic. It was a beautiful Siamese kitten, a tomcat. We castrated him and vaccinated him, and the people took him home. It wasn't their cat when they'd gotten in the car and heard that sound, but it was now."
Read more: 'The Incredible Dr. Pol': The Weird Way The Vet Bonded With The Camera Crew