'The Incredible Dr. Pol': Why He Doesn't Wear Surgical Gloves or Mask During Surgeries
Dr. Jan Pol on The Incredible Dr. Pol is a vastly respected professional in his field. A veterinarian now for over 40 years, Dr. Pol has a loyal following starting with his own community in the Michigan town he serves, as well as on NatGeo WILD and Disney Plus.
One question that has come up in regard to his style of practice is the doctor's habit of not wearing surgical gloves or mask when he performs surgery on an animal in his office.
Find out what Dr. Pol has to say about it, plus what other vets think of this practice.
Complaints about Dr. Pol's lack of gloves and mask during animal surgeries
As beloved as the animal hospital-based reality show is, there have been complaints made against the doctor for his failure to wear gloves or mask, as seen on various episodes of the program.
One viewer, herself a veterinarian, lodged a complaint against Pol with the Michigan state board, stating in part in her complaint, "Dr. Pol did the surgery of taking Mr. Pigglesworth's eye out dressed in what looked like the same shirt he'd carried him down to X-ray in."
"He didn't put on a gown or a surgical cap and mask for the surgery, or use a drape for the surgical site. He did the surgery with instruments that were laying on a paper towel."
"He used more paper towels during surgery to dab at the eye and the eye socket. Throughout the surgery, Mr. Pigglesworth was laying on the bare steel table. They didn't even put a towel under him," the complaint charged.
The Michigan State Board's ruling
The Michigan state board in 2015 found Dr. Pol guilty of "negligence and incompetence" in his care of Mr. Pigglesworth. The board ordered the Netherlands-born vet to pay a $500 fine and gave him one year of probation.
Pol appealed, and the following year, in 2016, an appeals court overturned the ruling, mostly because in Michigan, there is no actual legal requirement to wear gloves or mask during veterinary surgery.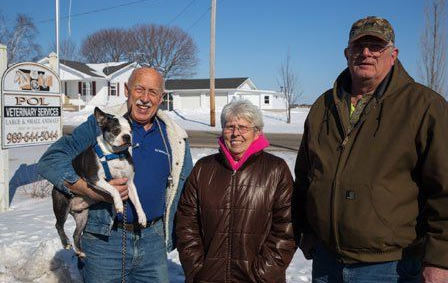 The judges ruled 3–0 for Dr. Pol and seemed confused as to why a case involving a dog who was heroically treated by the doctor, and lived, was before them.
"Mr. Pigglesworth came through with flying colors and went home the next day," the court said. "So far as we are aware, he continues to bring great joy to his owners and terror to the local squirrels. … This case is curious. A dog's life is saved, yet the veterinarian faces sanctions."
Even the dog and his family arrived at the court to support Dr. Pol. "He's doing great," his owner said of Mr. Pigglesworth. "We never had any complaints."
Dr. Pol on the glove and mask controversy
Dr. Pol, as already mentioned, has been a veterinarian for over 40 years and has been trained to treat animals in what could be referred to as an "old-school" way. He clearly, in his interviews and on his program, exudes a love for farmers, for their animals, for domestic pets, and encourages every family to have a pet, especially for their children's sake.
The 77-year-old explained to the Chicago Tribune in 2018 his thinking on the subject of keeping a veterinary office sterile for surgeries.
"I don't see any reason to do that because we don't have infections and all that extra stuff increases the price. It's more time. More time the animal is under anesthetic."
"Humans are so much more susceptible to infections in the hospital than animals are because we have MRSA, which is a staph bacteria that is antibiotic-resistant."
Read more: 'The Incredible Dr. Pol': What Is the Net Worth of Dr. Pol's Son, Charles?