'The Incredible Dr. Pol': Why the Tireless Veterinarian Says He Can't Retire
The veterinarian behind The Incredible Dr. Pol, Dr. Jan Pol himself, has been a practicing animal doctor for 38 years. For a 77-year-old man, Dr. Pol does pretty well debloating cows, castrating horses, and birthing goats. The thought of retirement has crossed his mind, especially as he's pushing the age of 80.
Find out why, although the thought may have crossed the TV animal doctoring sensation's mind, he just doesn't feel it will happen anytime soon.
How Dr. Pol knew he wanted to be a vet
Although it must seem as though Dr. Pol has always been an animal doctor from birth, well, that's almost kind of true!
"I grew up on a dairy farm in the Netherlands," Dr. Pol told AARP earlier this year. "My parents said that when I was less than 3 years old, I was already taking care of a chicken that was crippled. When I was 12 years old, the local veterinarian let me help deliver piglets at my brother's place. I was lying in the straw and up to my shoulders in the sow, trying to get the pigs out. That's when I knew I wanted to be a vet."
Dr. Pol's amazing staff of veterinarians
Dr. Pol isn't alone in his practice. He has other vets assisting him: Dr. Brenda Grettenberger, Dr. Emily Thomas, Dr. Nicole Arcy, Dr. Lisa Jones, and Dr. Ray Harp.
Dr. Nicole, as she's called, joined the animal clinic in February of 2019 and had watched the NatGeo WILD program for a while with great admiration for Dr. Pol, his energy, and his way with every animal he treats.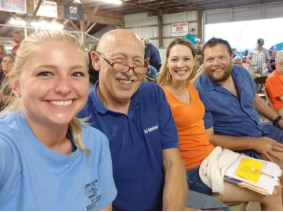 "I enjoyed watching Dr. Pol on TV since before vet school. When it came time to find a job before I graduated, I was looking for a hospital that worked on not only small and large animals, but also exotics/small mammals."
"This type of practice is very rare, and Pol Vet is one of the only ones in Michigan. I interviewed with Dr. Pol and fell in love with the place. It is a great fit!"
Why Dr. Pol says he simply can't retire
As much as Dr. Pol may dream perhaps of retiring and living somewhere warm with his wife, Diane, his feeling of late is he just can't do it because of his constant worry for the large animals in his community.
"Nowadays veterinarians say, 'I only want to do cats.' Or, 'I only want to do dogs,'" Pol told USA Today in 2018. "What are you going to do? … "How can I say no to an animal?"
In the rural Michigan town his clinic serves in, veterinarians who treat large animals are few and far between.
"I had the State of Michigan call me with a question about chickens," he said.
Tune in now to the 12 Days of Dr. Pol marathon, which began Monday, Dec. 23, on NatGeo WILD.
The show's 16th season premieres in January 2020.
Read more: ''The Incredible Dr. Pol': What Is His Net Worth and What Is the Veterinarian's Ethnicity?