'The Julia Child Challenge': What Would the Iconic Chef Think of Food Network's Competition?
What might Julia Child have thought of Food Network's upcoming 'The Julia Child Challenge'?
There's a great deal of buzz over Food Network's upcoming series, The Julia Child Challenge.
In this competition, home cooks are tasked with channeling the beloved chef in various challenges as they vie for the grand prize of a fully paid, three-month course at Child's culinary alma mater, Le Cordon Bleu.
Julia Child took cooking education very seriously and so, one has to wonder, what would the television cooking pioneer think of Food Network's new program?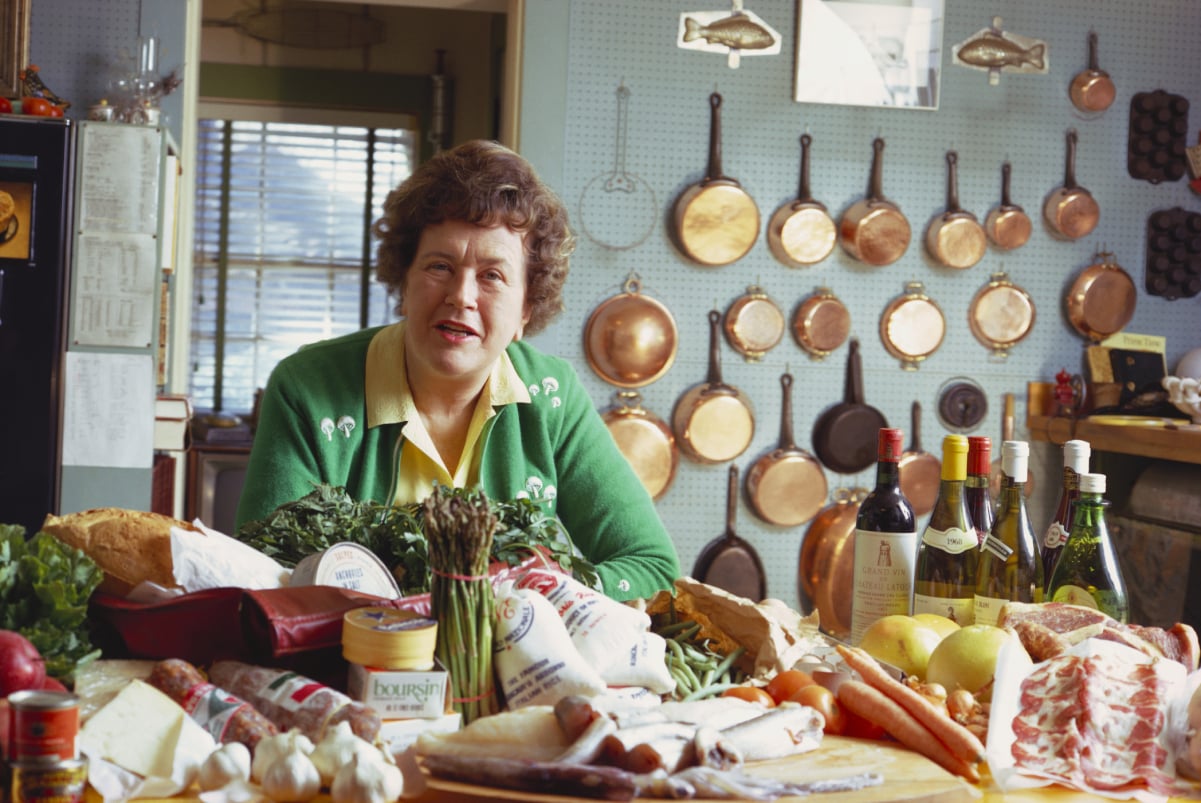 Food Network's 'The Julia Child Challenge'
Premiering March 14, The Julia Child Challenge pits eight exceptional home cooks (and devotees of the legendary chef) against one another to see who best embodies her spirit, can-do attitude, and cooking skills. The program is both a full tribute to the woman who changed how we view food on television, as well as a contest.
Incredibly Child, who died at age 92 in 2004, will herself "guide" contestants on a "larger-than-life television screen right in the middle of all the action," Food Network says.
The channel's president, Courtney White, said in a statement of the program: "Julia Child is a culinary hero to cooks everywhere — her love of food and sense of humor set the tone for this one-of-a-kind competition. From the kitchen set to Julia's own words, the level of detail in each episode can only be described as mind-blowing. …."
The competition's head judge Antonia Lofaso is supported by an impressive list of guest judges including Child's dear friend and fellow chef legend Jacques Pepin, as well as Molly Baz, Stephanie Boswell, Alvin Cailan, Cliff Crooks, Susan Feniger, Dorie Greenspan, Melissa King, Nilou Motamed, Sherry Yard, and Brooke Williamson.
Would the cooking great have embraced 'The Julia Child Challenge'?
To answer this question, one would have to listen to what Julia Child herself had to say at the time that the network got its start in the 1990s.
The French Chef host spoke candidly about the Food Network with the Television Academy Foundation (TAF) in 1999 saying, "I've always been very much interested in it, hoping it would work. I think they're having a difficult time because they have to get a big audience."
She remarked on programs such as her protégé Emeril Lagasse's Emeril Live!, which made popular his gimmicky buzzwords of "Bam!" and "Kicking it up a notch!" with a live audience applauding the chef.
"Emeril Lagasse … they just adore him," she observed. "But they're looking at it for fun and amusement … they're not going to watch a serious thing on how to bone a turkey or something like that. They want entertainment. We have people who want to learn how to cook, which is quite different from people who just want to be amused.
"[The Food Network has] a difficulty because they have to make money and so they have to have entertainment. They really can't have the kind of serious teaching shows that we can have on PBS because the audience attention is short," she said.
Julia Child was rooting for the Food Network's success
As we now know, the enormously popular Food Network landed on its feet, just as Child hoped in her TAF interview: "I think it's very nice. … I think it's wonderful. I just hope it does well. And I'm interested in people who keep up the standards of good cooking."
In the end, the new competition named after the chef is a tip of the hat to this culinary pioneer who helped pave the way for so many others.
Perhaps Child would not be enamored with programs devoted to grocery games or beating Bobby Flay. But we can hope that she would have viewed such contests — and The Julia Child Challenge — as a means to draw more viewers into the kitchen, exactly where she felt most at home.
'The Julia Child Challenge' premieres March 14 at 9 pm Eastern on Food Network and streams on discovery+.