'The Kardashians' Captures Khloé Kardashian's Reaction to Tristan Thompson's Paternity Scandal in Season 1 Finale
Now that the Kardashian-Jenners are back on TV, we're finally getting insight into everything that went on behind the scenes during the break. This, of course, includes the reveal that Tristan Thompson had fathered a baby outside of his relationship with Khloé Kardashian. The drama played out on the latest episode of The Kardashians, revealing Kardashian's heartbreak over Thompson's continued betrayal.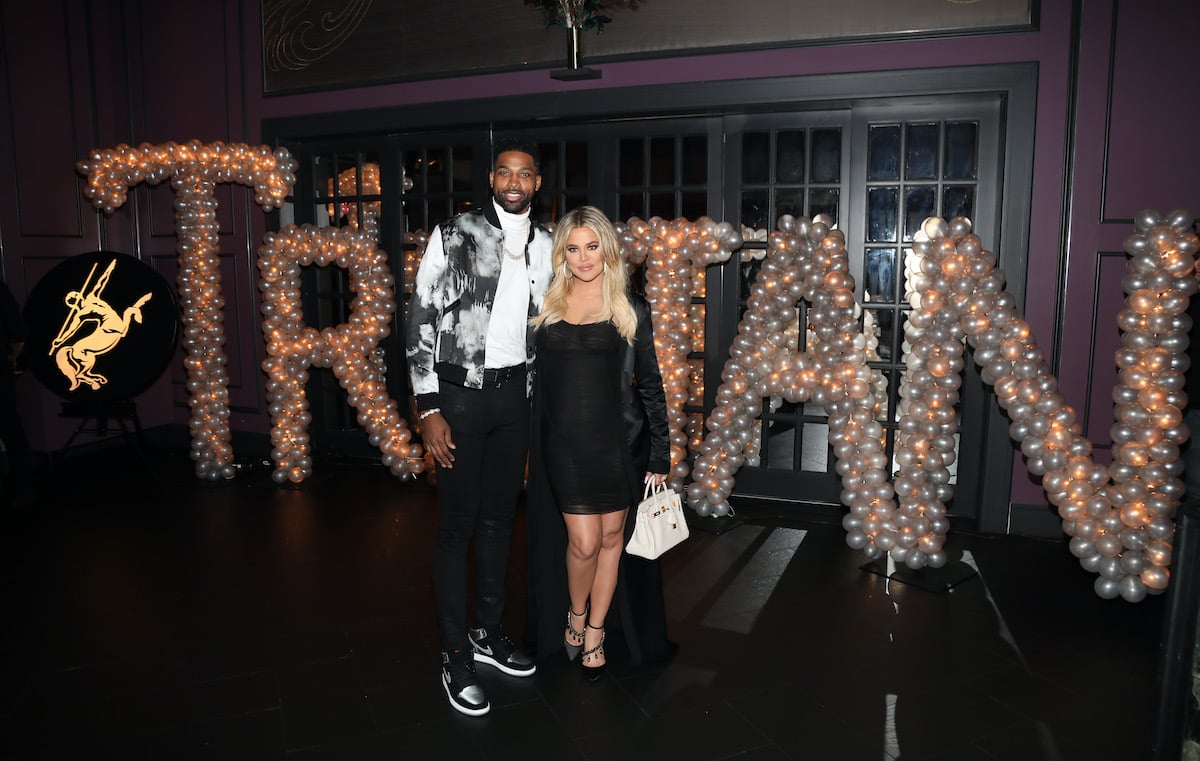 Tristan Thompson's paternity scandal is the focus of 'The Kardashians' Season 1 Episode 10
The episode, released on June 16, picks up after Kim Kardashian dialed up their siblings to discuss the suit, brought forth in December of 2021 by fitness model Maralee Nichols. As HotNewHipHop notes, Thompson had filed paperwork in response, in which he admitted to cheating on Kardashian and sleeping with Nichols while he was away in Houston.
Seeing his declaration, Kim tried contacting Kardashian about it, but she didn't immediately answer the phone. Eventually, she called Kim back, still unaware of what was going on with Tristan. As Kim filled her in on the news, she initially reacted with disbelief. But she began to cry as it set in that Tristan had cheated and betrayed her once again.
Wanting to give her some privacy, Kim ushered the camera people out of the room and continued to support Kardashian over the phone.
'It's humiliating'
On the call, Kim could be heard trying to put together a family meeting to further discuss what had happened. Kardashian understandably wasn't ready to talk about the situation with everyone just yet, but she spoke about what was going through her mind in a VoiceOver.
After already dealing with so much with him — namely, multiple other cheating scandals — she felt Thompson at least could have done her the courtesy of telling her the truth before it became public.
"I find out what Tristan is doing with the rest of the world," she shared. "A courtesy would be not doing it but fine, if you do it, you're not even going to give me a f***** heads up before the rest of the world? It's just an additional slap in my face. It's humiliating, I'm embarrassed, I would prefer to be alone than to be around people, and it wasn't a time for me to have some family meeting where I needed to hear everyone's thoughts and opinions about my own life."
Letting herself go 'through the motions'
She was also still processing everything that had gone on with them leading up to that point — especially his campaign to win her back and claims that he'd changed after his last cheating scandal. "I'm replaying every event, every grand gesture, every trip, every date, every whatever," Kardashian said, as the scene cut to different family moments involving them and their daughter, True Thompson. "All of that was a lie."
"Oh my god, how are you able to not say something?" she wondered. "I feel… just not really in my own body. That like, these things are just happening, and I'm just going through the motions. But I mean, when things happen to you a couple of times, you do kind of become really immune to them, which is really sad."
Speaking on the phone to Kendall Jenner, Kardashian added that she "would have respected [Thompson] a little more" if he'd come to her with the truth. "[But] you cheated, lied, and were hiding it for months thinking I would never know, so you know what that tells me? There's a dozen other situations that just haven't outed him," she stated.
Jenner tried to be optimistic by telling Kardashian that there would be "brighter things" in her future, but that was the furthest thing on her mind at the moment. "I'm not even thinking about that right now," she replied. "I would rather bleed out slowly."
Talking to Tristan Thompson
In the episode, we didn't get to see Kardashian actually talking about the situation with Thompson, but she discussed how it went in a sit-down with Kim. "I called him and was just like, 'What do you have to say?'" she told her sister. "And it was more yelling on my end and him talking, trying to plead his case. I mean, there's not much to talk about."
"In my opinion, I'm just like this is a joke," she continued. "It's gross, it's a joke, it's embarrassing, it's disgusting, we're all over it. I'm like, I didn't buy tickets to this f***** circus, but somehow I'm watching all these clowns act out in front of me. I want a refund, return to sender. I don't want to be at this show. Somehow, these clowns keep coming back in this f***** clown car. And no matter what he says, nothing's going to give me the answers I'm looking for or closure."
She admitted to trying to hold on to their relationship in the past for the sake of their daughter, but there's only so much one can take. "One day, I will have the fairytale that I hope to have," she added. Until then, her focus appears to be on True, whom Kardashian said "will never know anything's wrong in [her] book — ever."
RELATED: How Did Khloé Kardashian Introduce Tristan Thompson to the Kardashian-Jenner Family?