'The King of Staten Island' Star Pete Davidson Explains Why Adam Sandler Is 'Definitely the Best'
Saturday Night Live star Pete Davidson is making the leap to movies with The King of Staten Island. But Davidson isn't the only SNL comedian to headline a Judd Apatow-directed comedy-drama. Back in 2009, Adam Sandler starred in Apatow's Funny People.
Davidson and Sandler share more than a connection to Apatow, however. Sandler was a major influence on Davidson, and the two have since fostered a real-life friendship. Recently, Davidson opened up about what makes Sandler one of the nicest guys in the business.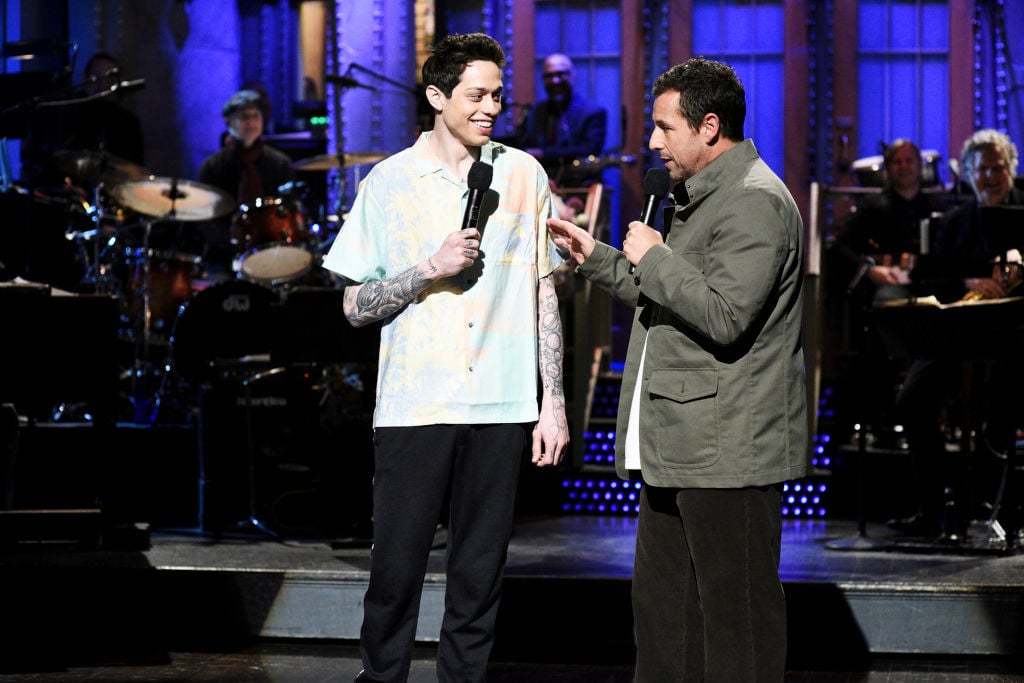 Pete Davidson has become a divisive 'Saturday Night Live' star
Of the current SNL cast members, Davidson is easily one of the most divisive. The comedian's private life — especially a string of high-profile relationships — often makes headlines. And his open-book sense of humor regarding his personal struggles hasn't always been fans' favorite element.
Nonetheless, Davidson's fans remain loyal. He has proclaimed he has no intention of leaving SNL anytime soon. And unlike Sandler, the show doesn't seem eager to fire him. Likewise, both Sandler and fellow comedian John Mulaney are among Davidson's biggest supporters.
The 'SNL' star has a close friendship with Adam Sandler
During Sandler's 2019 hosting gig, he and Davidson shared the stage. Then, more recently, Sandler and Davidson teamed up for a song about quarantine life under the coronavirus pandemic. In a recent guest appearance on Late Night with Seth Meyers, Davidson discussed how that collaboration came together.
I'm pretty tight with the Sandman, which is the coolest thing I ever get to say. He's just such a cool, nice guy. I can't explain how wonderful of a person he is. I just reached out and texted him and was like, 'Hey, is there any shot you would ever want to do a song together?' And he was like, 'Hell yeah, buddy' and it was awesome. We just sent each other notes back and forth and he came up with that great verse. It just fell together. I was really thrilled. … He's definitely the best. Just like caring and sweet and not full of crap. Which is very rare to find.
Longtime Sandler fans know how loyal the actor can be. While he often plays a buffoon on screen, Sandler has frequently worked with the same actors and crew members over the years. During his 2019 SNL appearance, he even performed a tribute to the late Chris Farley, whom Sandler befriended during his run on the show.
The time is perfect for a Davidson and Sandler buddy comedy
With Davidson stepping onto the big screen, it feels like only a matter of time before he and Sandler star in a movie together. Sandler is continuing to churn out original content as part of his ongoing deal with Netflix. So perhaps he could find room for Davidson in an upcoming project.
It's easy to imagine the two actors playing father and son. The 53-year-old Sandler and 26-year-old Davidson do share a certain comic sensibility. True, Sandler tried a similar dynamic with Andy Samberg in That's My Boy. But seeing as that movie flopped hard, we don't see why he can't try again.