The Major 'Sopranos' Role Jerry Stiller Dropped Right Before the Pilot Shoot
Three days before shooting the 'Sopranos' pilot, Jerry Stiller dropped out a role he'd landed on the mob show.
Though the late Jerry Stiller (1927-2020) may be most famous for his comic roles on Seinfeld and the King of Queens, the great Brooklyn-born actor did more than his share of dramatic work. In fact, checking his film and TV credits, you'll find him performing in dramas as far back as the 1950s.
Stiller's dramatic turns continued into the '70s, when he played a police lieutenant in The Taking of Pelham One Two Three (1974). By the '90s, in between classic Seinfeld performances, you'd find him playing roles on Law & Order and similar TV franchises.
But after the last episode of Seinfeld aired, Stiller landed a part on a different kind of show on HBO. It was called The Sopranos (1999-2007), and it would soon break open the market for premium cable TV.
On the June 1 edition of the Talking Sopranos podcast, the casting directors behind the mob show revealed how Stiller got — then dropped — a prominent Sopranos role right before the pilot shoot.
Jerry Stiller originally had the part of Hesh on 'The Sopranos'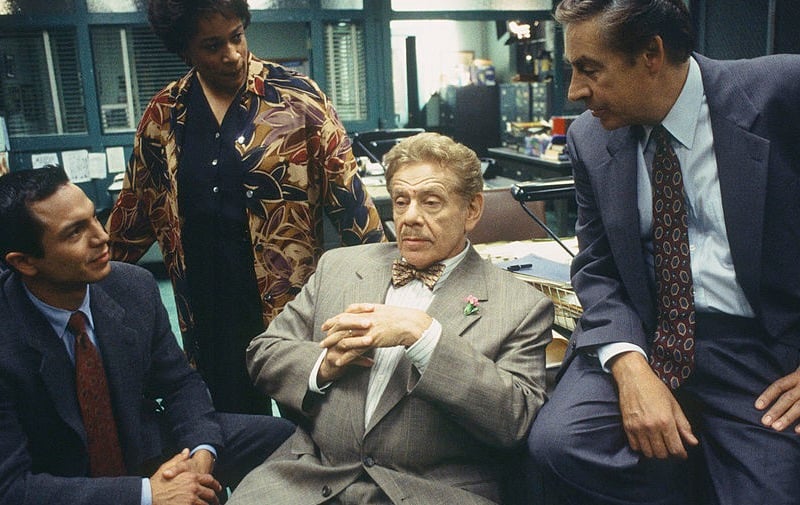 When Sopranos creator David Chase was casting his show for HBO, he brought in Georgianne Walken and Sheila Jaffe, the casting directors behind Trees Lounge, Basquiat, and other sparkling '90s independent films. And they delivered for Chase on many levels.
The story of casting the part of Hesh offers a perfect example. Hesh, an informal adviser to Tony Soprano (James Gandolfini), ended up appearing in 28 of the show's 86 episodes. And, in the beginning, Jaffe said the role belonged to Jerry Stiller.
But that changed three days before the scheduled pilot shoot. "You guys were gonna shoot the pilot on Monday," Jaffe said on Talking Sopranos. "They reached me in L.A., and they said Jerry Stiller (who was Hesh) accepted a commercial on Friday. [He] was not going to show up for work on Monday."
So with no time left Jaffe had to replace Stiller. Luckily, she knew the daughter of another great Brooklyn actor in his 70s. And after making a phone call she got her new Hesh.
Jerry Adler stepped right in to play Hesh
In that situation, with her partner Walken unable to be reached, Jaffe turned to her Rolodex. "Out of sheer luck, fate, or whatever, I called Jerry Adler's daughter, Lisa," Jaffe said. (Lisa Adler also worked in the business as an agent.)
"I said, 'Where is your father?'" Jaffe recalled. "[Jerry Adler] happened to be in New York. And he got the job." On his first scheduled day in 1997, Adler reported to work to play Hesh. And he didn't stop until late in the final season of The Sopranos.
Jaffe realized she might have broken some news on Talking Sopranos. "I don't think anybody ever knew that," she said. "I think it worked out for the best." For her part, Walken marveled at the replacement they managed to find on short notice.
"It was perfect," Walken said. "It was a blessed accident." And for their fine work, Walken and Jaffe won an Oustanding Casting Emmy for season 1 of The Sopranos.