'The Mandalorian': Is Jamie Lee Curtis Headed for a Reunion with 'Knives Out' Director Rian Johnson?
Rumor has it Jamie Lee Curtis is joining 'The Mandalorian' Season 2. If she does, will she be joining by her 'Knives Out' director, Rian Johnson?
As self-quarantined fans settle in to watch , it's probably setting in that the saga's immediate future rests on the small screen. With The Mandalorian and Star Wars: The Clone Wars Season 7, Disney+ has become the sole steward of the "galaxy far, far away." So, of course, any bit of Star Wars news feels significant right now.
In particular, The Mandalorian is dominating the Star Wars conversation right now. The show's premiere was a centerpiece of the Disney+ launch in late 2019. And its first season kicked off something of a phenomenon, thanks in large part to Baby Yoda. But recent casting updates — including Jamie Lee Curtis — are already building hype for The Mandalorian Season 2.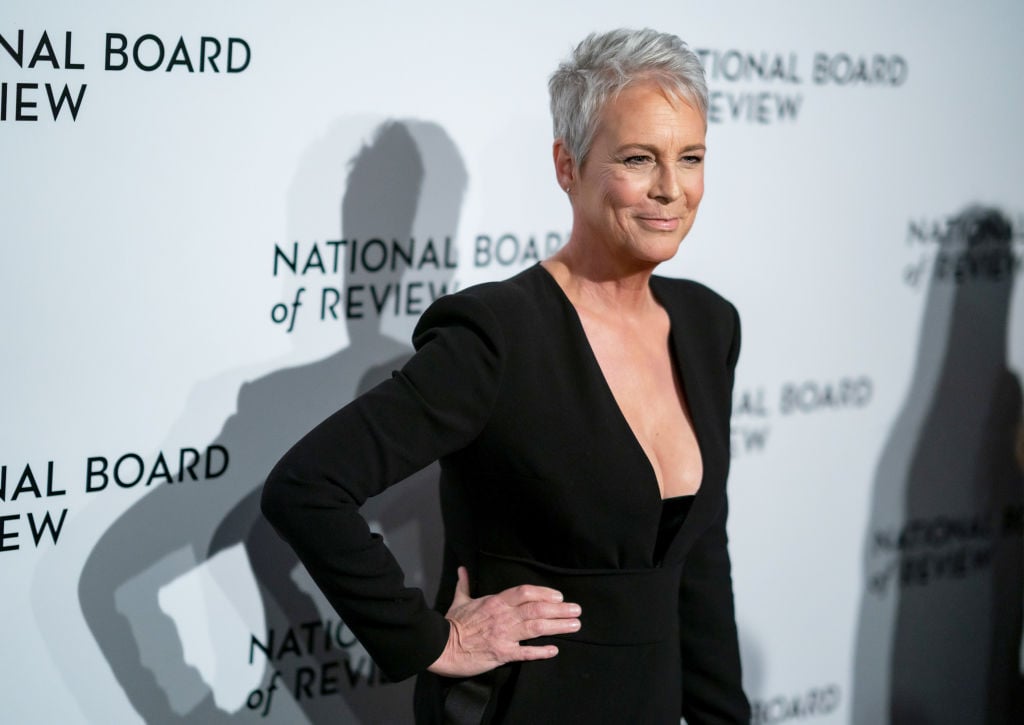 'The Mandalorian' cast is growing for season 2
Pedro Pascal, of course, stars on The Mandalorian as the titular bounty hunter. But season 1 introduced a number of notable guest stars. Gina Carano, Bill Burr, and Giancarlo Esposito are already confirmed to return for season 2. Yet, the show recently added a new face to the cast in a role very familiar to fans.
After countless rumors and speculation, Rosario Dawson was finally cast as Star Wars breakout Ahsoka Tano. Introduced in Star Wars: The Clone Wars, Ahsoka has continued to be a fan favorite throughout the various media. She even played a key role in the Star Wars: Rebels animated series, which concludes less than a decade before The Mandalorian is set.
Michael Biehn of Terminator and Aliens fame also recently joined the cast of season 2. Reportedly, he's playing a fellow bounty hunter. Fans are speculating he too might be stepping into a role ripped straight from the now-defunct expanded universe. And he and Dawson might not be alone when they pop up as new guest stars in The Mandalorian Season 2.
Jamie Lee Curtis could be joining next in a mysterious role
According to Making Star Wars, a new rumor claims Curtis was seen on the set of The Mandalorian Season 2. Since the report states Curtis was present for multiple days, it's possible she secretly shot a guest appearance on the show. After all, filming on The Mandalorian Season 2 has already wrapped.
If Curtis does join The Mandalorian, it would mark a bit of a departure for the actress. Curtis hasn't worked too much in the sci-fi and fantasy realms. But she is a horror icon, having played Laurie Strode in Halloween and several of its sequels. Plus, her versatile experience over the years means she could be playing virtually any type of character.
Making Star Wars does note, however, that The Mandalorian production isn't happening too far away from Avatar 2. That project would also make a certain amount of sense, as Curtis starred in James Cameron's True Lies back in 1994. But she could be reuniting with another past collaborator on The Mandalorian.
Does this mean 'The Last Jedi' director Rian Johnson is onboard?
Star Wars fans might have a contentious relationship with The Last Jedi. But that film's director, Rian Johnson, has made no secret about his desire to step behind the camera on The Mandalorian. For years, we've heard Johnson was developing a new Star Wars trilogy. But since that hasn't been announced, perhaps Lucasfilm offered him an episode of its Disney+ hit.
Curtis' rumored casting adds fuel to the rumor Johnson has in fact returned to Star Wars. His most recent film — 2019's Knives Out — features an ensemble cast that includes Curtis among its ranks. So perhaps Johnson recruited her for his episode of The Mandalorian.
The director himself admitted he likely won't have the opportunity to bring any cast members other than Daniel Craig back for his Knives Out sequel. With so many gifted actors to choose from in that film, Johnson could have found the perfect role for Curtis and seized the opportunity to work with her again.
With filming complete, we'll just have to wait until closer to the October 2020 release date of The Mandalorian Season 2 for confirmation.