'The Mandalorian' Katee Sackhoff Said It Was 'Incredibly Special and Rare' To Play Bo-Katan in Both Animation and Live-Action
For new Star Wars or The Mandalorian fans who haven't seen past series in the franchise, this week's episode was definitely exciting, but there was one key fact they might not know. The actor who played Bo-Katan is the original voice of her from Star Wars: The Clone Wars and later Star Wars Rebels. And it's such a "surreal" experience for her to play the character in both mediums. [Spoiler alert: Spoilers ahead for The Mandalorian Season 2, Episode 3, "Chapter 11: The Heiress"].
Katee Sackhoff voiced Bo-Katan in animated form and just played her in live-action for the first time, too
Katee Sackhoff started voicing Bo-Katan in 2012 in Star Wars: The Clone Wars' fourth season. This was when Bo-Katan was a part of Death Watch and she worked alongside Pre Vizsla, who was their leader. 
They were a group of Mandalorians who wanted to stick to the ancient warrior ways of their people and push against the pacifist government of Duchess Satine Kryze, Bo-Katan's sister. They were deemed a terrorist organization for their ruthlessness in doing so. 
Most recently, in the show's seventh season, Bo-Katan asked Ahsoka Tano for her help in gaining Mandalore back from the clutches of Maul. This lead to the Siege of Mandalore, which ends right before Order 66. 
"It's pretty surreal to be honest," Sackhoff told Entertainment Tonight on Nov. 16 about playing Bo-Katan in both animated and live-action forms. "This character has been a part of my life for so long and it is incredibly special and rare to be able to play her in live-action. So, there's a lot of nerves that come along with that."
Sackhoff said that she grew up on sci-fi and Star Wars, so voicing her in Clone Wars and Rebels "was a dream come true" already. And she didn't even think doing it in live-action was a possibility. 
"So, I sort of mentioned it to Dave Filoni when I saw him at one point and he's like, 'Well, you never know,' in his cheeky little way that he does," Sackhoff said, when she heard The Mandalorian was happening, and it could, potentially, touch on the Nite Owls and Bo-Katan. "And then when I got a phone call to sit down with Jon Favreau, I think my brain exploded."
It was tricky trying to get her character's look translated correctly from animation to live-action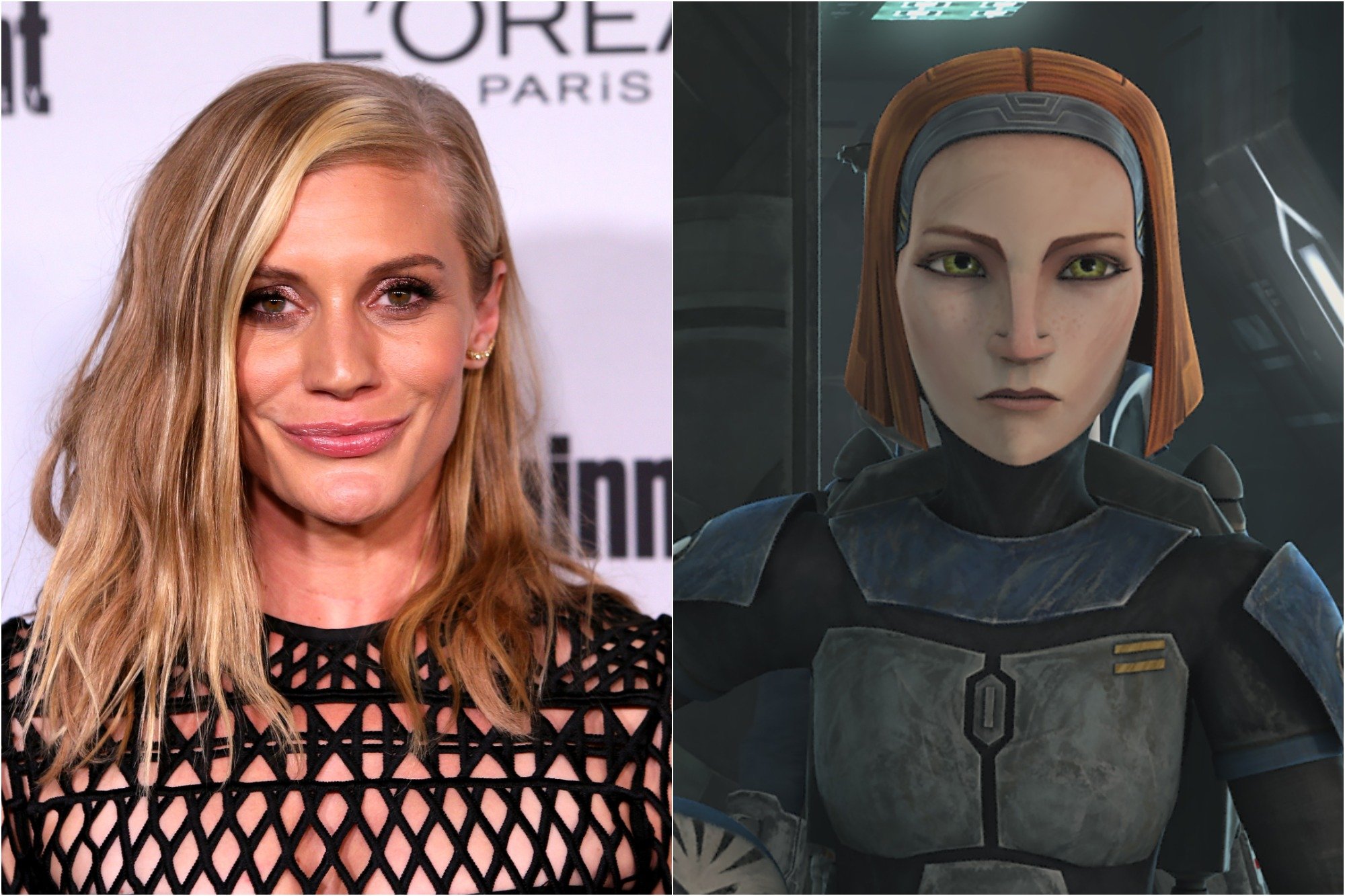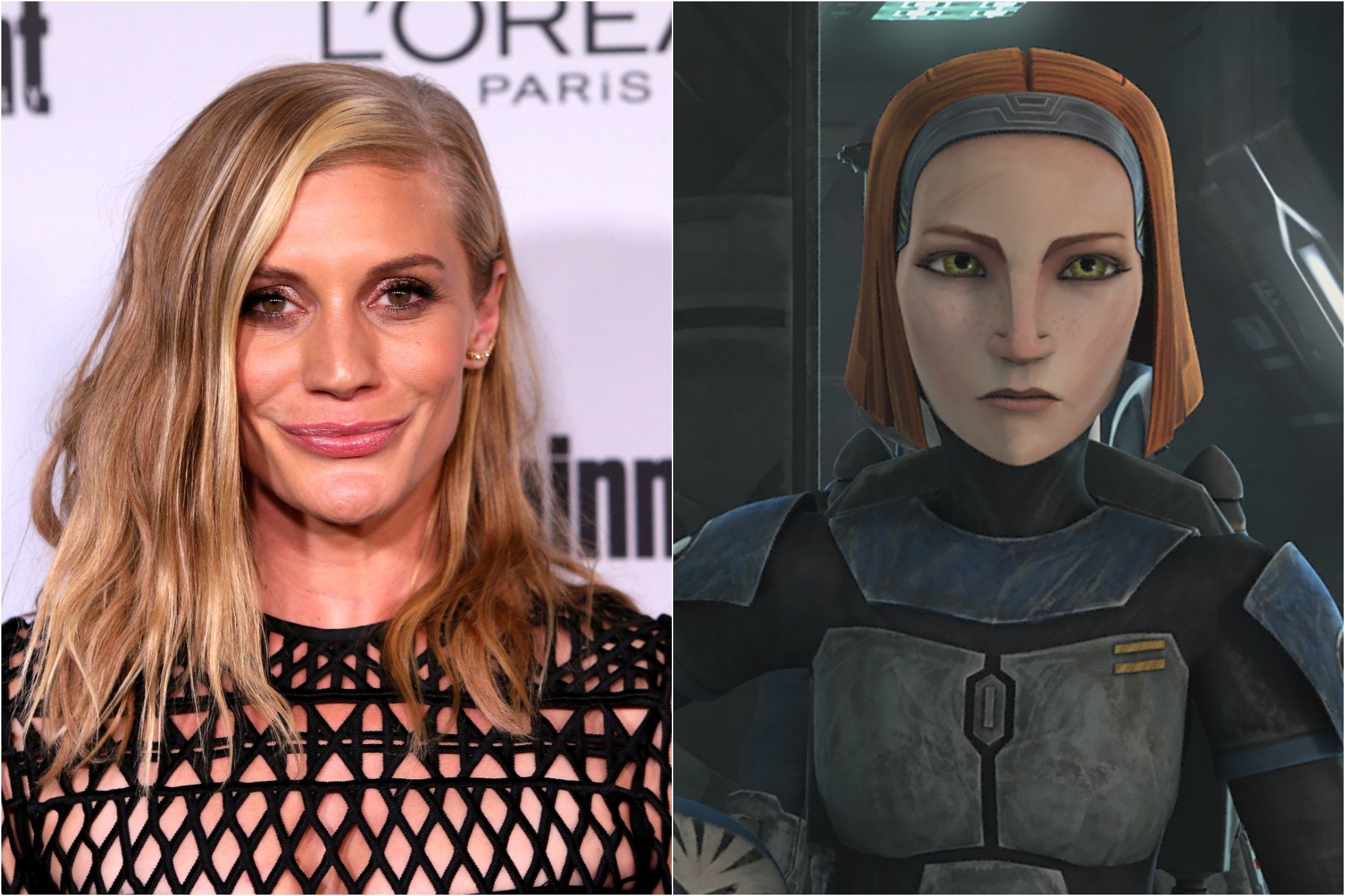 But then Sackhoff was called in to meet with showrunner Jon Favreau, and that's when it became real. Or more surreal. 
"[Favreau] was like, 'Do you want this?' I didn't even know how to answer the question," Sackhoff said. "Of course I want to do it! I was a huge fan of the show and this was pretty amazing." 
It's one thing to agree to bring a beloved animated character to life on screen, but it's another to actually do it. Of course, a cartoon character can't look the same in real life, even in Star Wars. And Sackhoff said that it was "really interesting translating [Bo-Katan] onto live-action." For one, they couldn't dye Sackhoff's hair because she had to film Another Life on Netflix soon after, and the right color orange hair was hard to find in a wig. And there were other physical aspects, too. 
 "It might seem really crazy but Bo-Katan has this scar on her face and I was really attached to that," she said. "I was really attached to her freckles. I was really attached to how her eyebrows point down." But even down to her Nite Owl armor and the eyebrows, they did do very well.  
It's been a decade since Bo-Katan's been seen last by audiences  
In chronological, canon time, it's been about 11 years or so since fans last saw Bo-Katan. She appeared in Season 4 of Star Wars Rebels and then shows up now. The last time fans saw her in Rebels, she had the Darksaber, which is why it was such a surprise to see Moff Gideon with it in the Season 1 finale of The Mandalorian. And why it also makes sense that she's on the hunt for it in this episode. 
And even though there's over a decade of time between then and now, fans don't know what's transpired for the character. That's something that Sackhoff had to figure out with Filoni and Favreau. 
"I really wanted to see how Bo-Katan could fit into this world and it took a lot of conversations and a lot of understanding timelines and that meant talking to Dave and John quite a bit," Sackhoff told Entertainment Tonight. 
She went into how they talked through Bo-Katan's story, and she of course had tons of questions. It's very evident that Sackhoff cares for her character and really understands Bo-Katan's importance in the Star Wars galaxy. Many fans' fingers are crossed that Sackhoff and Bo-Katan return by the end of the season.