'The Mandalorian': Pedro Pascal Said Din Djarin Tried To Not To Let Himself 'Soften' With Grogu
The Mandalorian's final episode of Season 2 was pretty epic for many reasons; there were several fight scenes, including one where Din Djarin beat Moff Gideon and took possession of the Darksaber.
But it's the emotional aspects of the finale that were a lot subtler, but also a lot more impactful on the two main characters. And Pedro Pascal was very aware of how Grogu softened Mando up, even though the character didn't really want to. [Spoiler alert: Spoilers ahead for The Mandalorian Season 2]. 
Din Djarin starts off as this hardened bounty hunter in Season 1 of 'The Mandalorian'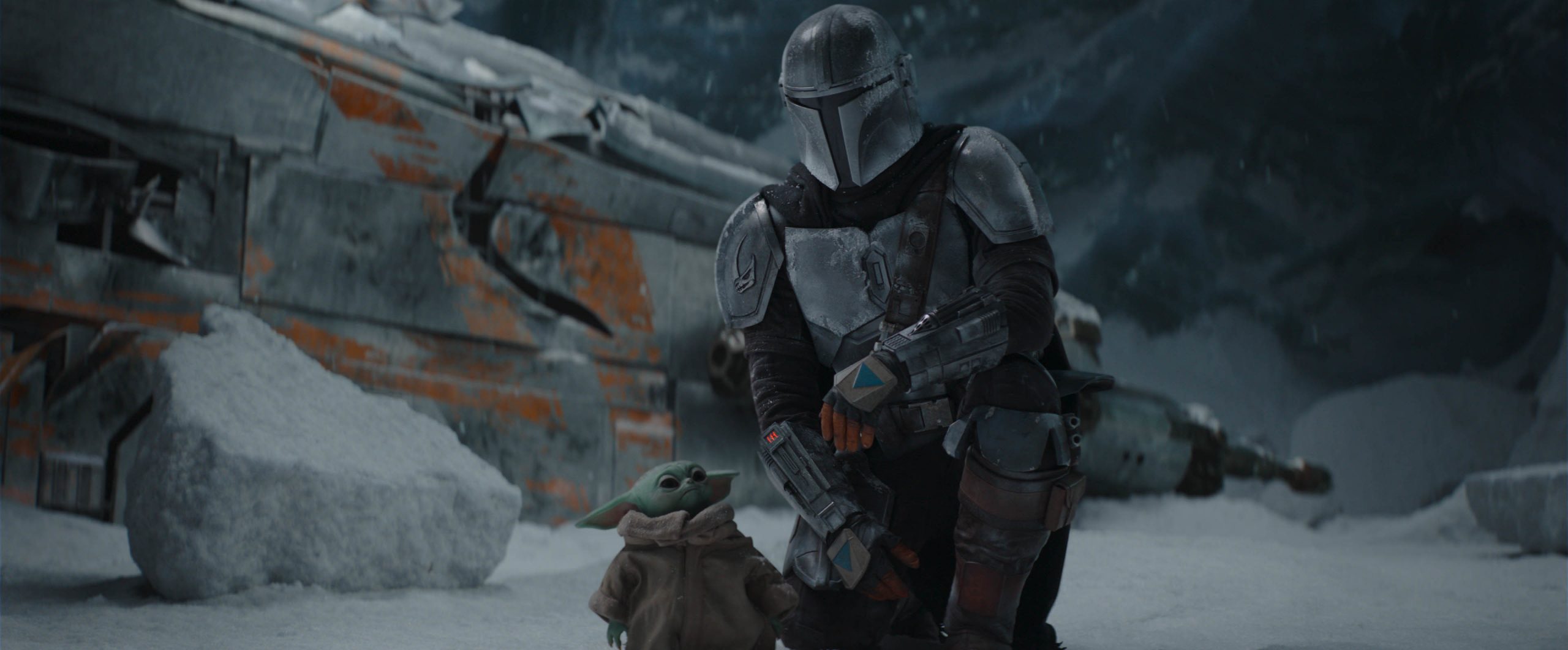 In a new interview with IndieWire, Pedro Pascal talked about his two major projects that just came out roughly around the same time; The Mandalorian season finale and Wonder Woman 1984. 
Of course, Maxwell Lord and Din Djarin are completely different beings. Lord is ruthless, cowardly, and the villain of the story. And Mando ends up being this protector and father-figure to Grogu in the end. 
Even though Din starts off as this hardened bounty hunter who works alone and doesn't want to or plan on taking in the child, he doesn't have it in him to give the baby up to the ex-Imperials. He then needs to finish his mission by finding Grogu's "people," the Jedi. And he'll do anything for this baby, even if that means foregoing the very code he follows to a T as a Mandalorian, Child of the Watch. 
"The entire idea of getting to inhabit somebody who, since they were a child, no human has seen their face, it was almost impossible to imagine the level of nakedness and exposure, the overwhelming paralysis," Pascal said about playing Din Djarin. "It can't happen, but it's a mission and the child has to be saved."
Pascal shared how it was a "super-exciting dance of profound, incredible restraint and total exposure" especially in Season 2, when Din had to take his mask off to save Grogu at one point. And even though the number of lines he had he "can count on my one hand," it was an emotional role and Din goes through a lot. 
"He's desperately trying to hide in a room without a mask with his face exposed," Pascal said. "It was cool and it was strange."
Pedro Pascal shared that Mando tried to stop himself from getting attached, but he just couldn't, especially in the end
Throughout the first season, Mando's past comes out more and more and viewers find out that he was taken in by Mandalorians and hasn't had many others throughout his life that he was close with. No one to call family, and no one he traveled with. 
So when Grogu came along, he definitely held him at a distance as a "mission" at first. But as fans saw more and more throughout Season 2 — and as Ahsoka pointed out in the middle of the season — Din became a father to Grogu. 
It all culminated in Grogu leaving with Luke Skywalker at the end of the season to train in the Jedi way, something Din was working toward. But when the time came, this "father" found it hard (and heartbreaking) to say goodbye to his child. And for the second time this season, he removed his helmet to help the child, this time to say his farewells. 
"At that point, I knew what it would mean for everyone to experience that kind of threshold between the character and the child," Pascal about the enormity of the moment.
Pascal explained that following their story for two seasons and watching their "bond" grow is big and he put all that emotion into this scene.

"He tries to not let himself soften, but he cannot help himself," Pascal said of his character, Din, at that moment. "This practical story logic brought something else about that moment, what it would mean to touch his face."
Pascal hints that Mando's 'way' of the Mandalore might change 
Between the two seasons, Mando only got rid of his helmet three times, all in dire or tense situations. Basically, when he had to do it. However, moving into Season 3, Pascal shared that there may be more reasons for Mando to shed his helmet and other traditional Mandalorian practices Din has been sticking to. 
"As much as he says this is the way, that doesn't mean this is the only way," the actor told IndieWire. "I find it fascinating playing with that. We don't know what he ends up being. He took his helmet off in a room full of people."
He, of course, can't tell anyone what Season 3 holds, even though he was "told what's happening and what the plan is." With Bo-Katan's involvement and her proposal to Mando — that she'd help get Grogu from Moff Gideon if he helped her get Mandlore back — things are probably going to head to that dead planet. And since Din doesn't have a child tying him anywhere or giving him a mission anymore, anything is possible. 
"They are in the expansion of this world, where there are so many unexpected surprises and timelines that are going to be dealt with," Pascal said. "If the character were to cross over into these worlds, it will be utilized in a way that isn't meant to be expected."
Is he hinting at making appearances in spinoffs and other projects happening in this time period? Who knows. But Pascal "wouldn't want to spoil the surprise" of anything that's to come. Or any crossovers that may or may not happen. That is the way.