'The Mandalorian' Star Pedro Pascal Never Worked with Director Bryce Dallas Howard on the Set
Many fans found Star Wars: The Rise of Skywalker to be a disappointing conclusion to the Skywalker saga. But before J.J. Abrams' movie hit theaters, The Mandalorian emerged as a new hope to push the franchise forward. The Disney+ series served as the marquee original production for the new streaming service's launch and kicked off the "Baby Yoda" phenomenon.
Prior to its November 2019 premiere, The Mandalorian was veiled in mystery. For a while, fans wondered whether the title indicated Boba Fett would appear. At the time, that turned out not to be the case. But another bit of confusion swirls around the actual lead character of The Mandalorian. Namely, who plays him on screen?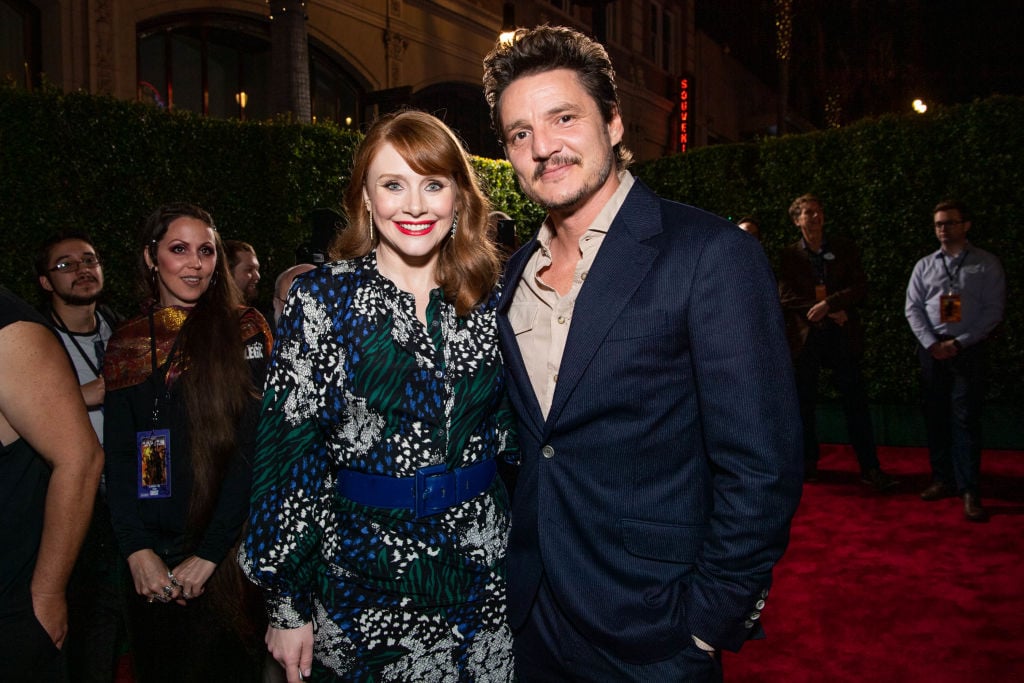 Pedro Pascal plays the title character on 'The Mandalorian'
Ostensibly, Pedro Pascal — best known for his role on Netflix's Narcos — leads the Disney+ series. Pascal is credited as The Mandalorian or "Mando," for short. And viewers certainly hear the actor's voice coming out of the character, whose real name is revealed to be Din Djarin in the season 1 finale. Yet, Pascal is far from the only man to don the armor.
After all, Mando faithfully wears his armor for all but a brief scene in The Mandalorian Season 1. So it's not clear when Pascal himself is performing on set. After all, a variety of other actors, stuntmen, and stand-ins are involved in playing the character. Given the action-heavy sequences of The Mandalorian, such a collaborative effort makes perfect sense.
RELATED: Why Pedro Pascal 'Died Inside' When He First Met Jon Favreau
But Bryce Dallas Howard said she didn't work with him at all
However, a report by Vulture indicates Pascal is far less involved than fans may realize. In the piece, Bryce Dallas Howard — who directed "Chapter 4: Sanctuary" — claims she never worked with Pascal at all. During filming, the actor was in Broadway rehearsals for King Lear, Howard said. Instead, she worked most directly with actor Brendan Wayne, grandson of John Wayne.
To be fair, it doesn't sound like Pascal was disconnected from the physical performance of Mando. Pascal and Wayne collaborated on what the character should move like, Wayne told Vulture.
[Pascal] would ask me, and I would ask him the same question, which is, "Why did you move like this during that moment?" We would go back and forth. The great thing about him is he's not impressed with himself. He's just an actor. And I mean that in the good way, not the bad way. He likes to learn and he likes to collaborate and he's very good at it.
To be fair, Mando is far from the first Star Wars character who is actually the product of multiple performers. For instance, Ray Park plays Darth Maul on screen but is voiced by Peter Serafinowicz in The Phantom Menace. And David Prowse and James Earl Jones combined their body and voice, respectively, to bring Darth Vader to life in the original trilogy.
RELATED: 'The Mandalorian' Season 2 Episode Titles Hint at Ahsoka's Debut on Disney Plus Series
Will we see more of Din Djarin's face in season 2?
What remains to be seen in The Mandalorian Season 2 is whether Pascal will continue relying on Wayne and other collaborators so heavily. In keeping with Mandalorian culture, Din Djarin repeatedly refuses to show his face on the show. But in a moment of desperation, he relents. Similarly, the character found his morals and code challenged throughout season 1.
So there's a chance Mando might loosen his stance on keeping his helmet on at all times. After all, several of the established characters joining The Mandalorian Season 2 — such as Katee Sackhoff's Bo-Katan Kryze — are far less strict about wearing their Mandalorian helmets. Could Mando take a cue from them and require Pascal to spend more time on the set as a result?