'The Masked Singer' Fans Think The Baby Reveal as Larry The Cable Guy Was 'Predictable'
'The Masked Singer' revealed that The Baby was Larry The Cable Guy. But fans are calling the reveal very 'predictable' despite the judges' 'shock.'
Fans of The Masked Singer got to see the identity of The Baby on last night's show. The character was revealed to be actor and comedian Daniel Lawrence Whitney, better known as Larry The Cable Guy. The judges claimed they were "shocked" at the reveal. But fans believe the character reveal was quite "predictable."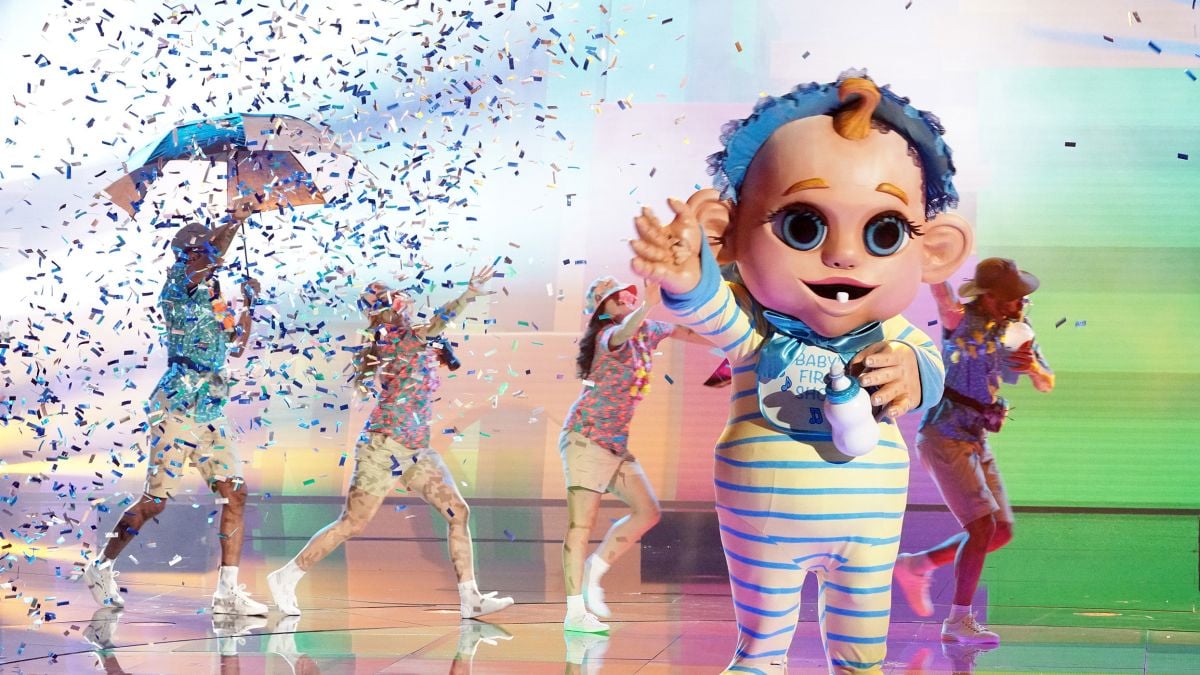 Our prediction about The Baby didn't pan out
In our report about The Masked Singer, we predicted that The Baby was Family Guy creator Seth MacFarlane.
"The character is singing "My First, My Last, My Everything" by Barry White," we wrote. "MacFarlane has said he's a huge fan of soul music. Second, one of Family Guy's most famous characters is Stewie Griffin, who is "the baby" on the show. Third, in the preview episode, the Baby claimed he was "never classy" — and MacFarlane is known for his crude, off-color humor."
Last night, The Baby was revealed on the show. Comedian and actor Larry The Cable Guy turned out to be the celebrity behind the mask.
'The Masked Singer' judges were shocked at the reveal
According to Billboard, the judges on The Masked Singer were very shocked at the reveal. The outlet claimed that the celebrity judges couldn't believe the man who popularized the phrase "Git'R'Done!" was behind The Baby. Ken Jeong, especially, seemed very shocked at the reveal.
You can see a video from The Baby's performance below.
Additionally, Jenny McCarthy-Wahlberg seemed impressed that The Baby sang an "operatic" version of The Flintstones theme song. Was she impressed by the voice? Or was she trying to hide the fact that the choice of the song all but gave away the celebrity behind the mask?
Fans felt it was very predictable
Gold Derby's coverage of last night's episode of The Masked Singer revealed that the judges have always suspected that Larry The Cable Guy would appear on the show sooner or later. But this was the first time he'd actually done it. And the judges' surprise was based on the fact that they didn't choose Larry The Cable Guy during The Baby's first performance.
But, as the outlet pointed out, Larry The Cable Guy was a predictable choice. And many fans agreed with the outlet's assessment.
"Despite all the terrible guesses from the panel, plenty of clues were pointing to Larry the Cable Guy," they wrote. "The car in his package was a clue to Larry's role as the voice of Tow Mater in Disney's "Cars." Larry replaced Arnold Schwarzenegger in the sequel to "Jingle All the Way." The tooth in Baby's package was a clue to Larry's starring role in "Tooth Fairy 2." The badge in Baby's package was a clue to Larry's role as a deputy in "Witless Protection," co-starring none other than Jenny herself."
Who will be the next celebrity revealed behind the mask? We'll just have to tune in to upcoming episodes of The Masked Singer to find out for sure.