'The Masked Singer': Seashell's Motown Clue Helps Convince Fans of Her Identity
Fans believe they know who Seashell is on 'The Masked Singer,' and the Motown clue helps things to add up.
On stage since the season 5 premiere of The Masked Singer, Seashell has consistently been surprising the judges with her vocals. She has her hands full with competition from Black Swan, Robopine, and now Yeti, but viewers think she can hold her own.
Now that the show is nearly halfway through the season, it's becoming clear to many fans that Seashell is no stranger to the stage. After she shot out the Motown clue in the April 14 episode, it may have solidified her identity. But how does it all connect?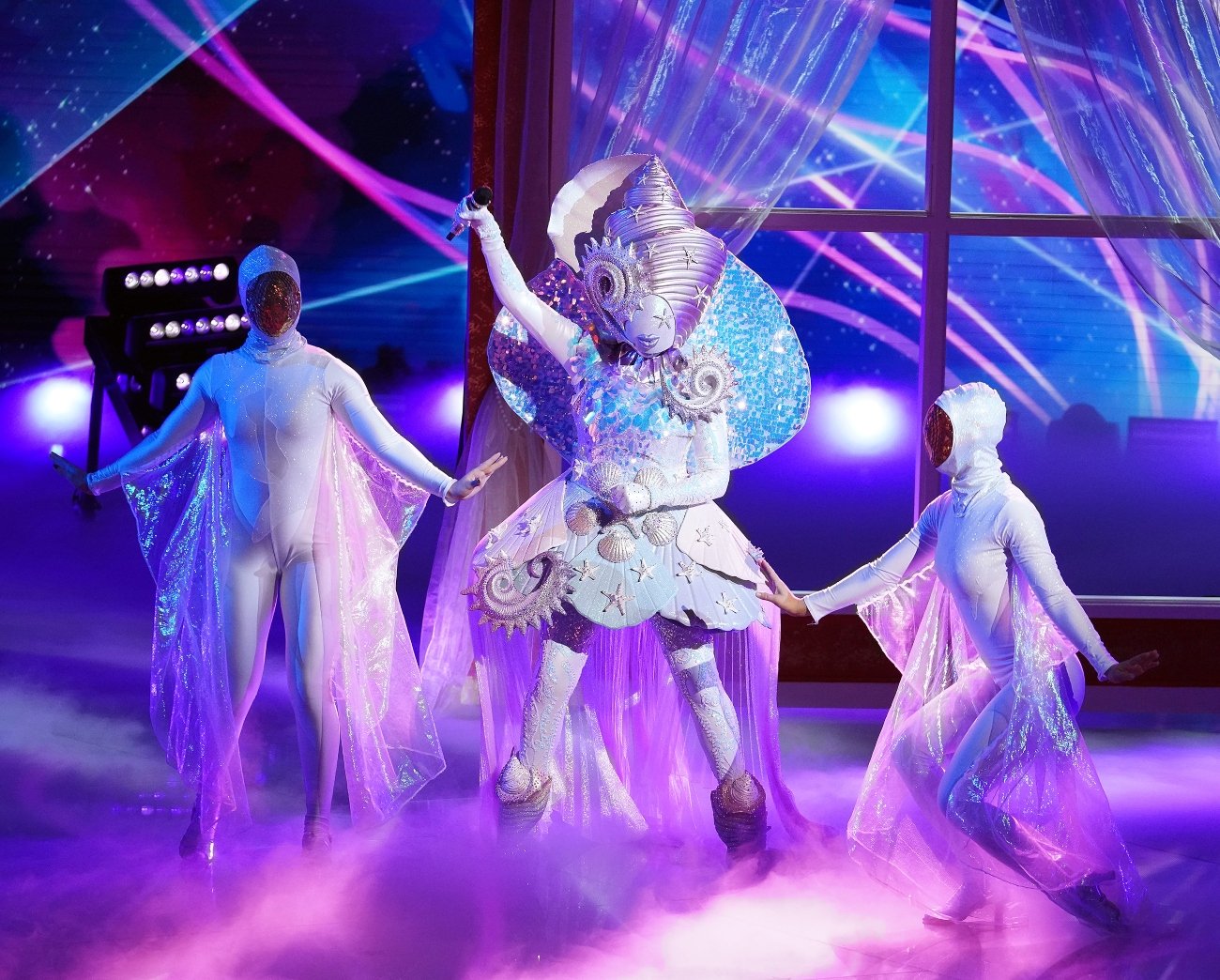 Fans think Seashell is Tamera Mowry-Housley
For a while, Masked Singer fans were on the fence about who's wearing the Seashell costume. Oddball guesses include J.Lo and Diana Ross, and the judges have tossed out Sarah Jessica Parker, Kristin Chenoweth, Dakota Johnson, and Hilary Duff.
But many fans are convinced Seashell is Tamera Mowry. Some aren't discounting the fact her twin sister Tia could be under that mask too. And a small segment of the audience believes they are tag-teaming the role.
Why the Mowrys? The mall clue referenced a scene from the first episode of their '90s sitcom, Sister, Sister. It's currently airing on Netflix where viewers can hear a sampling of their singing voices. Diehard fans say they can tell it's Tamera over Tia by the way she pronounces certain words.
To take it further, Seashell's clues about her husband include baseball, and Adam Housley was once a professional baseball player. The pair run a winery in Napa now. But that Motown t-shirt helps to connect the dots.
Seashell's Motown shout-out is also a major 'Sister, Sister' nod
While Seashell's voice may be the most telling giveaway of her identity, the supplement bottles and Motown shirt also make the case. Seashell said, "Motown brought my family together."
Longtime fans will note that Motown songs were featured in early seasons of Sister, Sister, a show about two long-lost twins who were later brought together after a chance meeting.
Fun fact: Suzanne de Passe, who used to work at Motown with Berry Gordy, executive produced Sister, Sister under de Passe Entertainment. Further, the series took place in Detroit, home of the famous soul music label. Threads of Motown ran all through the show.
Other clues may point to Tamera Mowry-Housley
While some viewers tied the "Strength Supplement" clue to the Mowry sisters' breastfeeding supplement brand, Milky, it could be a link to Tamera Mowry-Housley's role on Strong Medicine. She played Dr. Kayla Thornton.
Fans have already homed in on the broom as a symbol of the Mowrys' starring roles in the movie Twitches too. And Seashell's comments about moving around during her childhood spoke to her parents' background in the military. The Mowry twins were born in Germany.  
Perhaps a binge-watching session of Sister, Sister will reveal Tamera Mowry-Housley's other talent as a singer. All one has to do is peep the season 3 finale where she performed "I'm Going Down" in front of Casey Kasem. If Seashell sings this on The Masked Singer, it will be the ultimate clue.
The Masked Singer airs on Wednesdays on Fox at 8 p.m. EST.