'The Ms. Pat Show' Changes the Game for Sitcoms
BET+'s The Ms. Pat Show is a game-changer. For decades, Black Americans have tuned in to watch TV sitcoms like Modern Family, The Golden Girls, and even Full House. Though there have been moments when sitcoms centering on Black families have been mainstream, as it was in the era of A Different World, Martin and The Fresh of Bel-Air, they have been few and far between in the history of television. In sitcoms that are void of people of color, people of the Black diaspora have been forced to relate to characters who've had polar experiences than they do. Sometimes there has been no representation at all. 
Today, with a massive push in Hollywood for inclusivity and diversity, as well as the rise of streaming services, Black writers and creators are finally getting to tell their stories. More than that, they've no longer had to twist and bend themselves to be digestible for white audiences. The Ms. Pat Show based on the comedy by Patricia "Ms. Pat" Williams is just one example of this culturally specific, raw, and hilarious storytelling.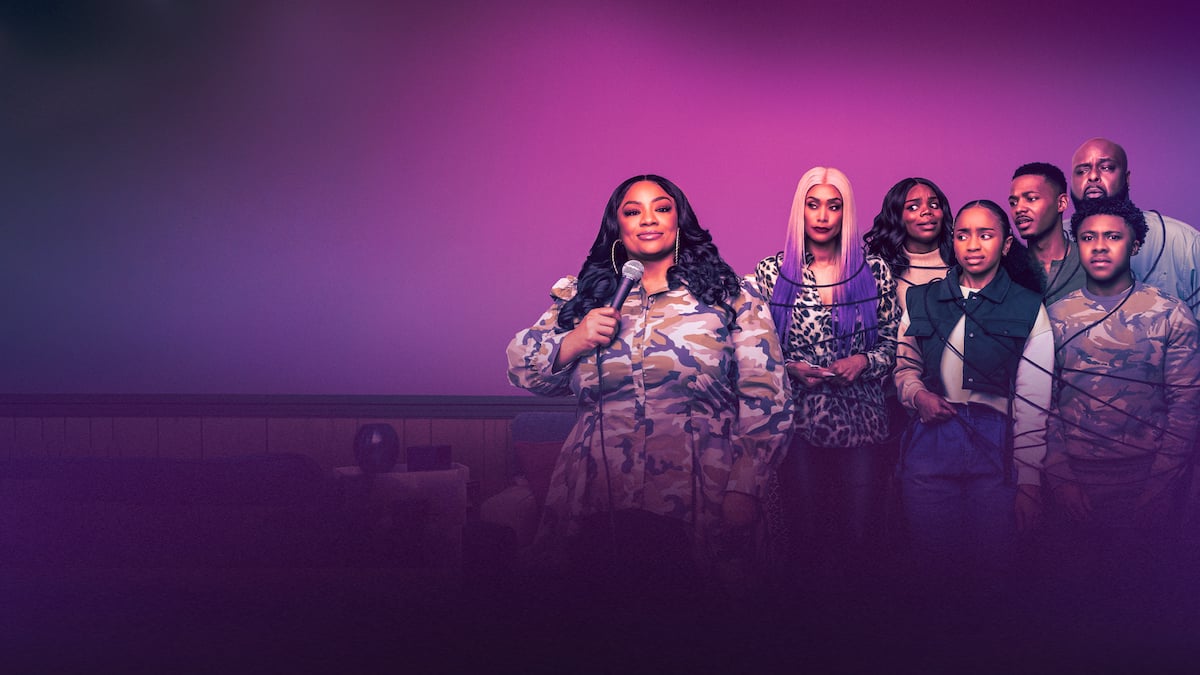 'The Ms. Pat Show' is an authentic reimagining of Ms. Pat's real life
A stand-up comedian by trade, Ms. Pat has never shied away from the cracks and crevices of her life. In her writing, stand-up, and now in her sitcom, she's laid herself bare, unashamed, and unbothered. In her memoir, Rabbit, Ms. Pat spoke openly about being raised in the hood by an alcoholic single mother. She gets candid about the two children she had by the time she was 15. She also vividly describes selling drugs to support her children before nearly losing her life after being shot by a rival dealer.
Now, in The Ms. Pat Show, the comedian is bringing her stand-up and her life story into a fictionalized sitcom of her life. Each episode opens with a stand-up bit; a format made popular by the sitcom Seinfeld. The comedian begins the plot with several zings and quips about what it feels like to get shot. 
Stepping into the world of the show, we are then introduced to Ms. Pat's family, who have recently relocated from Atlanta to an all-white suburb in Indiana. "We moved from Wakanda to Af-cracker-stan," the comedian quips. Ms. Pat's husband, Terry (J. Bernard Calloway), works hard to provide for his family, but they're constantly stressing him out. Brandon (Vince Swann), Ms. Pat's 28-year-old unemployed son, spends his days playing video games in the basement. The couple's activist-minded teenage daughter, Janelle (Briyana Guadalupe), wants her mother to expand her horizons. Meanwhile, their youngest son Junebug (Theodore Barnes) is just trying to fit in at his new school. Later, we're introduced to Ms. Pat's eldest daughter Ashley (Brittany Inge), a successful psychologist who has a fraught relationship with her mother. 
Tami Roman and Ms. Pat's chemistry solidify the show's excellence
All of the actors are hilarious and witty here. Still, it's the chemistry that Ms. Pat has with actor Tami Roman who portrays her recovering addict sister Denise that truly sparkles. The chemistry between the duo is incredible, as they trade barbs about subjects like police brutality, being ex-cons, drug use, and everything in between. Sprinkled throughout The Ms. Pat Show are references that those who aren't profoundly embedded in the Black experience might not get. At one point, Ms. Pat calls her son an "Oreo T'Challa." There are also references to films like Friday and Soul Food. Even the music, including Frankly Beverly and Maze, to John Gill's "My, My, My" is very specific. The Ms. Pat Show offers no explanations to voyeurs. You either get, or you don't. 
Like Ms. Pat's stand-up, the tone and flow of the show are brash, ballsy, and in your face. It exists freely on BET+, completely uncensored, full of expletives and politically incorrect sayings that would undoubtedly be appalling to mainstream networks. Like Netflix's The Upshaws, which is a bit more reserved than The Ms. Pat Show, comedy remains at the center. However, topics like sexual abuse domestic violence, drug abuse, generational trauma, and trafficking narcotics aren't buried underneath the surface.
'The Ms. Pat Show' will change the game for Black-women centered sitcoms
The Ms. Pat Show also exists without the happy-go-lucky endings that are notorious in sitcom episodes. Pat doesn't always get it right, and she doesn't try to. From grappling with the revelation of Ashley's sexuality to trying to communicate with Terry following a change in his job status, these are real-life issues. Yet, just as we all do in the world, she continues to press forward. With 10 episodes in the first season, some of the later episodes lack the fast pace of earlier ones. However, especially with standout episodes like "Baby Daddy Groundhog Day," the series stands tall just like the woman at the center. 
The Ms. Pat Show certainly not going to be for everyone. Family Matters alum Shawn Harrison who portrayed a bougie comedy club owner in episode 106, "B**** I'm Funny," represented a section of viewers who might be quick to turn the show off before the end of the pilot. However, for those who are content to sit back and let Ms. Pat do her thing, without clinging on to respectability politics you won't be disappointed. Raunchy, authentic, and compelling, The Ms. Pat Show is a huge win for the future of TV and for Black women who have been striving to be seen for exactly who they are, without being forced into a box. 
The Ms. Pat Show has been renewed for season 2 on BET+.
How to get help: In the U.S., contact the Substance Abuse and Mental Health Services Administration helpline at 1-800-662-4357.