'The Mummy Returns': Brendan Fraser Was Envious of Dwayne Johnson's Star Power
Brendan Fraser, once an actor who had it all going for him in the '90s and early 2000s, has been making a comeback lately. After dropping out of the public eye, Fraser has made a big splash after being cast in films like Sudden Move and Killers of the Flower Moon. Suddenly. Fraser is everywhere again, and fans couldn't be happier about it. While looking back on Fraser's filmography, The Mummy is probably the most recognizable, closely followed by the sequel, The Mummy Returns. What some fans might not know is that Brendan Fraser was envious of Dwayne Johnson's star power in The Mummy Returns. Keep reading to learn more.
'The Mummy' and 'The Mummy Returns' carried Fraser to stardom
The Mummy was a fun romp through fictional ancient Egypt. Rick O'Connell (Fraser) and Evelyn Carnahan (Rachel Weisz) accidentally set free an ancient mummy, who had been a priest named Imhotep, intent on reincarnating his lover, Anck-Su-Namun. What happens next is a fun and action-packed romp through ancient Hamunaptra and the streets of late 1910s Cairo. 
John Hannah, Arnold Vosloo, and Oded Fehr also starred in The Mummy, and they all, along with Fraser and Weisz, returned for the sequel. The Mummy was released in 1999, and The Mummy Returns debuted in 2001.
The Mummy Returns picks up eight years after the events of The Mummy. Rick and Evelyn have married, and have a child named Alex. An ancient artifact, this time affixed to Alex's wrist, triggers the adventure. Anck-Su-Namun (Patricia Vasquez) is on the hunt this time, seeking to bring her lover, played again by Vosloo, back to life. 
Along the way, both Imhotep and Rick O'Connell end up facing off against Dwayne "The Rock" Johnson's Scorpion King. While the sequel wasn't quite as well received as The Mummy, it still held up for fans and showed well in the box office. It was also Johnson's first big screen appearance.
Brendan Fraser was envious of Dwayne Johnson's star power in 'The Mummy Returns'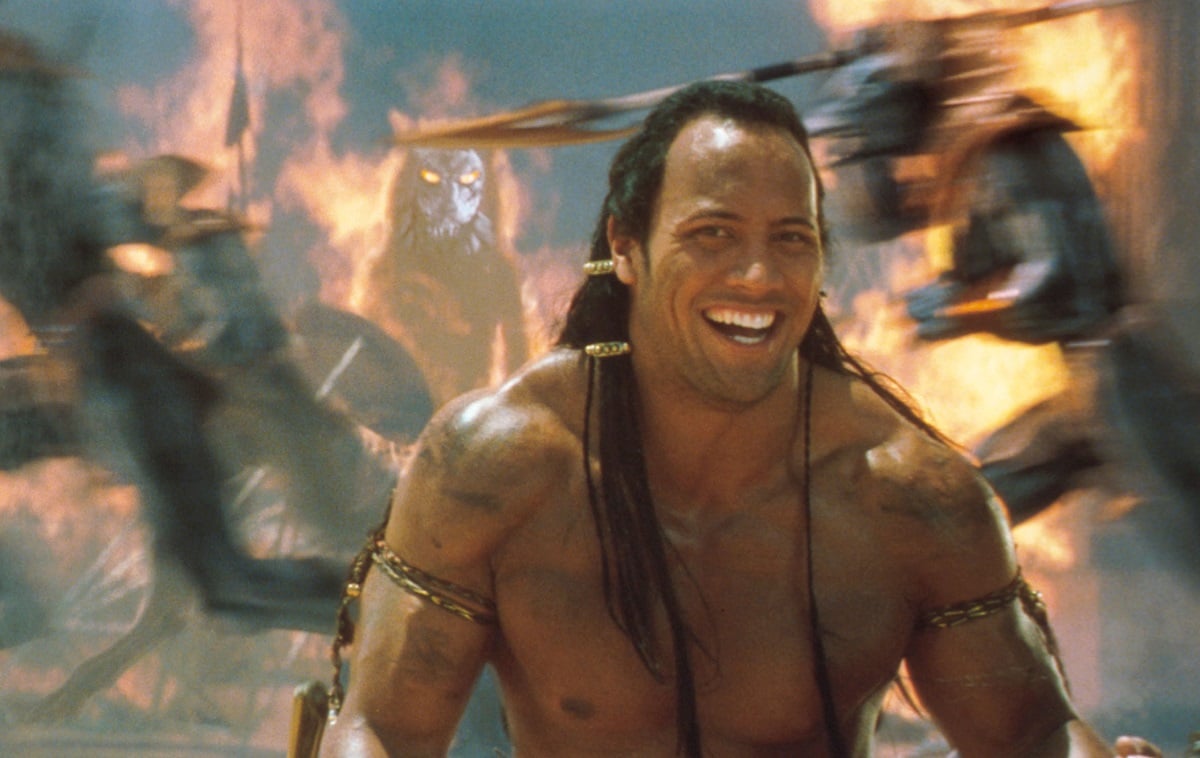 According to Entertainment Weekly, Fraser said at the time that Dwayne "The Rock" Johnson could fill stadiums all over the world. Johnson had star power from the get-go, and charisma to match. His time in the WWE had made him a household name before even appearing on television shows or movies. 
Evidently, Brendan Fraser was a bit envious of Dwayne Johnson's star power in The Mummy Returns. He said of Johnson, "Whatever he's got, I'll take it." Even Stephen Sommers, who wrote and directed the sequel, said that Johnson looked like he could beat up Fraser.
Universal took advantage of Johnson's magnetic pull, too. Though Johnson appeared in less than 15 minutes of the film's total runtime, marketing and promotional materials had him taking up just as much space as Fraser's Rick O'Connell. 
In short, Universal hyped up Johnson so much that it seemed like he might have been the main character. Mary Parent, Universal's president of production said that they were always looking for emerging talent, and Johnson definitely fit the criteria. "You can't take your eyes off him," she said. 
Fraser apparently agreed with the assessment, and added one word to describe it: "Ka-ching!"
Fraser and Johnson never actually met on the set
Despite Universal's marketing that made it seem like Johnson was taking over the movie, he appeared for less than 15 minutes, and was actually digitally added. The fight against the Scorpion King featured a monster that had Johnson's head digitally added onto it in post-production.
As a result, Fraser never actually met Johnson on set. When asked about it, Fraser had the perfect response. "Let's put it this way," he said. "I was in a room with a 28-foot-tall dreadlocks-flapping bug-man so, yes, in that sense we met." 
They, of course, did meet eventually. The Mummy Returns used Johnson extensively for the press tour prior to release, and Brendan Fraser was right there with him.
Brendan Fraser may have had the main starring role, but Universal was happy to use Johnson's star power to get people to buy tickets.