'The Northman' Reunites Its Stars in the Most Awkward Way Possible
The Northman stars Alexander Skarsgård as a Viking prince out for revenge. Co-writer/director Robert Eggers previously made a name for himself with horror movies like The Witch and The Lighthouse. But The Northman sees him stretch into a new genre: historical action drama. Still, moviegoers will notice a ton of familiar faces, including some who are playing off each other in an entirely new way this time around.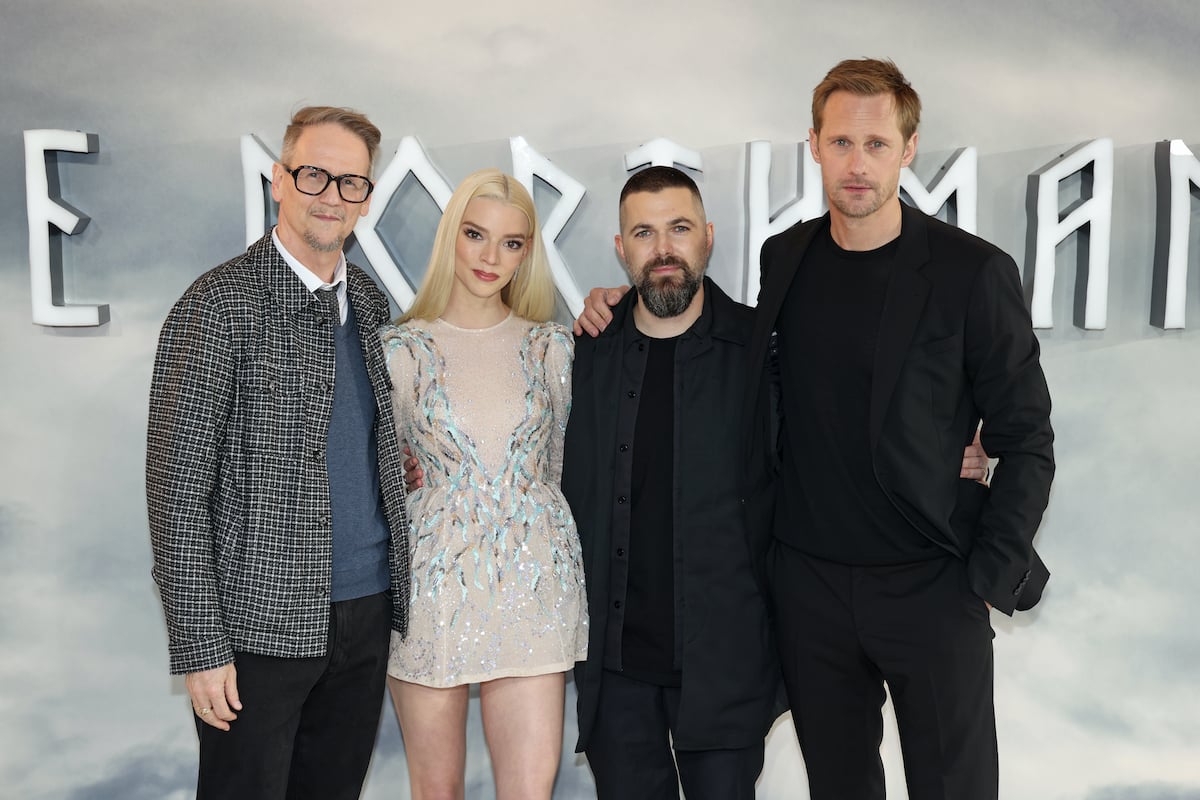 'The Northman' reunites director Robert Eggers with past stars
Fans of Eggers' last two movies will no doubt recognize some actors who popped up in those earlier releases. Willem Dafoe — who shared the screen with Robert Pattinson in The Lighthouse — plays Heimir the Fool in The Northman. But the Spider-Man: No Way Home actor isn't the only Eggers alumnus who's back for more.
Three actors from The Witch also pop up in The Northman. Anya Taylor-Joy — whose star has risen thanks to her role on Netflix hit The Queen's Gambit — plays a sorceress credited as Olga of the Birch Forest. Meanwhile, Ralph Ineson and Kate Dickie, who played Taylor-Joy's parents in The Witch, appear as Captain Volodymyr and Halldora the Pict, respectively.
Alexander Skarsgård and Nicole Kidman play mother and son
But the cast reunion in The Northman most likely to get fans talking doesn't involve Eggers at all. Skarsgârd, of course, plays Viking warrior prince Amleth. And in the role of his mother, Queen Gudrún, is Oscar winner Nicole Kidman. The two stars previously worked together on HBO series Big Little Lies, where they played a husband and wife in an abusive and highly dysfunctional relationship.
Clearly, Skarsgârd and Kidman enjoyed working together that first time. And their chemistry yielded acclaimed results last time. Both actors won Emmys, Golden Globe Awards, and Screen Actors Guild Awards — among other honors — for their work on Big Little Lies. So perhaps Eggers hopes lightning will strike twice, albeit with the two actors sharing the screen in a very different context.
Will stars from 'The Northman' return for Eggers' 'Nosferatu'?
With so much talent onscreen, The Northman has fans excited to see what Eggers can bring to a historical epic. The director isn't wasting any time, however. He's reportedly still at work trying to get his passion project, a remake of classic vampire tale Nosferatu, off the ground. And it seems he is once again looking to his previous stars to headline the new movie.
Taylor-Joy was announced as being attached to Eggers' Nosferatu years ago. She remains an integral part of all the internet chatter about the movie. And fans are hoping Dafoe might join the film too. After all, he essentially played the character in the 2000 horror film Shadow of the Vampire, a fictional account of the making of the original 1922 silent movie version of Nosferatu.