'The Office': 1 Cast Member Didn't Quit His Day Job Until the Final Season
Steve Carell, John Krasinski, and Jenna Fischer are big names thanks to The Office, but before the NBC series became a hit, most of the cast were unknown actors who worked day jobs to pay their bills. Andy Buckley is one of those actors. Find out where he was working until The Office was in its final season.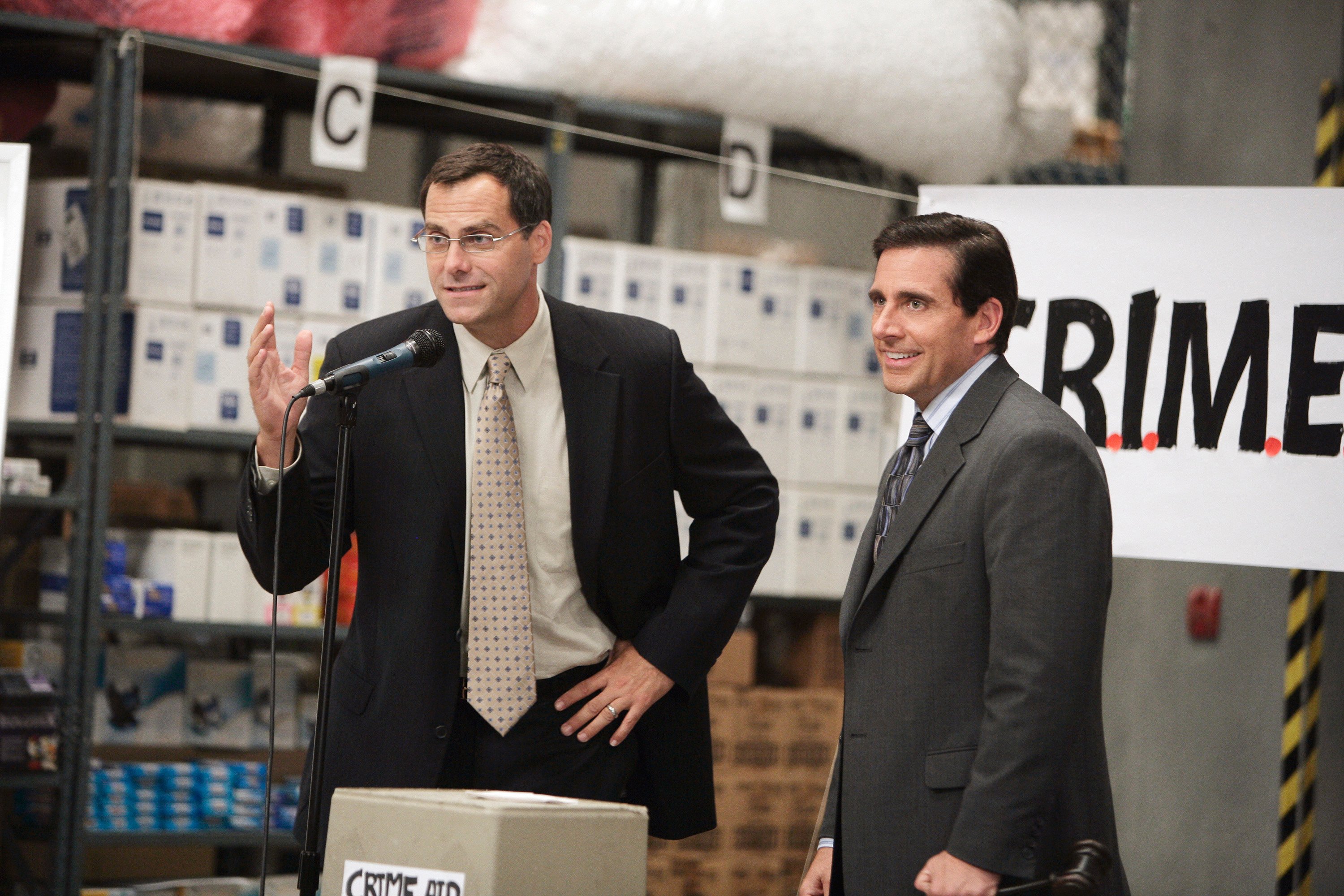 Andy Buckley worked for Merrill Lynch as a wealth management advisor
Before landing the role of David Wallace, Dunder Mifflin's chief financial officer, Buckley worked in corporate America as a stockbroker. As Buckley explained to Fisher and Angela Kinsey on the Office Ladies podcast, showrunner Mike Schur was privy to his experience in finance. 
"I do the first scene and then the second scene … Michael [Schur] said 'Now, you're like some kind of financial guy' right?'" Buckley explained. Kinsey added, "Now, knowing Mike the way we know Mike, he loved that. I know that he loved that. That you were actually working at Merrill Lynch was actually probably one of the coolest things to him."
The following day, Buckley was told he got the role. He ended up playing David Wallace in over 30 episodes of The Office but didn't leave Merrill Lynch until the show's last season. Today, he's acting full-time and has appeared in shows like Shameless and films like Jurassic World. 
Cast members from 'The Office' worked jobs related to the series
Like Buckley, several other Office cast members had jobs related to their characters' careers in the show. As Kinsey explained on Office Ladies, "Jenna and I both worked in corporate America and so we both had to go to a lot of human resource meetings and things like that. And we were on set one day talking about it." Before The Office, Fischer worked as a secretary and Kinsey worked as an operator. 
Some of 'The Office' cast weren't actors before the show
Still, some members of The Office cast had jobs behind the camera in showbiz before being cast in the NBC comedy series. One of these Office characters is beloved now but was never part of the series when it was being developed. Phyllis Smith, who played Phyllis Lapin-Vance in The Office, started as a casting associate. 
"I was sitting next to her and the actors who were auditioning were playing it to the hilt and working it too hard," director Ken Kwapis explained on Brian Baumgartner's podcast An Oral History of The Office. "Phyllis was reading her lines in this monotonal way, and I just became fascinated with her." Then he realized Smith "belonged" in a paper company like Dunder Mifflin.
When Smith was cast, Kwapis and producer Greg Daniels weren't sure about her acting ability. But when Kwapis asked about Smith's performance background, she revealed her experience performing as a burlesque dancer and NFL cheerleader. 
"She said some years early that she had worked in burlesque in Branson, Missouri,'" Kwapis said. "Later that week [she] brought in a photo of herself in a very wonderfully old-fashioned burlesque outfit." That performance experience and the way she delivered lines was enough to cast Smith in The Office.
Stream every episode of The Office on Peacock.