'The Office': 1 'Daunting' Scene Ed Helms Didn't Want to 'Screw Up'
'The Office' star Ed Helms recently revealed that he found one Season 3 scene daunting to film, and was worried he would screw up.
Ed Helms is known for his role as Andy Bernard on The Office. His on-screen hijinks looked effortless. But there was actually one "daunting" scene that the actor was anxious about, and was worried he'd "screw up."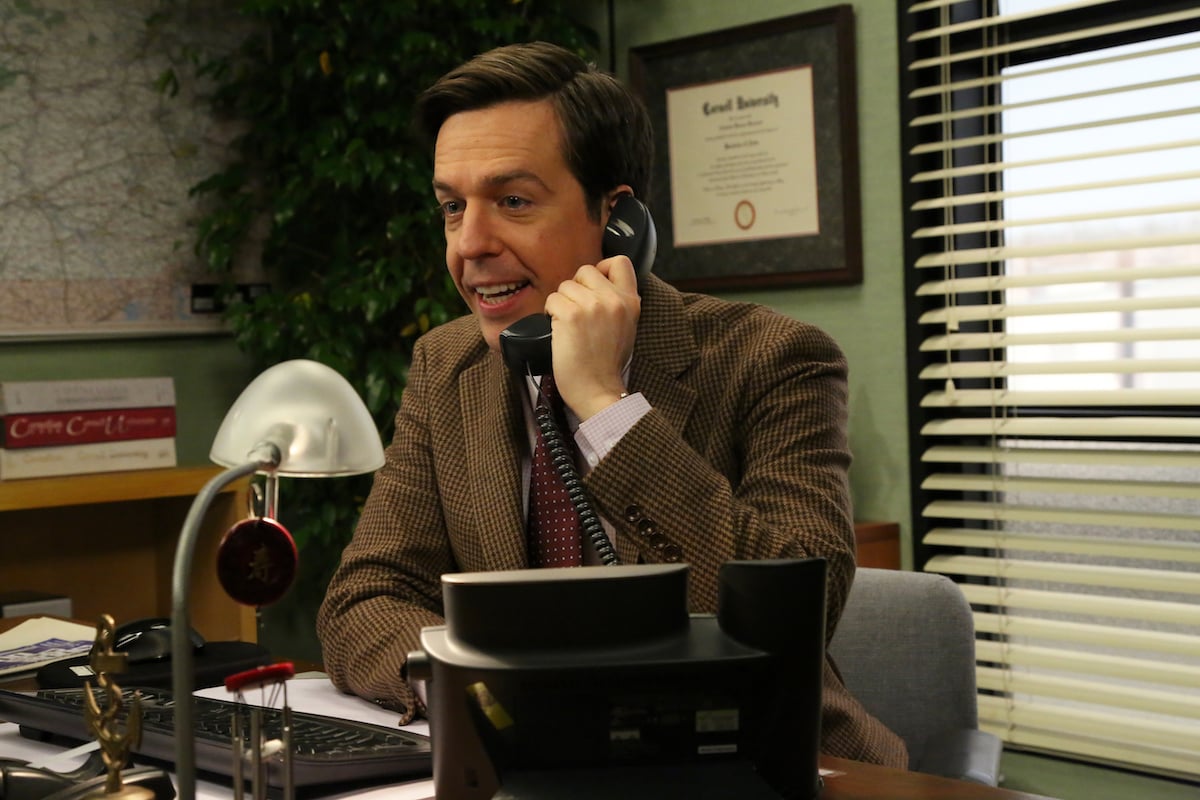 Ed Helms joined 'The Office' in Season 2
Helms made his Office debut as Andy Bernard in Season 2 as Jim's (John Krasinki) new co-worker at the Stamford branch of Dunder Mifflin. In Season 3, he was made a series regular when his character joined the Scranton branch to work for Michael Scott (Steve Carell). 
In the Season 3 episode, "The Return," Jim and Pam (Jenna Fischer) prank Andy by hiding his cell phone, which continuously rings when they call it. And at the same time, being new to the Scranton branch, Andy is trying to impress Michael to no avail.
So frustrated with his phone and Michael's rejection, Andy loses it and punches a hole in the office wall. Corporate ultimately sends Andy to anger management training for 10 weeks, which he says he hopes to charm down to five weeks. 
The wall punching scene was set up by a prop and stunt team
When talking to his Office co-stars Jenna Fischer and Angela Kinsey on their Office Ladies podcast, Helms revealed that his wall-punching scene in "The Return" was coordinated by the set's stunt and prop team. 
"I remember it was my first time doing anything that qualified as a stunt," Helms recalled. "So like there was a whole little meeting about how they were going to score the back of the sheetrock so that my hand went through easier. And then they were gonna put up…they, like, fixed a pad onto the inner wall so that when my hand went through, I wouldn't hit wood or aluminum or anything. And also, they had multiple planks that they could stick up just so we could do multiple takes."
Fischer remembered that she had to try really hard not to laugh and break character during that scene. "We didn't have that many of the walls," she noted. "They had extra, but it's not like they had 14. So we couldn't crack up when you punched the wall. We had to hold ourselves together."
Why Helms found that scene to be daunting
When talking to Fischer and Kinsey, Helms recalled how he felt going into filming that scene for "The Return." He said he was anxious in a good way, but also found it to be a little daunting.  
"So that was one of those scenes for me, in a very early one, and something that I think was very exciting, but also kind of daunting," he said on Office Ladies.  "And I really didn't want to screw up the punch."
Helms practiced the scenes ahead of time and got and managed to film it in just a few takes. But in the process, he ended up with some minor scratches on his hands. 
"I didn't want to get it wrong…there were a lot of kind of wind-ups to practice, practice swings, if you will," Helms revealed. "And then I think we only did two, two takes or so and I skinned up my knuckles. I do remember…there was a pad in there, but I think breaking through the sheetrock skinned up my knuckles. So, yeah, that was pretty intense."
All nine seasons of The Office are currently streaming on Netflix.