'The Office': 2 Sets of Stars Got Married in Real Life
Find out which cast members from 'The Office' were married to each other in real life.
The Office might be a comedy, but that doesn't mean the show shied away from romance. Thanks to the many on-screen relationships in the series, some fans wonder if any Office stars ever married in real life. As fate would have it, there are two real-life couples involving the cast of The Office.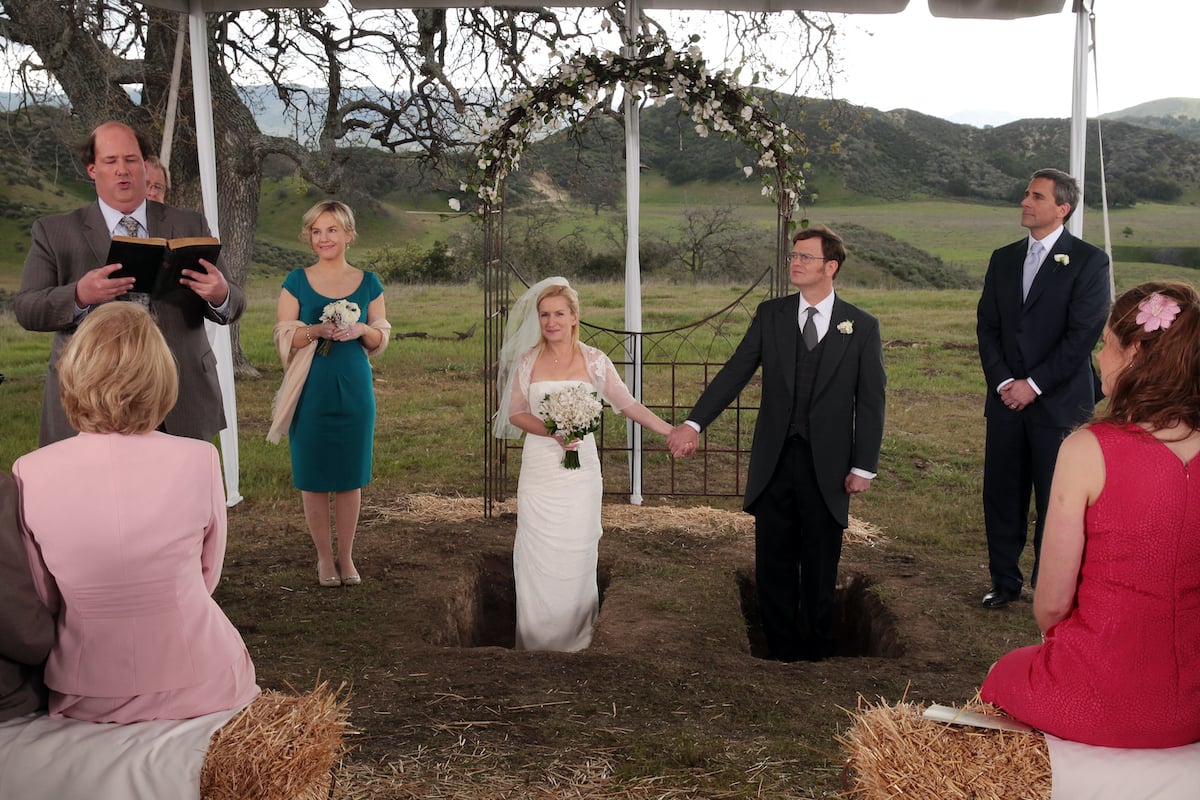 Paul Lieberstein and Steve Carell's relationship got him cast on 'The Office' 
Many fans of The Office know Paul Lieberstein as Toby Flenderson, Michael Scott's (Steve Carell) arch-nemesis and head of human resources at Dunder Mifflin's Scranton branch. But many don't realize behind the scenes, Lieberstein was responsible for writing and producing many of the show's episodes. 
Ironically, much like Phyllis Smith, Lieberstein never intended to become part of The Office cast. Lieberstein's acting wasn't a consideration until an NBC executive saw the rapport between Lieberstein and Carell. And as they say, the rest is history. 
Paul Lieberstein's brother Warren Lieberstein was also a writer for 'The Office' 
Working on The Office was a family affair, at least for Lieberstein. His brother, Warren, also worked on the show as a writer and producer. Warren brought fans beloved episodes like "Koi Pond" and "Cafe Disco." Warren is also the brother-in-law of Office producer Greg Daniels. 
Additionally, Warren appeared in the "Goodbye, Michael" episode of The Office as Toby's brother, Rory Flenderson. Rory lived in Boulder, Colorado, where Michael was moving with Holly (Amy Ryan). Much to Michael's disgust, Toby encouraged Rory to look Michael up after he got settled. 
'The Office' cast members Angela Kinsey and Warren Lieberstein were married 
Angela Kinsey, who played Angela Martin in The Office, married her colleague in June 2000. She and Lieberstein were married for 10 years and share one child, Isabel. Despite their divorce, The Office stars have a positive relationship co-parenting their daughter. 
"I'm really fortunate because my ex and I are very good friends and I talk to him every day," Kinsey told the Huffington Post. "Our daughter is growing up seeing two people who care about each other." 
Kinsey and Lieberstein may not be a "traditional family," but Kinsey says their daughter is learning that families come in all shapes and sizes. "I see her really flourishing because she sees two people treating each other with respect," she added. 
'The Office' stars Angela Kinsey and Warren Lieberstein are both remarried 
Today, Kinsey is married to actor Joshua Snyder. The two were married in 2016 and currently work on Baking With Josh and Ange together. Kinsey and Snyder live in Los Angeles with their blended family: Snyder's sons Jack and Cade, Kinsey's daughter, Isabel, two cats, and two dogs. 
Lieberstein also got remarried in 2016 to Crazy Ex-Girlfriend writer and producer Audrey Wauchope. According to her Instagram, they share a child, Hazel.
Steve and Nancy Carell are another married couple from the cast of 'The Office' 
Steve and Nancy Carell have been married since August 1995. Ironically, the duo played a fictional couple on The Office.
Nancy played Michael Scott's realtor and girlfriend Carol Stills, appearing in episodes like "Casino Night," "Diwali," and "A Benihana Christmas." The couple share two children: Elisabeth and John.