'The Office': 3 Times Relatives of the Cast Made It Into Episodes
The characters of The Office might have worked together, but became more like family in the end. The actors sometimes had their real parents, spouses, and more work with them on the show too. Here are three times relatives made it in and how their roles came into play with their characters.
1. Mindy Kaling's parents
RELATED: 'The Office': Why CGI Was Used on Jenna Fischer's Face for an Important Jim and Pam Scene
The episode "Diwali" shows Kelly Kapoor (Mindy Kaling) inviting her co-workers to a Diwali party. Ryan Howard (B.J. Novak) tries to win over her parents.
Her parents, Swati and Avu Chokalingam played Kelly's parents. Kaling talked about bringing them into the show on the Office Ladies podcast.
"We only cast my parents in it, which just seems like a complete act of nepotism and favoritism," she said. "Because we had auditioned the parts and Greg felt that the actors we found in that age group were either too theatrical for the style of acting on our show or too stilted because they had no acting experience."
Creator, Greg Daniels decided to go with her parents despite their lack of acting experience. He told Kaling, "At least they bear some familial resemblance to you. So, we'll put them in there."
2. Steve Carell's wife, Nancy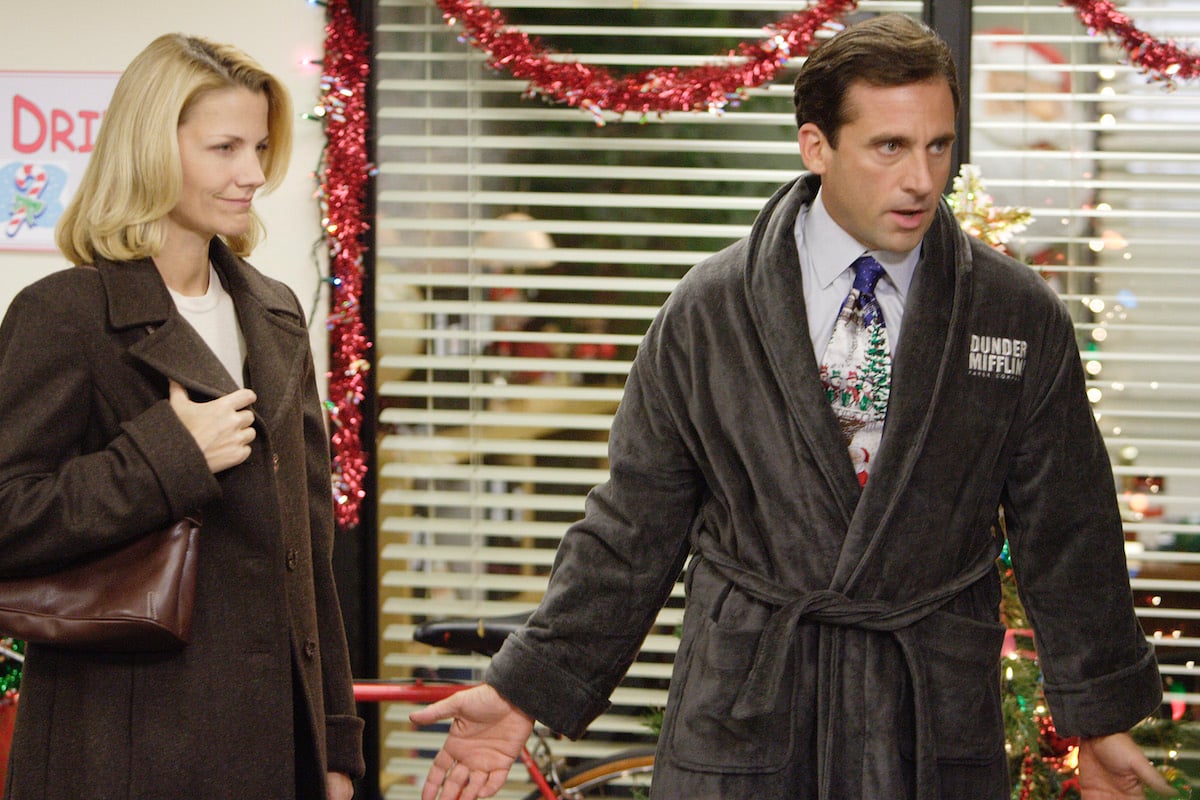 RELATED: 'The Office' Stars Address the Fan Theory Dunder Mifflin Is a Money Laundering Front
Nancy Carell is an actor who worked on Saturday Night Live, The Goode Family, and has appeared in movies. She was brought on to play real estate agent, Carol Stills in season 2.
Carol sells Michael Scott (Steve Carell)'s house and they reconnect in the following season. They eventually have a relationship, but then she dumps him. Carol does appear again in the finale to sell Pam (Jenna Fischer) and Jim (John Krasinski)'s house.
Nancy has been marred to Steve since 1995. They have two children together named Elisabeth and John.
3. Jenna Fischer's former sister-in-law
RELATED: 'The Office': The Stripper In 'Ben Franklin' and Pam Beesly Have An Odd Connection
"Niagara Part 1" shows everyone going to Niagara Falls for Jim and Pam's wedding. Things get awkward during the trip.
There is a scene where Jim and Pam check into a hotel and make sure they'll have the honeymoon suite on their wedding night. They find out Andy (Ed Helms) will have the suite the night before them. The receptionist in the scene is played by Michelle Gunn.
Gunn is Fischer's former sister-in-law given they used to be married to brothers, James Gunn and Mathew Gunn.
The cast members weren't the only ones who got their family into the mix. The creator also had his son appear in an episode. Daniels' son, Owen, played David Wallace's son Teddy. He appeared in two episodes "Cocktails" and "Sabre."
It looks like the cast found different ways to bring their loved ones into the show. This brings a personal touch to some of the episodes.