'The Office' Actor Angela Kinsey Is a 'Hot Mess' in the Kitchen
'The Office' actor Angela Kinsey might be a 'hot mess' in the kitchen, but there are two recipes she's got down.
Many people know Angela Kinsey for her role as the grumpy accountant Angela Martin on The Office. But the actor is also avid about cooking and baking. "I am the hot mess in the kitchen," Kinsey admitted to Showbiz Cheat Sheet over the phone. But despite her self-proclaimed title, there are two things The Office cast member prepares best in the kitchen.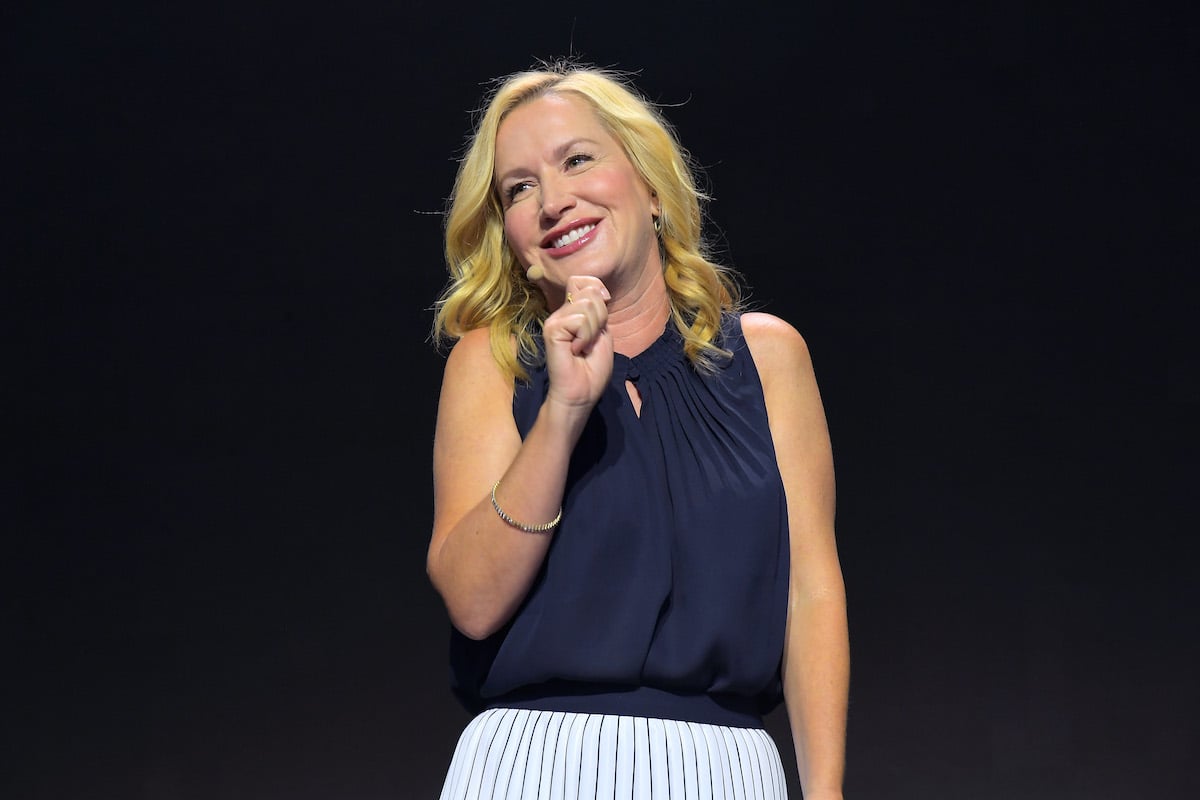 Angela Kinsey has gone from 'The Office' cast to 'Deliciousness' 
Deliciousness is a spinoff of Rob Dyrdek's Ridiculousness, a series that dissects comical viral videos. Instead of examining viral videos, Kinsey, Nickelodeon alum Kel Mitchell, and Basic to Bougie's Tim Chantarangsu break down some of the internet's most viral food-related videos on Deliciousness. 
Saved by the Bell star Tiffani Thiessen hosts the MTV series, which highlights "the only thing people love more than delicious food — delicious food fails." Kinsey, who works with executive producer and longtime friend Shane Nickerson, loves doing the show.
"We're just watching people be stupid with food, and we get to hang out and laugh," Kinsey told Showbiz Cheat Sheet. Catch up on Deliciousness on MTV.com or through the MTV app. 
Kinsey also is half of 'Baking With Josh & Ange' 
Kinsey married actor Josh Snyder in 2016. Now, the couple host Baking With Josh & Ange. 
"Josh bakes and Angela chats while trying her best to keep up," says the website. "We live in Los Angeles and have a big blended family: Josh's sons, Jack and Cade, Angela's daughter, Isabel, two cats, Oreo and Snickers, and two dogs, Biscuit and Buster." 
Snyder and Kinsey aim to share how fun and family-friendly baking can be. The baking couple have hosted several guests in their videos, including many of Kinsey's Office castmates. Fans can find new recipes from The Office star and her husband on their YouTube channel. 
"My husband is so patient," Kinsey told Showbiz Cheat Sheet, detailing all of the reasons she's not so good at baking. "[Good bakers and cooks] are patient, meticulous, [and] they read instructions. All of that is a challenge for me." 
Kinsey is convinced her lack of baking skills is genetic. "My sister is also clumsy," she laughed. Despite her clumsiness, there are a few recipes Kinsey's family trusts her to expertly prepare. 
Angela Kinsey from 'The Office' makes the best Italian wedding soup and banana bread
Kinsey may be a "hot mess" in the kitchen. But when it comes to finding a use for some overripe bananas, she has just the thing. "I make a decent banana bread," The Office star told us. "The kids seem to like it."
Baking is one thing. It requires the patience Kinsey mentioned and an eye for detail. But when it comes to cooking, Kinsey loves the freedom it allows.
"My husband really likes the Italian wedding soup I make," Kinsey said. "It's one of the recipes I've really learned and I've got it down." That means she doesn't have to consult a recipe — she can eyeball everything. "That's his favorite thing that I make," Kinsey concluded.
Find new recipes from Kinsey and her husband on social media or on the Baking With Josh & Ange YouTube channel.