'The Office': This Actor Made 1 of the Jingles for 'Local Ad'
Stars of The Office were able to show their talents in specific episodes. "Local Ad" allowed multiple characters to shine by using their acting, singing, and even animation skills for a commercial. One of the actors made a jingle for it and the writers had a long debate about whether to use it. 
'The Office' characters made songs for a local commercial 
RELATED: 'The Office': Michael Scott's Iconic Diss to Dwight Was an Homage to 'Saturday Night Live'
The episode, "Local Ad," shows Michael (Steve Carell) creating a local ad for Dunder Mifflin. Of course, he jumps at the chance to be creative and calls for the help of his employees. 
Things don't go smoothly when they try to create a jingle. Darryl (Craig Robinson) sings a song that is pretty good, but Michael gets jealous and refuses to use it. The manager sends Phyllis Vance (Phyllis Smith) to convince author Sue Grafton to be in their commercial, but she's unsuccessful.
Dunder Mifflin doesn't use it in the end. The commercial only uses a clip of the Scranton employees waving to the camera. This upsets Michael, so Jim (John Krasinski) has their version of the commercial play at a bar, and everyone seems proud of their hard work. 
Craig Robinson made 1 of the jingles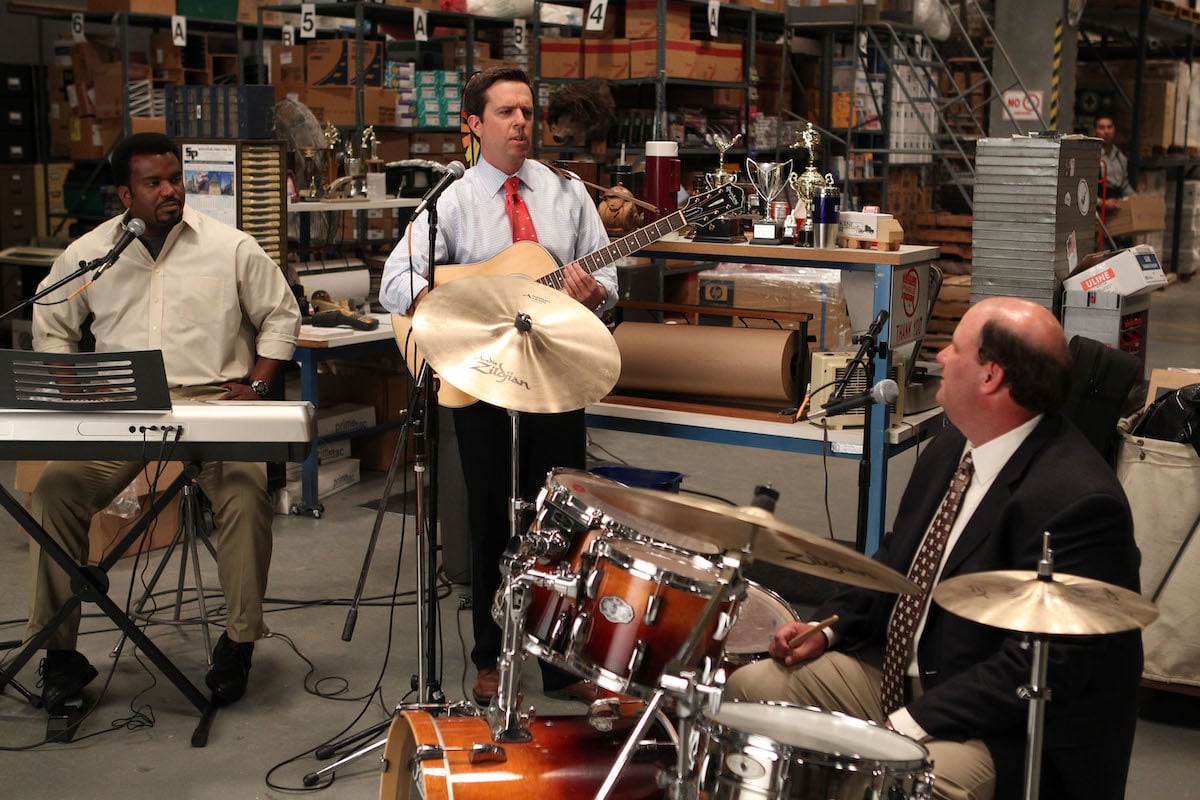 Robinson previously acted in movies and shows before The Office. But he also sang and played the keyboard as part of his comedy act. He teamed up with Jerry Minor to become the duo L. Witherspoon & Chucky. 
So it's not surprising that the actor made one of the jingles for the episode. "Craig is fantastic. He tours and everything. He's great," Angela Kinsey, who played Angela Martin, said on the podcast, Office Ladies. 
"In the DVD commentary, they shared that there was a heated debate in the writer's room about which jingle they should use," the actor revealed. "The room was divided," she further explained. "They loved them both, so they found a way to have them both in the episode, which I thought was great."
Another actor on 'The Office' learned an instrument for his role
Darryl isn't the only person to surprisingly be talented in the music department. Kevin (Brian Baumgartner) sings and plays the drums in the show. We first see this in the episode, "Casino Night," when Jim finds a tape of Kevin's band performing.
"Brian told me that he is actually playing and singing a Steve Miller song in the video," Jenna Fischer, who played Pam Beesly, said on Office Ladies. "And he says he's playing but he's really kinda faking it because he didn't really learn to drum until later when his band had to play, was it at Phyllis' wedding?"
Ed Helms, who played Andy Bernard, also sang in multiple episodes. It sounds like the writers were so impressed with Robinson's song that they fought to keep it in "Local Ad."