'The Office' Actors 'Were Sadder Than Their Characters Were Supposed to Be' in 'Goodbye, Michael'
Just as "Goodbye, Michael" detailed Michael Scott's last day at The Office, filming "Goodbye, Michael" was Steve Carell's last day on set as a main character of the series.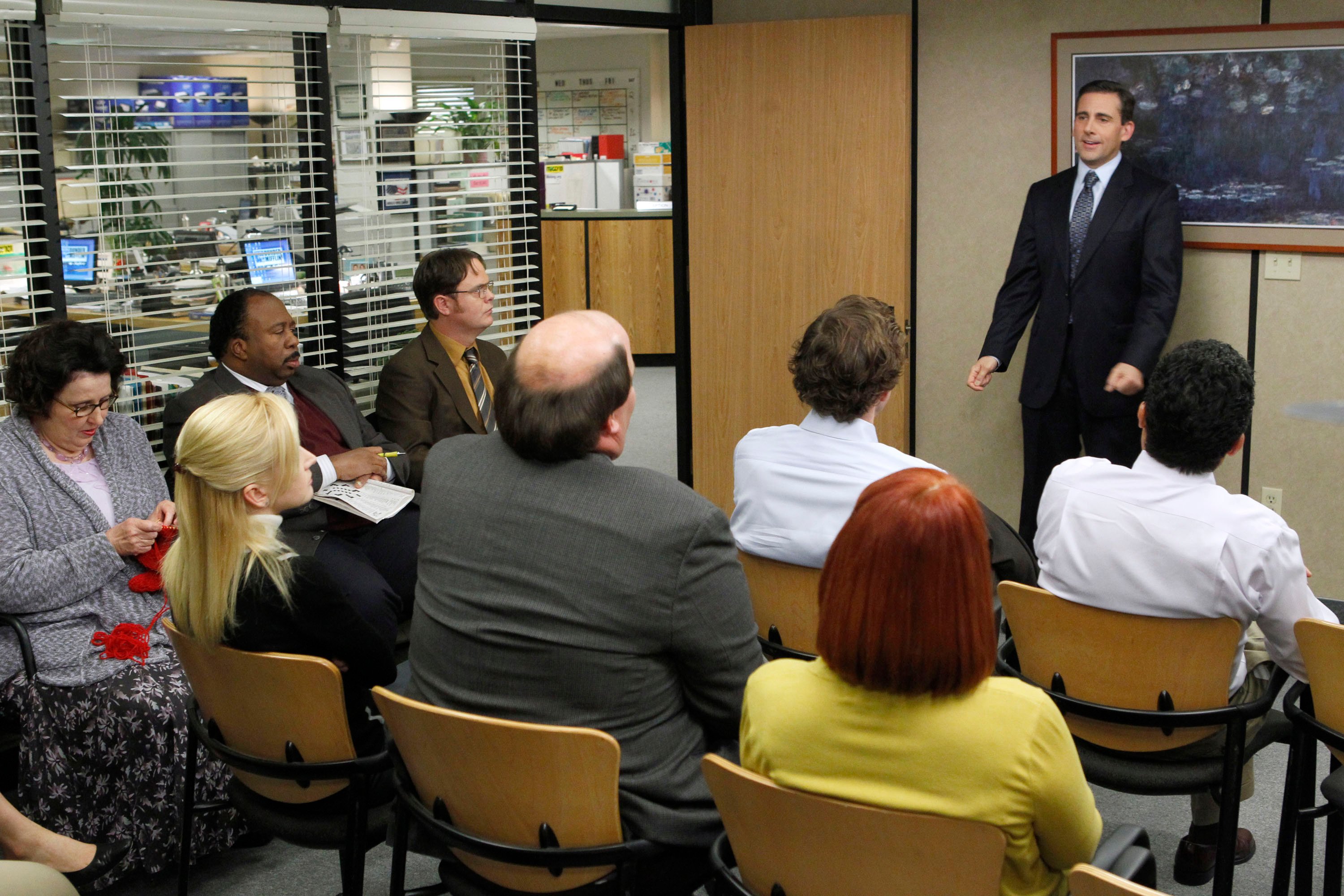 What happens in 'Goodbye, Michael'
The episode follows Michael as he says his goodbyes to each of his employees on his last day at the office (unbeknownst to everyone except Jim and Pam at the end of the day).
Michael spends the day giving everyone parting gifts and pearls of signature Michael wisdom. He gives Phyllis a "chattering teeth" gag gift and urges her to voice her opinion more. He gives Stanley a miniature pool set but no balls. He gives Andy his 10 biggest clients to show he believes in him. He gifts Ryan his precious "St. Pauli Girl" neon beer sign. Michael gives Darryl an unfinished copy of his book, "Somehow I Manage." And he gives Dwight a recommendation letter.
Michael has three particularly emotional goodbyes with Erin, who he's become a father figure to, Pam, and Jim. And then he gets on a plane to start his life with Holly.
The Office executive producer Greg Daniels was interviewed by Entertainment Weekly in 2011 about "Goodbye, Michael" and Carell's departure.
"It's basically him settling his affairs and saying his last goodbyes to everybody. And he has gifts for them. It's about how he deals with his own feelings. There's lots of little references to the history of the show that the super fans are going to really enjoy," he said of the episode, adding that there's also a "tiny mystery story — which I'm not sure anyone's going to catch and will come out a few episodes from now."
Of course, the entire episode isn't Michael saying his goodbyes.
"There's other stories: Andy [Ed Helms] and Deangelo [Will Ferrell] are trying to hold together Michael's clients who are starting to bail, and they're driving around calling on the clients. And the party-planning committee is trying to figure out the best cake and the best way to send him off. All the former chairmen are reuniting to give Michael a good send-off," said Daniels.
'The Office' cast was very sad filming Steve Carell's last official episode
Daniels said it was a sentimental day of filming.
"It was just this weird sense of 'Oh my god, this is his last this thing, this is his last that thing.' I kind of felt like a priest who was sitting with him as he ate his last meal. But the actors were very emotional," he said.
Carell was famous for making his castmates break out laughing on set. On his final day, Daniels said the actors would break out in sadness. They were so sad they had to reel it in a bit.
"You know the concept of breaking? An actor bursts out laughing and drops his character. They kept doing it here because they'd suddenly get really sad that they weren't going to work with him next week. They were sadder than their characters were supposed to be. They broke, but going to 'sad,'" he said.