'The Office' Almost Had an Entirely Different Theme Song
The Office's iconic theme song was almost something entirely different. The Office Ladies podcast hosts Jenna Fischer and Angela Kinsey shared how there were three options for the cast to choose for the opening credits but their first choice fell through.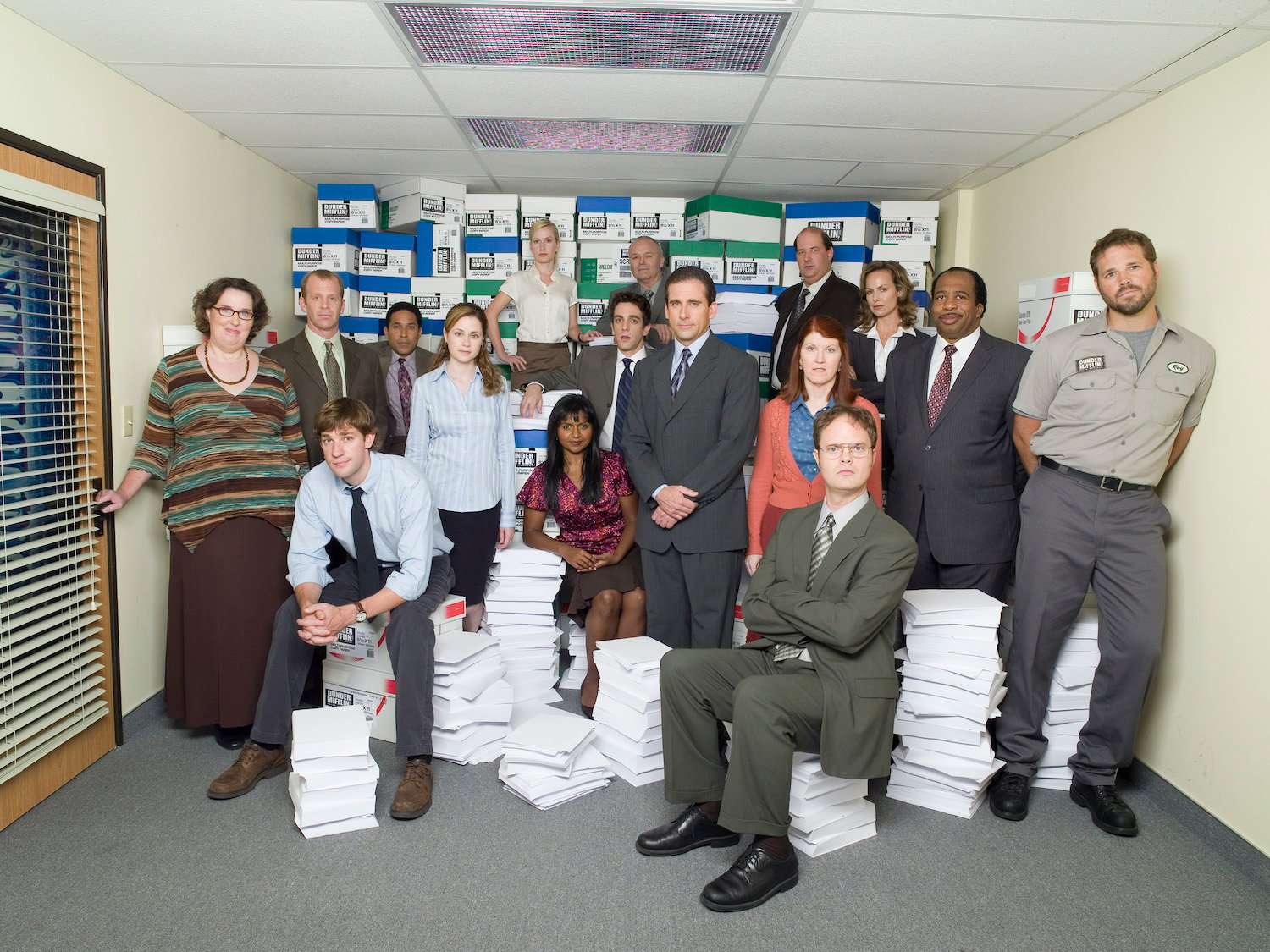 'The Office' cast voted on 3 theme song options
During the June 16 Office Ladies podcast, Fischer and Kinsey shed a little more light on how The Office theme song came to be. Surprisingly, it wasn't always going to be the instrumental tune that everybody knows and loves.
The cast actually voted among three options of actual songs that might be used, with creator Greg Daniels mocking up the opening credits with each song and distributing DVDs to the cast so they could vote on their favorite.
Fischer first explained who composed The Office theme song that everyone knows. "That was created by composer James Ferguson. He has done music for tons of shows like NCIS Los Angeles, Women's Murder Club, Melrose Place. Erie, Indiana. He's done a lot," she explained. "He's also composed music for films like The Terminator, Charlie's Angels Full Throttle, and This Is 40."
However, she shared, "There were three other options for songs."
"So Greg first thought 'I'm going to use a song,' like rather than use an original composition, he was going to use a song," she continued. "And he whittled it down to three choices and he created title sequences to all three songs and he gave DVDs out to the whole cast. And we got to vote on the songs."
They shared the three songs, playing a clip from each: "Better Things" by the Kinks, "Float On" by Modest Mouse, and "Mr. Blue Sky" by ELO. 
'The Office' couldn't use the song everyone picked, however
The cast voted and "Mr. Blue Sky" was the winner — but the song had to be scrapped. "It won. When we did a viewing party at my house of the pilot, Greg brought over a DVD and our credit sequence was ELO's 'Mr. Blue Sky,'" Fischer recalled.
The show was destined to have an original theme song, however, as Fischer explained that another show ended up using "Mr. Blue Sky" so they had to change course.
"Well, we were waiting for our show to come out. We had to wait a while. While we were waiting, another show came out. It was called LAX. It starred Heather Locklear and Blair Underwood. It was also on NBC," she explained.
"They used 'Mr. Blue Sky' as their theme song," she added.
"We couldn't use it. So Greg had to change it," Fischer noted. "And that is when Greg hired James Ferguson … to write our theme song."
It all worked out in the end, though Fischer said the theme song wasn't recorded until a week before the first episode aired.
RELATED: 'The Office': Jenna Fischer and John Krasinski 'Had Strong Feelings' About This Jim and Pam Storyline
The credit sequence changed slightly for 'The Office' Season 2
Fischer also shared some details about the visuals that accompanied the theme song in The Office opening credits and how there was one big change between season 1 and season 2.
The credits stayed the same for a number of seasons, but they did make one adjustment after the first season.
"There is one shot that changed in our opening sequence in the first four seasons, and that is the shot of Steve," Fischer explained. "The establishing shot of Steve in season one was from 'Diversity Day,' but they changed it in season two to a shot from 'Sexual Harassment' because they wanted to match his updated image, you know, because we changed his look in the second season."