'The Office' Almost Made an Epic Casting Mistake That Would Have Ruined the Show
The Office, an NBC show that ran for nine seasons, introduced some unique and relatable characters to the world. Some of whom are now so loved by fans that it's hard to imagine any other actor or actress playing them.
In addition to this, The Office helped boost the careers of some of the actors that were on the show, such as John Krasinski, who played Jim Halpert and Rainn Wilson, who portrayed Dwight Schrute. 
However, according to a BuzzFeed article, Krasinski wasn't originally supposed to play Jim, and the casting agents wanted him to play Dwight.  
What was 'The Office' about?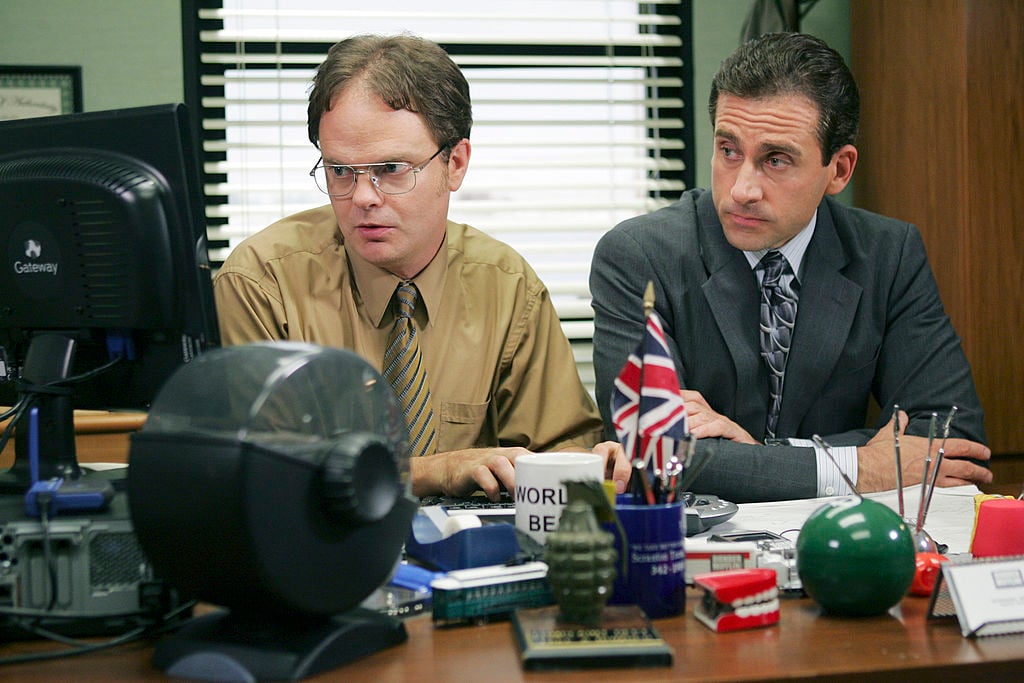 The Office was originally a British show. It was adapted for American viewers in 2005 and ran until 2013.
It was an entertaining documentary-style show about the everyday lives and antics of the office workers at Dunder Mifflin, a struggling paper company in Scranton, Pennsylvania. It mainly focused on Michael Scott, the boss, Jim Halpert, and Dwight Schrute, who were sales representatives, and Pam Beesly, the receptionist.
In its beginning, the show had mixed reviews and struggled to stay on the air. Now, it is seen as a hit and a favorite among many. 
Who were Jim Halpert and Dwight Schrute?
RELATED: 'The Office': The Iconic Scene Between John Krasinski's Jim and Rainn Wilson's Dwight Was Unscripted
Jim Halpert is one of the main characters on The Office and is played by John Krasinski. Jim was laid back, sarcastic, and made it clear in the first episode that he's bored with his job. Jim filled his time by pulling pranks on his desk-mate and frenemy, Dwight.
He also had a crush on Pam and took any opportunity to talk with her. As the show progressed, so did the relationship between Pam and Jim, making it a TV favorite. 
Dwight Schrute, played by Rainn Wilson, is Jim's opposite. He cared about his job and also owns a beet farm. In addition to being a sales representative, he is also an assistant to the regional manager, a fictitious position made up by Michael Scott to pacify Dwight.
Dwight makes it known that he believes in justice and has many hobbies, such as karate and paintball, and is passionate about sci-fi. He often butted heads with Jim and was occasionally successful in pranking Jim back. He also had an office romance with Angela Martin in the accounting department.
John Krasinski as Dwight Schrute?
Krasinski was a struggling actor before The Office made him famous, and an article written by The Guardian mentions that before he auditioned for The Office, he was close to giving up on acting. When he went in for his audition, the casting crew was adamant that he portrays the character of Dwight.
Wilson discusses this in his memoir titled The Bassoon King: Art, Idiocy, and other Sordid Tales from the Band Room. In it, Wilson says: "John rightfully refused to go in for Dwight and kept trying to get an audition for Jim."
It wasn't until Wilson auditioned for Dwight, that the team finally allowed Krasinski to audition for the role of Jim Halpert. Wilson also mentions that he first auditioned for the role of Michael Scott, but felt it was awful. He goes on to say that he knew the character of Dwight was meant for him.
Who else Auditioned for 'The Office'?
A few actors, who are now very well known, auditioned for roles on The Office, which would have probably made it a different show. According to Mental Floss, Adam Scott, who went on to play Ben Wyatt, Leslie Knope's love interest on Parks and Recreation, auditioned for Jim Halpert. Seth Rogen also auditioned, but for the role of Dwight, and Eric Stonestreet, now known for his portrayal of Cam Tucker on Modern Family, auditioned for Kevin.