'The Office' Alums Ed Helms and Michael Schur Team Up for New Show on Peacock
Ed Helms collaborates with Michael Schur following their success from 'The Office' to head a new series on Peacock.
Ed Helms shot to fame playing Andy Bernard on The Office, joining the cast as a series regular in season 3. Now collaborating with the sitcom's writer/producer Michael Schur (who loyalists of The Office will remember as Mose), Helms is heading a new series set to premiere on Peacock.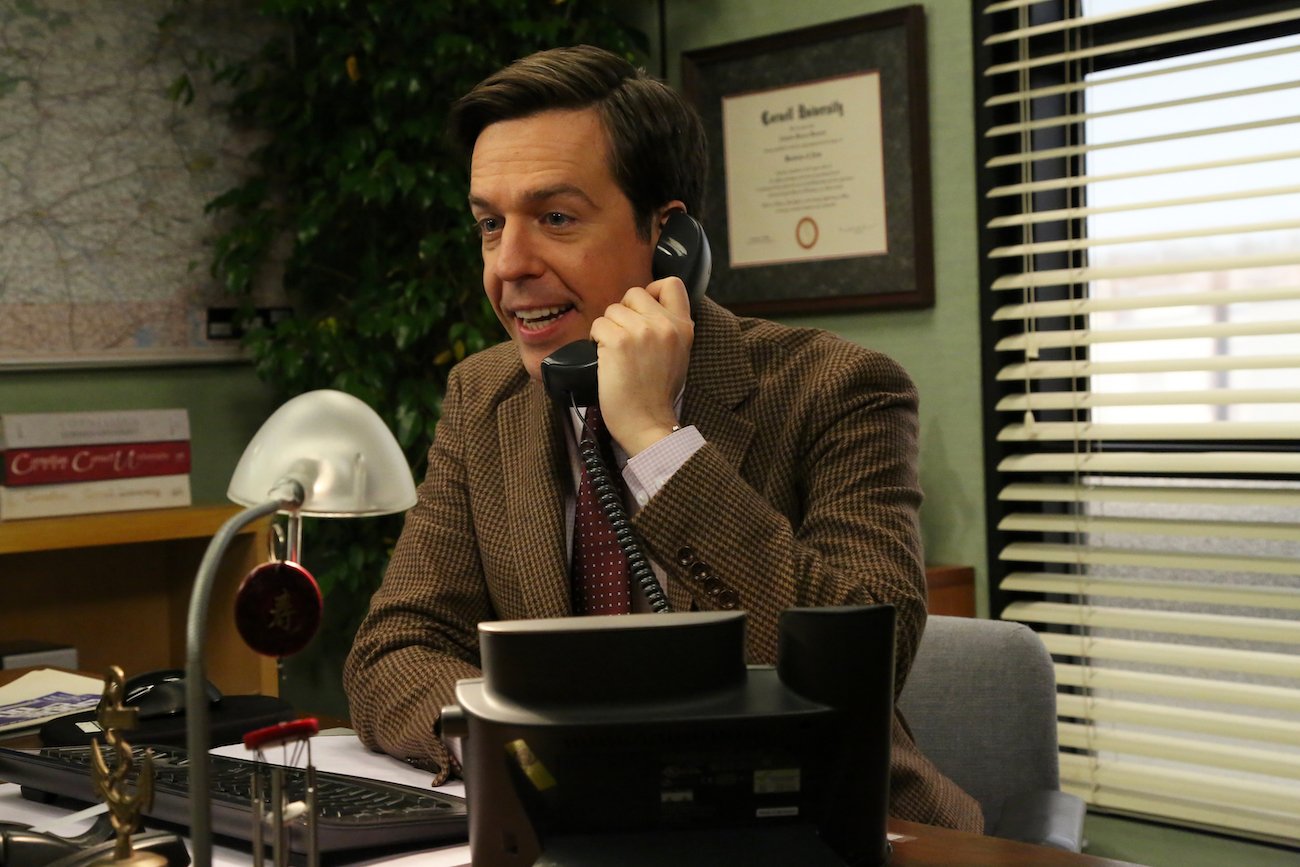 Ed Helms stars in 'Rutherford Falls'
Scheduled to debut in April on Peacock, Rutherford Falls is centered on a small town in upstate New York that borders on a Native American reservation. Helms stars as Nathan Rutherford, a descendant of the town's founders, who opposes the relocation of a historical statue. The conflict causes tumult between both communities.
Sierra Teller Ornelas, a Navajo writer from shows including Brooklyn Nine-Nine and Superstore, was recruited as co-creator. Ornelas places a priority on Native Americans being accurately represented in the series.
"What's great about this show is there are multiple Native American characters," she said, according to TV Guide. "A lot of times you'll see on a show there's one type of person and they have to represent the whole community, and in the writers' room we had five Native writers who all saw things differently, we had different opinions on casinos, on border relations, and it was really great to kind of have that reflect in the show."
Ed Helms credited Michael Schur for helping create Andy Bernard on 'The Office'
Helms and Schur have stayed close since The Office ended its nine-season run in 2013. The two have been honing in on ideas for a new sitcom, resulting in Rutherford Falls. Both serve as co-creators and executive producers.
"Mike was instrumental in shaping Andy Bernard, and helping me find that character and who he was," Helms explained. "We always had a really good time just kind of riffing on Andy's character and I always felt like Mike got me in a way that very few writers do."
Schur has created several high-profile television shows, including Parks and Recreation, Brooklyn Nine-Nine, and The Good Place. He showed his acting chops for several episodes of The Office as Dwight's beet-farming cousin Mose. While the character was never made a regular on the show, Mose definitely made an impression the few times he appeared.
Did Ed Helms go to Cornell?
Andy Bernard was always sure to mention his alma mater of Cornell University on The Office. While Helms didn't attend the ivy league school in real life, he did deliver the convocation speech to Cornell graduates in 2014. As for Andy's love for his former school, the idea apparently came from Schur.
"College was a big topic of conversation in the writer's room," The Office writer Caroline Williams told Andy Greene, author of The Office: The Untold Story of the Greatest Sitcom of the 2000s."There was something about Cornell that preexisted Andy Bernard, mostly coming from Michael Schur."
Writer Justin Spitzer recalled shaping Andy's character with the bragging rights of graduating from the university.
"I'm pretty sure Mike Schur was the one who came up with the idea that Andy went to Cornell and he's always bragging about having gone to Cornell," Spitzer said. "That probably had something to do with that fact that so many of the staff went to Harvard."
The Office fans will get a chance to see if Helms and Schur can recreate sitcom magic with Rutherford Falls, which premieres on April 22.