'The Office': Amy Ryan Couldn't Stop Crying While Filming This Scene
Amy Ryan played Holly Flax, the love of Michael Scott's (Steve Carell) life on The Office. While she was only in seven episodes of the series, her character was essential in demonstrating the growth of Michael Scott. There's one scene, in particular, Ryan had a hard time getting through — and it's one of the most pivotal moments in the series.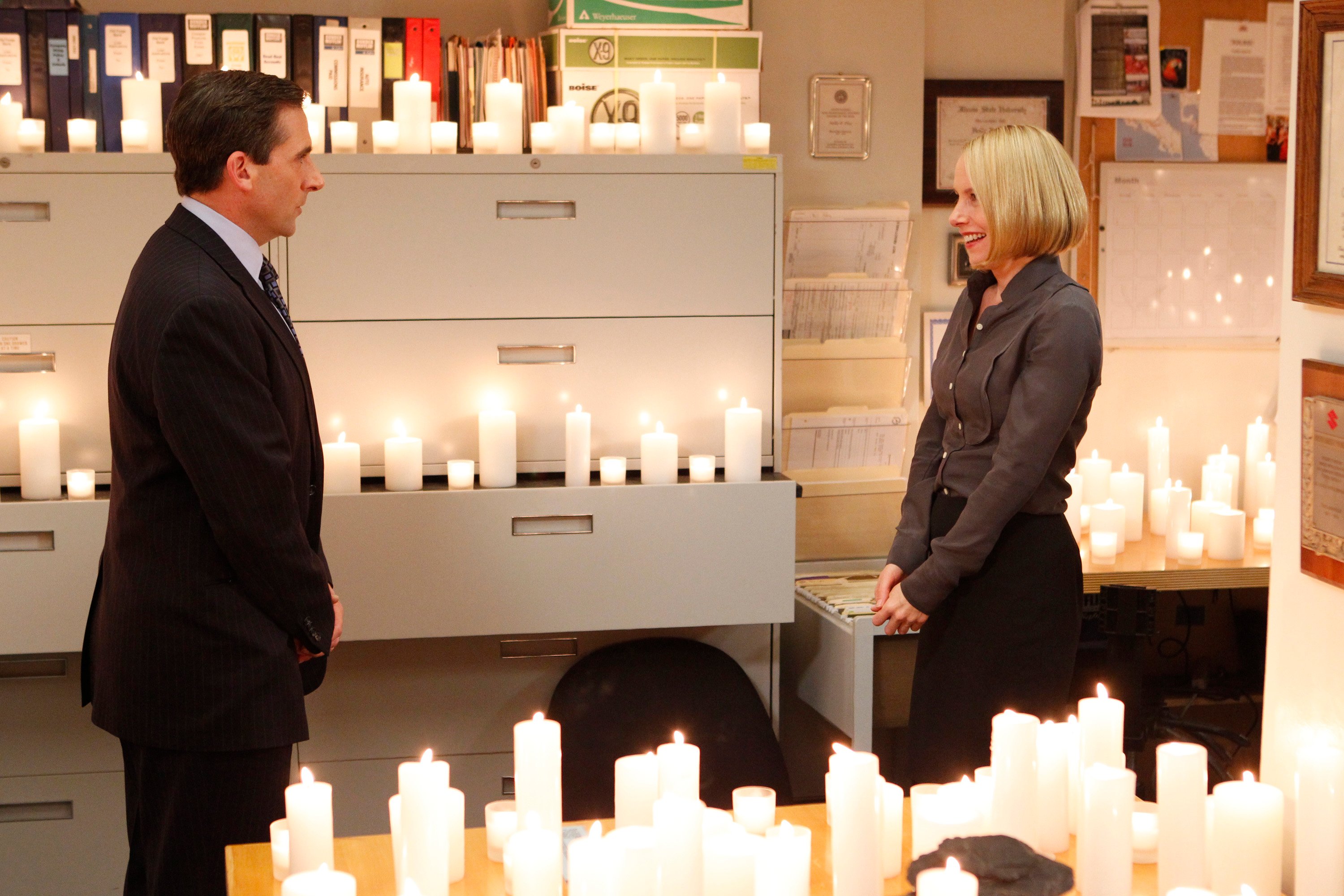 Jim Halpert, Pam Beesly, Oscar Martinez, and Ryan Howard helped Michael Scott plan his engagement 
Pam Beesly (Jenna Fischer) was often the one coaching Michael through life on The Office. When she caught on to Michael's original plan to ask Holly to marry him by pouring gasoline in the parking lot, she was grateful to have gotten ahead of it.
With her co-workers' assistance, Pam helped Michael orchestrate an engagement befitting for his relationship with Holly. When Michael wanted to use animals, Pam quickly had Ryan (B.J. Novak) dissuade the idea. Michael also considered throwing a corpse off of the building and announcing he "lost his head" when he met Holly, but they ultimately decided a simple proposal was best. 
Michael Scott proposed to Holly Flax where he fell in love with her 
In one of the perfect moments on The Office, Michael finally got his wish — Holly agreed to spend the rest of her life with him. But before he could propose, Michael put Holly through their "toughest test." As she walked through the sea of Dunder Mifflin employees, Holly had to deny each one who asked her to marry them. 
After that, Michael took her into the annex — the place he fell in love with her. Together, they got down on their knees. Naturally, he asked Holly to be his wife in the most fitting way possible — "Holly Flax, marrying me will you be?" Of course, she said yes. 
Amy Ryan couldn't stop crying when Michael Scott proposed to Holly Flax
When Michael proposed during season 7, Ryan was beside herself.
"That proposal, when we had to walk down the line of everybody holding candles, I couldn't stop crying," Ryan told co-star Brian Baumgartner on his podcast, An Oral History of The Office. 
She had to continually remind herself that the moment wasn't real and that she wasn't getting married. "But there's something about everybody's face looking so lovingly — it was such a beautiful setting," Ryan added. 
Carell directed that episode and made important decisions like the inclusion of the sprinklers going off. In true Michael Scott style, he went over the top and covered every surface of the annex in lighted candles. Eventually, they set the sprinkler system off. But it made for a beautiful and moving proposal scene. 
"It was shocking and it was cold and it was goofy — it wasn't cinematic," Ryan said. Originally, showrunners wanted to reshoot the scene, but Carell said, "no." 
"It's not slick, it's not cool," Ryan explained. "But it's funny." As Baumgartner said, their proposal, however imperfect, was indicative of real life. Nothing is perfect, and as Ryan pointed out, "…weird is good to me. Odd is really good to me. That's what makes me laugh through life — things [that are] slightly off-kilter."