'The Office': An Unexpected Person Influenced Jim Halpert's Proposal to Pam Beesly
Find out who ultimately decided how Jim Halpert and Pam Beesly's engagement was filmed on 'The Office.' The answer might surprise you!
The Office was a show about a fictional paper company, Dunder Mifflin. But for many viewers, the show was about the interpersonal relationships between Dunder Mifflin's employees. One fan-favorite relationship was between salesman Jim Halpert (John Krasinski) and receptionist Pam Beesly (Jenna Fischer). 
Throughout The Office's nine-season run, many Jim and Pam moments sparked a debate amongst showrunners and writers. Most of the time, scenes involving pivotal Jim and Pam moments were filmed straightforwardly so that the audience was privy to their dialogue and actions. An unexpected source inspired showrunners to leave the sound in one Jim and Pam moment in particular.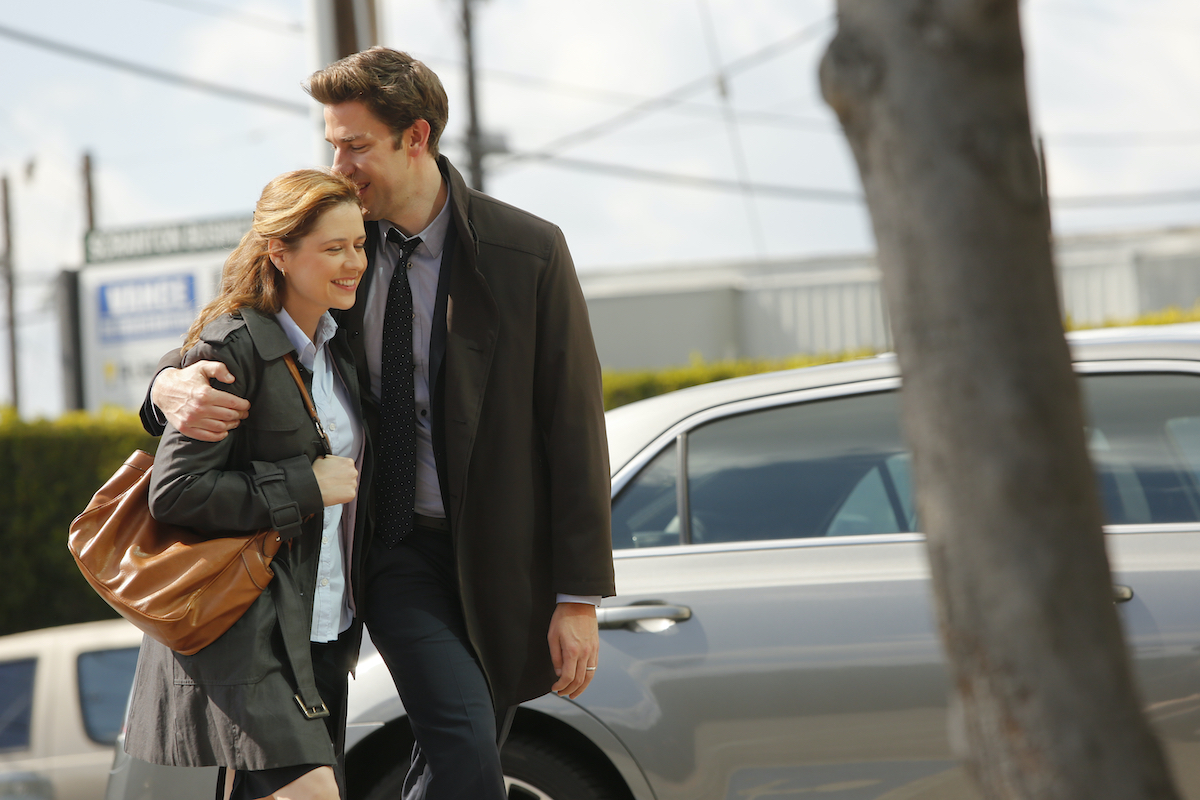 Sound was often a debate behind the scenes of 'The Office'
The Office fans were really invested with the characters on the show. When it came to the big moments in these characters lives, like engagements, weddings, or even breakups, audiences wanted as much information as possible. So, when it came to writing, filming, and editing these scenes, showrunners definitely felt the pressure. 
Writer Greg Daniels talked with Office actor Brian Baumgartner on his podcast, An Oral History of The Office, about the need to get these emotional scenes just right.
"When Jim says he likes Pam in the parking lot, the writing staff kind of went nuts," Daniels recalled working on the pivotal scene.
Behind the scenes, there was a debate between the writers, who wanted that moment to stay true to the show's documentary style and catch Jim and Pam's kiss as it ended. On the other hand, director Ken Kwapis thought the scene should be filmed straightforwardly to capture the entire moment. 
In the end, Kwapis won. Viewers got what they had been waiting for since day one — cameras caught Jim and Pam's emotional kiss.
Once again, there was a debate around sound when Jim Halpert proposed to Pam Beesly 
Jim and Pam's proposal was a major moment in Office history. Once again, showrunners, writers, and even the actors, were split about how to best capture the moment Jim finally proposed to Pam. 
Many fans had waited five seasons for Jim to ask Pam to marry him. They should be able to hear what he had to say at that moment — right? 
That's what some people thought. Others thought the moment should be more private. So much of the mockumentary series relied on major moments in Jim and Pam's relationship. Surely they deserved to have one subtle, beautiful moment to themselves. 
In the end, showrunners filmed the proposal both ways — one with sound, the other without sound. Writers, actors, and producers reviewed both sets of footage but still couldn't decide which was right for the show. That's when an unlikely hero weighed in.  
A security guard decided that Jim Halpert and Pam Beesly's proposal should have sound 
As told on Baumgartner's podcast, the security guard for the building in which The Office was edited thought the proposal scene with sound was the best choice. The guard's reasoning for choosing that version of the scene was simple. Editor Claire Scanlon recalled how the security guard decided that scene because "[he] could hear it."