'The Office': Angela Kinsey Tried Hard to Not Laugh When Ed Helms Improvised During This Stunt
Improvised lines can make a scene better, but it could also make it harder for actors to not break. Angela Kinsey, who played Angela Martin, struggled through a few scenes on The Office.
One of them had Ed Helms, who played Andy Bernard, do a stunt. He also improvised and Kinsey tried not to laugh so he wouldn't have to keep doing it.
Angela and Dwight teamed up in 'The Office'
Angela and Dwight (Rainn Wilson) had a secret affair for some time. So it wasn't surprising that Angela was also very much supportive of Dwight's dream to become regional manager of the Scranton office.
He did have a chance once Michael (Steve Carrell) revealed he was looking for his replacement since he applied to a job at corporate in "Beach Games." He decided to do this by setting up a series of games and the winner can take his place.
Andy, Jim (John Krasinski), Dwight, and Stanley (Leslie David Baker) were picked to be captains of teams. Then they competed in an egg and spoon race, a hot dog eating contest, sumo wrestling, and were asked to walk across hot coals.
Angela and Dwight secretly make the plan to sabotage the others. So when Andy fell into the lake and started to float away, she pretended to not hear him.
Ed Helms improvised when Andy was floating away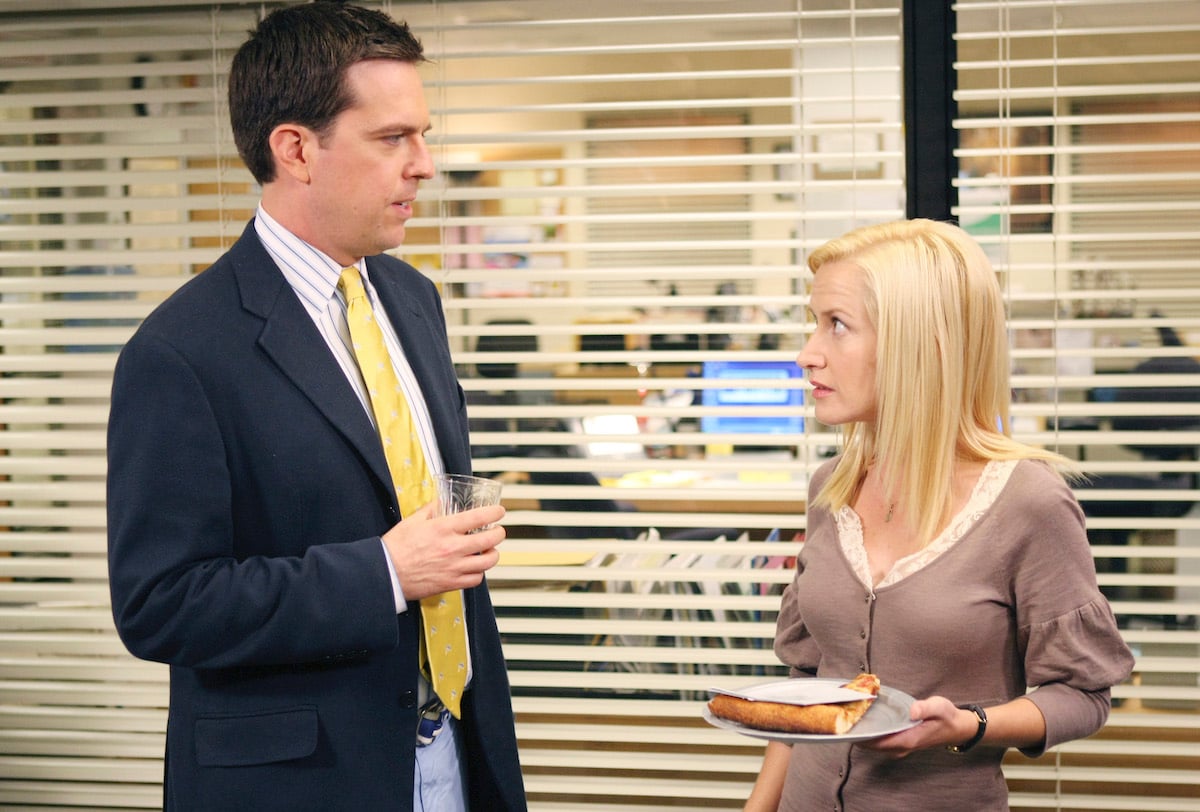 Jenna Fischer, who played Pam Beesly, and Kinsey talked about the scene where Andy floats away in the water. Kinsey revealed why getting through that scene was so hard on the Office Ladies podcast.
Fans asked if Helms was really in the water or if it was a stunt double. But the actor did it all himself. They also wondered how Kinsey managed to keep a straight face as she watched Helms float away.
"It was so hard," she said laughing. "It was really difficult not to laugh, really difficult. Especially 'cause Ed was improvising a little bit as he floated away. Some of that dialogue was not scripted."
She revealed it was in the script that Angela tells him she doesn't understand him. But Helms' response wasn't scripted.
"Ed was floating away and dealing with the elements and he improvised this line, 'Look at what I'm doing and go tell somebody it!'" she said. Kinsey added, "I didn't want to laugh because poor Ed is floating out in that water you know what I mean?"
She didn't want to ruin the moment only to make him stay in the water longer. Luckily, she made it through the scene and that improvised line made it into the show.