'The Office': How Brian Baumgartner Ended up With 'Thousands' of Signed Fan Photos Addressed to Kevin Malone
'The Office' fans who were on Myspace back in the early days of the show got to interact with the cast.
The Office is a mock documentary series about the fictional paper company Dunder Mifflin. But fans might be surprised to learn the computers seen in the show were very real. So was what the cast was doing on those computers. Brian Baumgartner, who played Kevin Malone in The Office, used his "work" computer to interact with fans in a unique and hilarious way.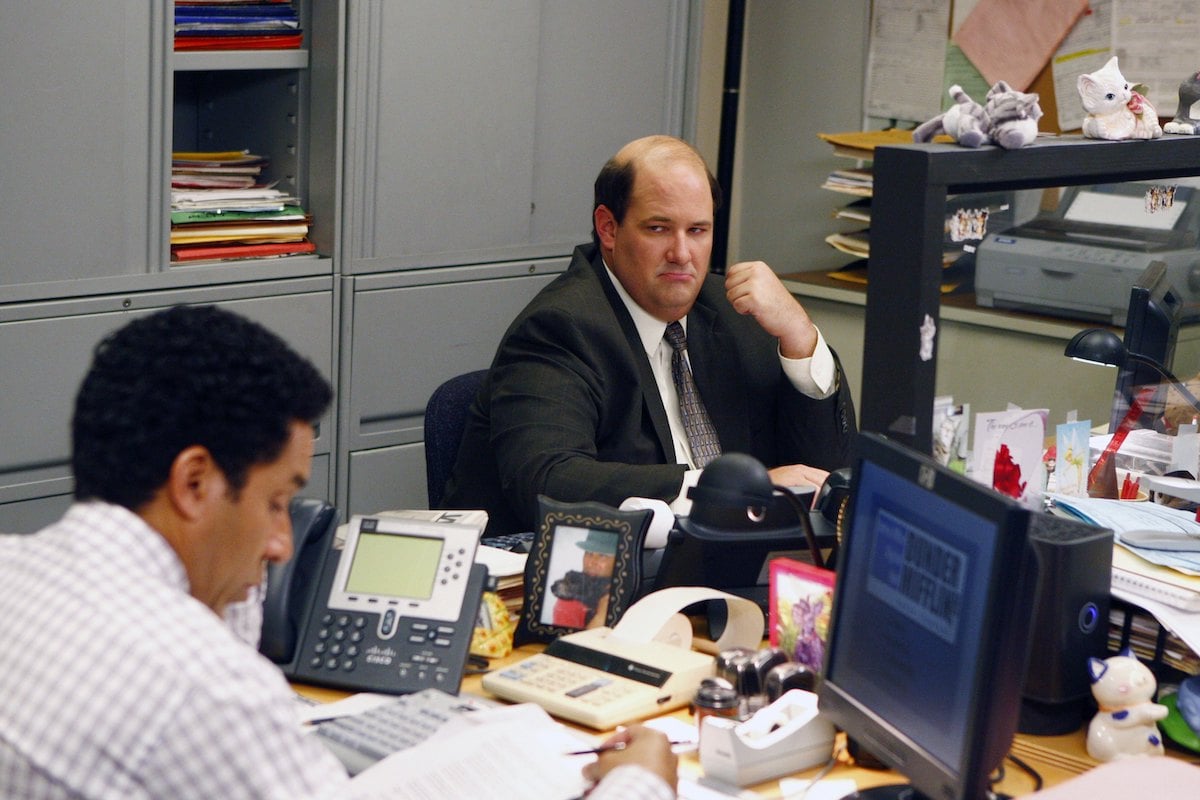 The computers on 'The Office' were real and hooked up to internet 
Part of the filming ritual on The Office was for everyone to show up to set at a designated time and "work" for a brief period of time. In doing so, cameras could capture some of the scenes used in the show's now-famous title sequence. 
"We would 'work' for 30 minutes," Jenna Fischer explained. "Ken [Kwapis] would walk around with a camera operator and a boom and record us at our desks." 
Brian Baumgartner and Jenna Fischer were using MySpace on the set of 'The Office' 
Knowing the computers had access to the internet, many fans are curious. "What was your favorite site to visit to portray working?" a fan asked Baumgartner on his latest podcast, The Office Deep Dive.
So the series remained as authentic as possible, the cast considered which sites office workers would be using at the time. "Myspace was the social media du jour," Baumgartner said on The Office Deep Dive. He and his castmates were often interacting with fans on the social platform. 
"Angela [Kinsey], B.J. [Novak], and I had these Myspace pages that were on our computers while we were in scenes," Fischer shared during her interview with Baumgartner. Often, she was messaging with fans and telling them to pay attention for cues. "Look out for 'such and such' in this scene and you'll know I was typing to you!" she said. 
When he wasn't "Myspace-ing," Baumgartner used his time online to pay his bills. As an accountant, Baumgartner thought having his bills up on his computer screen seemed legitimate. 
Brian Baumgartner encouraged fans to send Kevin Malone 'thousands of signed photos' 
Baumgartner may have been paying his personal bills on the set of The Office, but he never broke character when he was on social media. "I got on Myspace as my character Kevin Malone," he said. "I had a blog and I never veered from actor to character."
Using Myspace allowed the actor to connect with The Office viewers in a unique way. Baumgartner recalled documenting his experience through Kevin Malone's eyes. When fans would write to him, Kevin theoretically had "no idea cameras were watching." And when fans started asking Kevin Malone for signed photos, the real fun began. 
"I thought, 'I can't do that because I'm just Kevin Malone — an accountant [from Dunder Mifflin] who doesn't know he's on television,'" Baumgartner explained. "So I said, 'I don't know why you want a picture of me, but if you send me a signed picture of you, then I will send you back a signed picture of me.'"
Baumgartner's request worked. He received "thousands of signed pictures" from fans addressed to Kevin Malone. "It was a lot of fun," he admitted.