'The Office' Broke 1 Strict Rule the Show Had for a 'Very Long Time'
The Office followed a strict rule about casting in the show's early seasons but later broke it in a big way. It was important to maintain the show's integrity so they never wanted to do stunt casting with a big name guest star early on.
The Office survived some rocky times early on and went on to become a hit, even in the post-Steve Carell seasons. Jenna Fischer shared that the show had a strict rule in its early days that it eventually broke that revolved around the casting.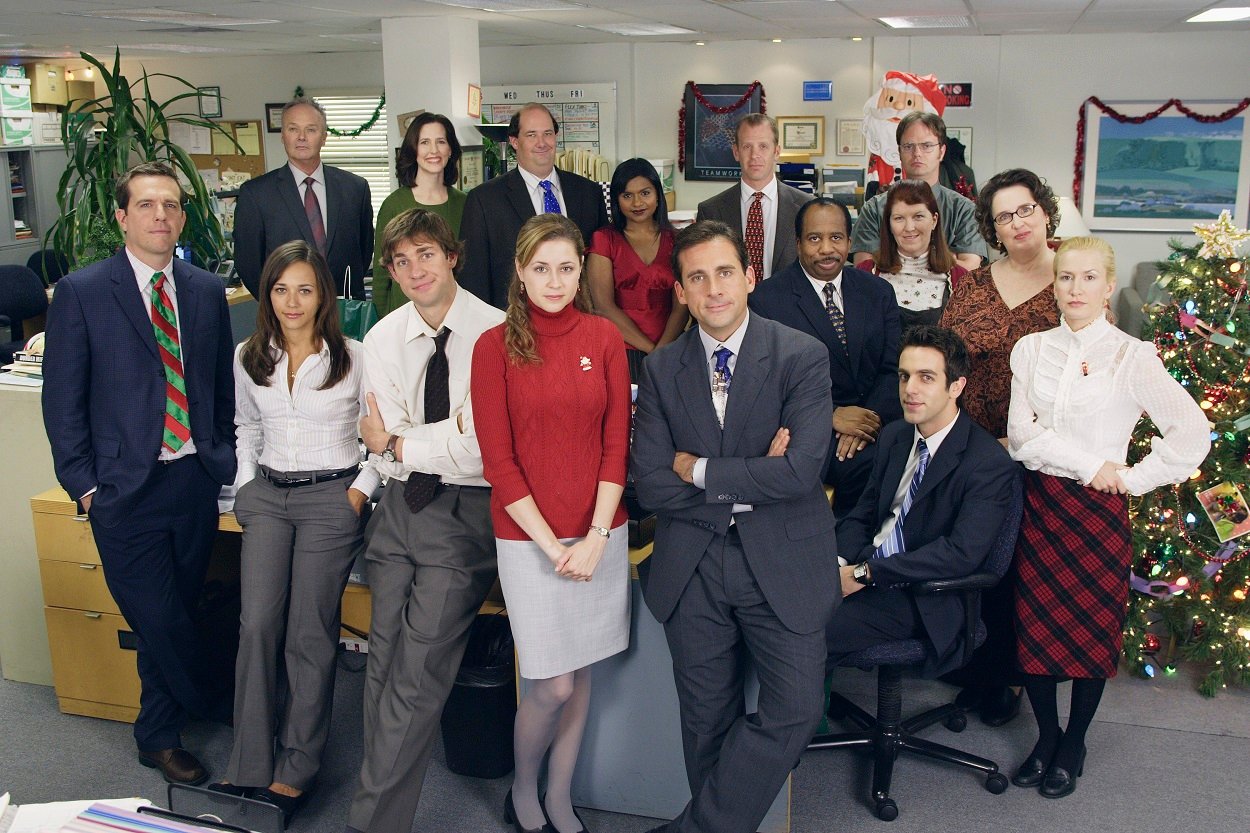 'The Office' followed 1 strict rule
During a December 2019 episode of the Office Ladies podcast, Fischer and Angela Kinsey discussed how the actor playing Pam's mom was replaced later on. In the season 2 "Sexual Harassment" episode, Helene was played by Shannon Cochran but she was unable to return to the role.
According to Fischer, there was a rule the show followed early on but broke in later seasons. "It was a really weird thing because the integrity of our show was so important to us," she explained.
"There was this rule for a very long time that we couldn't do any stunt casting," she added.
Fischer explained that "stunt casting" is bringing in a "big name guest star."
'The Office' broke that rule in a big way
Clearly that rule wasn't adhered to for the duration of The Office. "Obviously in later years we broke this rule," Fischer said, listing names like "Will Ferrell. Kathy Bates. James Spader."
Kinsey interjected, adding, "Idris Elba. Timothy Olyphant."
Though the show eventually cast those big names and more (Jack Black, Christian Slater, Will Arnett, Jim Carrey, Ray Romano, Josh Groban, Stephen Colbert, and Joan Cusack, among others), in the early seasons, The Office steered clear of that.
Fischer explained, "For a long time we had this rule against stunt casting," she said. "Like once somebody was established to play a character, they were that person or they didn't come back."
'The Office' had a specific casting rule that helped Jenna Fischer
Fischer directly benefited from one of the show's strict casting rules. The actor almost quit the business but was convinced to hang in a little bit longer by her manager and acting coach.
During the Feb. 16 episode of The Office Deep Dive With Brian Baumgartner, Fischer revealed, "And that was the year that I got the audition for Pam on The Office."
She believes that the show's rule about casting unknown actors really worked in her favor.
"That little caveat in the casting call that said 'unknown actors only,' that was why this was my big break," Fischer told Baumgartner.
"And this was also why I'd been so frustrated and wanted to give up because I would go through these long audition processes for television shows and I would get as far as the on camera test part and then, they would give it to Alyson Hannigan," she continued.
"I was this unknown actor and I had absolutely nothing to offer," Fischer added. "I had no name recognition so I couldn't get these big lead parts until The Office, when finally, the thing that had been working against me was my gift — which was that I was unknown."