Why 'The Office' Broke 'the Wall' With Michael Scott's Big Exit
Steve Carell left 'The Office' at the end of season 7. He character truly breaks the wall for the first time for a reason.
The Office had the tough job of sending off an important character before it ended. That would be Michael Scott (Steve Carell). The wall was broken for the first time in his goodbye episode for an interesting reason.
Why Steve Carell left 'The Office'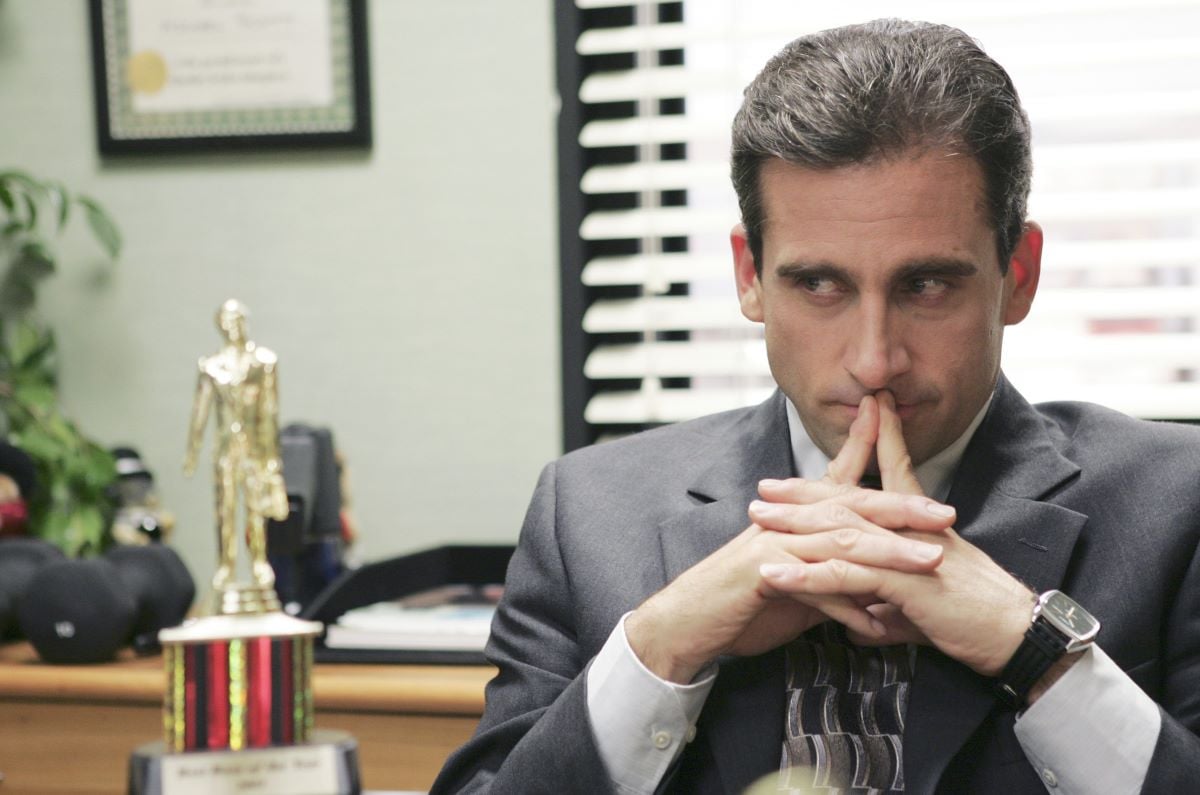 Carell was on the show from the very start, and a big part of its success. But he then left at the end of season 7.
The actor's contract was ending, and he claimed he accidentally voiced in an interview that he was considering leaving. It unsurprisingly made the news. Carell expected to hear from the network about it but never did. So he then thought maybe he should leave if they didn't care about keeping him, according to boom operator/sound mixer Brian Wittle. This story was told in the book, The Office: The Untold Story of the Greatest Sitcom of the 2000s, according to Collider.
He then decided to leave. But luckily, Carell did come back for the finale episode.
Michael Scott left in 'Goodbye, Michael'
Michael's last day is seen in "Goodbye, Michael." He leaves things behind for each employee. Each interaction reflects his relationship with each character. For example, Dwight Schrute (Rainn Wilson), who always wanted Michael's approval, cries when Michael gives him a recommendation letter. Still, Andy Bernard (Ed Helms) is the one who takes over Michael's position.
Sadly, Pam Beesly (Jenna Fischer) isn't in the office during this time, so he doesn't say goodbye to her. She pulls into the parking lot of the office right when he leaves. He then heads to the airport. Pam meets him there just in time. 
Fans get to see them hug but don't hear what Michael says to her because he's no longer wearing a microphone. Pam said Michael wasn't sad but full of hope about Colorado and being with Holly Flax (Amy Ryan). 
Why 'The Office' broke the wall with Michael Scott's big exit
There is a moment when Michael takes off his shoes to go through security then puts them shoes back on. He then turns to the cameraman and asks, "Will you guys let me know if this ever airs?" We don't hear an answer, but he nods and says thank you.
Michael then takes off his mic pack, saying it will feel so good getting it off his chest. We can then no longer hear him. The moment is a rare one where a character doesn't just look into the camera but talks to the cameraman and acknowledges they're being filmed. 
Why did the show decide to break the wall this time? Producer Ben Silverman told TV Guide, "That was the first time we kind of broke the wall. We thought we could do it then because it was such a seminal moment for the show that we could tap into it and we kind of felt like we needed Michael to acknowledge it."
Fischer said she was told to tell Carell that she was going to miss him in that scene. She did, and it looked like a real private moment between two people.