'The Office' Cast 'Hazed' Idris Elba When He Joined the Show
One of the things that makes The Office such an incredible show to watch is its dynamic cast. Series regulars like Steve Carell and Rainn Wilson portrayed their characters in such hilarious and outrageous ways that fans enjoy watching the show over and over again. Furthermore, when other talented actors like Amy Adams, Idris Elba, and Kathy Bates temporarily joined the show, it only increased the quality of the hit comedy.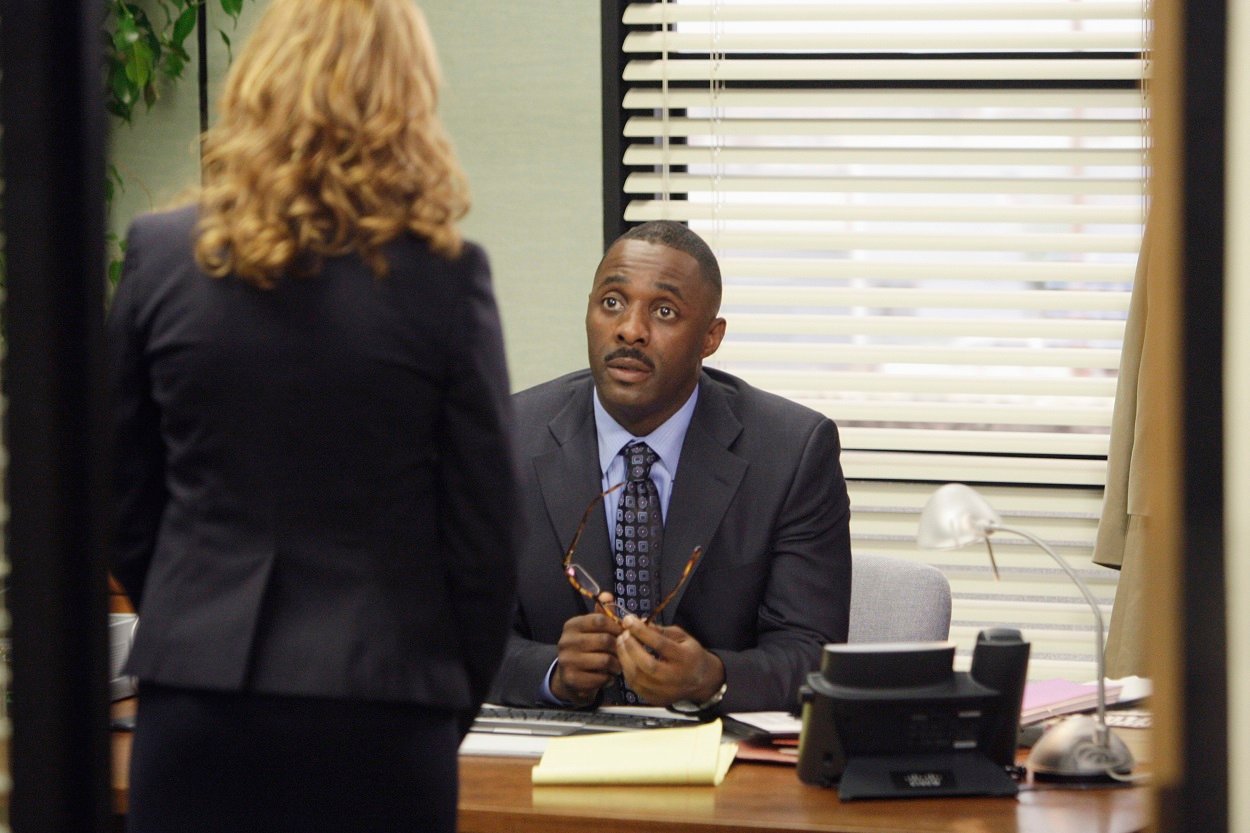 With such a large ensemble cast, it's a wonder that all of the actors managed to thoroughly enjoy their time working on the show. Even today, nearly every member of The Office cast has publicly declared that the show was a warm, hilarious, and collaborative environment and they loved going to work. But what was it like for people who weren't permanent members of the show to join the cast for a few episodes?
Idris Elba reflects on being a part of 'The Office' cast
Back in 2009, Elba spoke with Oprah.com about his experience portraying Charles Miner. Up until that point, Elba was well-known for playing more dramatic roles, e.g. Stringer Bell on The Wire, so fans were interested to see how he'd handle a comedic role. "The Office is a very different kettle of fish," Elba shared. "To be honest with you, my character isn't a very funny character. He isn't designed to be funny."
Even though Charles is a straight-laced character, Elba was still nervous about working with The Office cast. He was particularly anxious about working alongside Carell who is, of course, a comedic giant and extremely well-studied in the art of improv. "Though I have to say I was very nervous to go into work with Steve [Carell] and those guys—they're very funny," the Luther star confessed. "They've been doing it a long time, and I felt like, 'Oh man, I'm the new guy.' They gave me a decent amount of episodes in which to build this character, so I was very nervous."
Elba admits that the cast hazed him while he was filming the first of his episodes
Even though Elba was nervous starting out, he ended up having a ball with The Office cast. However, his fellow actors did jokingly give him a hard time during his first week of filming. "But you know, it was fun doing it," Elba declared. "The guys are really really generous, though they hazed me for about a week."
While Elba may have received some friendly hazing, he may have started the prank war himself. Prior to joining the cast of The Office, he had a "warning" sent around to the cast and crew that he was very particular about his name being pronounced correctly. However, he also provided them with a fake pronunciation as a joke. It seems Elba, unlike his character Charles, was pretty playful on the set of The Office. We're sure his loyal fans would love to see him do more comedic roles in the future.