'The Office' Cast Is Still Friends and They Have a Text Chain to Prove It
The on-screen chemistry between the cast of The Office is undeniable, and that's probably because of how well they got along behind the scenes. But now, seven years after the show ended, most of the cast is still friends, and according to Ed Helms, they have a text chain to prove it.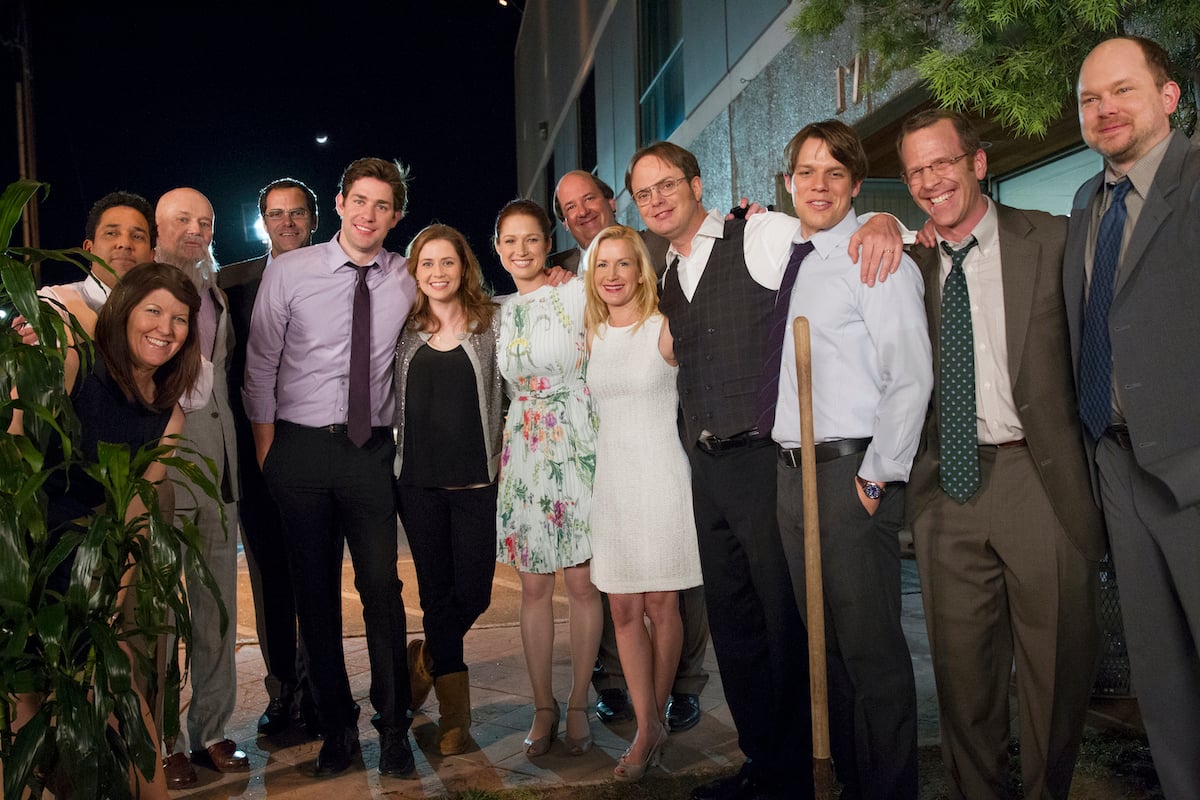 'The Office' stars Mindy Kaling and BJ Novak see each other every week
Mindy Kaling and BJ Novak dated on The Office as Kelly and Ryan. But the actor/writer/producers also dated on and off again in real life. The two remain really close, and Novak is now a godfather to Kaling's young daughter.
In an interview with US Weekly, Kaling revealed that Novak comes to her house once or twice a week to babysit. And the two are often seen together attending major events including premieres and awards shows.
RELATED: 'The Office': Steve Carell Made the Cast Suffer for an Incredibly Awkward and Unusual Reason
Jenna Fischer and Angela Kinsey are BFFs
Jenna Fischer and Angela Kinsey's characters Pam and Angela may not have been good friends on The Office, but in real life, the two are really close. They often share pictures with each other on social media, and have confirmed that they're actually BFFs.
"My best friend from The Office is Angela Kinsey," Fischer said on Bravo's Watch What Happens Live. "We trade phone calls and texts every single day, we see each other, we have breakfast, I see her the most."
Fischer and Kinsey aren't just friends, they're business partners too. The two have their own podcast called Office Ladies, in which they discuss the series and interview the cast and crew.
Ed Helms reveals 'The Office' cast is still on a text chain
In a recent chat with Fischer and Kinsey for their Office Ladies podcast, Ed Helms revealed that most of The Office cast is still on a text chain together, and credited it to their lasting bond. 
"The friendships that have endured, I mean, I can't believe we're all still on a text chain," Helms said. "That blows my mind. And I just I love that so much."
The actor noted that even if they share news or just jokes, the cast still remains connected.  "Just a little blurb from Oscar and then Creed'll chime in, and one of you, everybody," Helms told Fischer and Kinsey. "Sometimes they're funny and sometimes they're just like information or news or whatever, but it just [sic] speaks to — why the show has endured the way it has is because the camaraderie was real."
"The friendships and the, the kind of mutual love and support and respect was, was real on that set," he added. "And even though the characters were in, in like ridiculous conflict all the time, there was always I think people could pick up on an underlying sense that, that, that Dunder Mifflin kind of had a foundation of love."
All nine seasons of The Office are currently streaming on Netflix.